Learn how to Automatically Lock Windows PC Using Dynamic Lock that will help you to secure your PC by providing some extra security and providing privacy to your files. So follow the below guide to proceed.
[dropcap]W[/dropcap]indows users would be already familiar with one of the most important security features, that is locking of user accounts using passwords. This feature prevents the access to the whole of the data inside the computer and hence protects it. Sometimes this security feature films to protect you, i.e when you suddenly go away from you alive computer without locking it. This is the thing that could happen anytime and the users could fall off their important information in others hands. Windows have been granted with a great security feature named Dynamic lock that works to lock the Windows every time when the user goes away. This feature is pushed on or off through the Bluetooth linking. Going towards the article, we are here to describe you about the method of setting and enabling of Dynamic locking on Windows Pc. If you wish to turn on this feature on your computer and hence prevent any sudden access by others to your information them please go and read the whole article below!
Also Read: How To Find If Someone Logged Into Your Windows PC At A Given Time
How to Automatically Lock Windows Pc Using Dynamic Lock
The method is quite simple and easy and you just need to follow the simple step by step guide that we had discussed just right below and you can implement extra security to your PC. So follow the below steps to proceed.
Also Read: How To Enable Safe Mode Boot Menu In Windows 10
Steps to Automatically Lock Windows Pc Using Dynamic Lock:
#1 First of all you need to choose any Bluetooth device that you can use for the Dynamic Lock feature. Although the feature supports every Bluetooth device you have to consider the device that is always there with you. The smartphone will be our choice as it could be easily taken with all the time.
#2 Pair the selected Bluetooth device to the Windows. For performing this action just go to the Settings -> Devices -> Bluetooth & other devices. Through the just as your device by clicking on the Add Bluetooth or other devices option. Windows will then search for your device, select the device through the results and pairing action will be triggered.
#3 After pairing your Bluetooth device you need to enable the Dynamic Lock feature on the Windows. Note that this feature is only availed in the Windows 10 creator update. If you have this version installed then only you can use this feature. We have used the Windows Insider Preview program to grasp the latest version test node of the Windows. In this version this feature was available but we cannot say of any other version still have the dynamic lock feature.
#4 To enable the Dynamic Lock, go to the Settings> Accounts> Sign in Options on your Windows through the Start menu. Scroll down to bottom inside the Sign-In panel and there check the box aside to the "Allow Windows to detect when you're away and automatically lock the device" option. Now the Windows will detect the paired Bluetooth device everytime. If it is away from the range for more than 30 seconds, Windows will automatically get locked!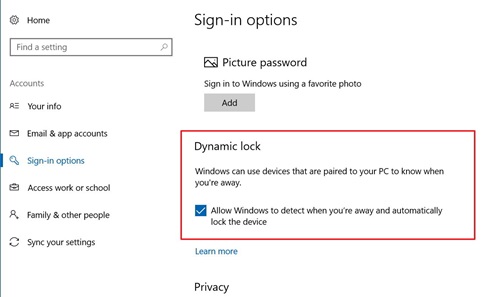 #5 Again when the same paired Bluetooth device comes to the live range of the Computers Bluetooth, the Windows get unlocked!
Also Read: How To Hide Whatsapp Images & Videos From Gallery
This security feature although is amazing but the users probably would not require it most. This style of Windows locking could be great for the business users those who work all the time and sometimes have to leave their computer. This security feature will then protect the access to their device by any other employee. Yeah, that was something that i have to write so as to make the function of this feature clear to you.
Also Read: Top 10 Best Encryption Software For Windows
Finally, you have got everything about setting and enabling of Dynamic locking on your Windows computer. Just utilize this immensely great security feature to enforce the tight security to your Windows access. For every business employee or working employee using the Windows computer to store their important stuff, they all should dedicate enable the Dynamic locking system on their device! Hope you like the guide, do share with others too. Leave a comment below if you have any related queries with this as techviral team will be always there to assist you with any of your technical issue that you face with this article.