Photo editing is pretty easy on desktop operating systems such as Windows and MAC. You can easily crop photos, change the color temperature, apply filters, replace backgrounds, etc., on a PC. However, photo editing is never easy on mobile devices such as iPhone.
On iPhone, you have a somewhat limited choice for photo editing. It's not that photo editing apps for iPhone don't exist, but most of them are premium and offer limited features. Also, photo editing apps for iPhone usually lack an essential feature – the ability to remove or replace backgrounds.
List of 5 Best Background Eraser Apps for iPhone
Background eraser or background removal is something you may need very often. You can use dedicated background eraser apps on your iPhone to remove photo bombs or replace the background. Below, we have shared some of the iPhone's best background eraser apps.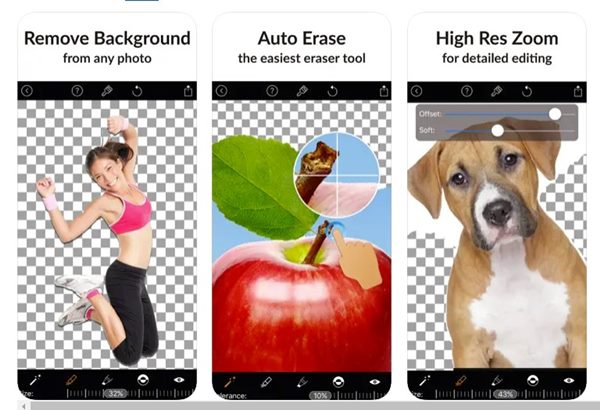 You may know about the Magic Wand Tool if you have ever used Photoshop. The magic wand tool of Photoshop automatically selects the subject or the background and lets you erase either of it in a single click.
You get the same feature with Magic Eraser Background. Magic Eraser Background is an iPhone app that automatically removes the area of similar color. As a result, you get a picture without any background. You have the choice to save the image in PNG or JPG format.
Background Eraser: superimpose is for those who want to remove the background of any picture while maintaining transparency. Unlike Magic Eraser Background, where the selection part is automatic, Background Eraser: superimpose needs manual selection of a subject or the background.
You get an eraser tool that will erase the area you have touched and a reverse tool to restore the removed area. Like Magic Eraser Background, Background Eraser: superimpose also allows you to save the edited image in PNG, JPG, or JPEG format.
Background Eraser is another great iPhone app on the list that you can use to make a picture's background transparent. The images without a background can be used as stickers, or you can use them to create a collage, photomontage, and composite photos.
It provides you with two different modes to erase background – Start and Auto mode. The star mode automatically detects image edges and erases them, and the Auto mode erases the similar pixels automatically.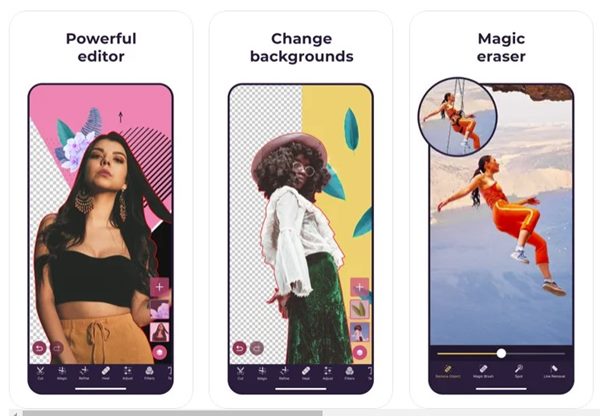 Pixomatic – Background Eraser is a full-fledged photo editing app available for iPhone. The photo editing app brings useful tools such as background and object removal, magic cut, photo blender, etc.
The background and object removal tool of Pixomatic – Background Eraser can remove objects with a single tap. You can also remove the existing background from a picture and add your thematic or fantasy background.
Pixomatic – Background Eraser supports Photoshop-type layer-based editing. You can create separate layers for each editing and merge them all in just a single tap.
Remove BG is an iPhone app that allows you to remove background, blur the background, and remove selected objects from an image. This one is a photo editing that's known for its background removal options.
Apart from removing the photo background, Remove BG also allows you to blur the location of any picture, apply magic effects, and more. It also offers a few unique filters and fonts that you can use on your Photos.
Also Read: How To Run Android and iPhone Apps on your PC
Almost all listed apps were available for free and can be downloaded directly from the Apple app store. So, these are some of the best iPhone apps to remove background from any image. If you know of any other background eraser apps for iPhone, let us know in the comment box below.