Let's admit we all hate ads on a computer or smartphone. Ads are something that can ruin your entire browsing experience. On a Windows computer, you can easily block ads from webpages by installing adblocker extensions, but you can't install extensions on Android.
You can use custom DNS to block ads, but that won't give you a completely ad-free experience. So, to block ads from an Android device, one needs to use Adblock browsers. There are plenty of Android web browsers available on the Google Play Store that got the ad-blocking feature, and in this article, we are going to list a few of them.
Also read:  10 Best Web Browsers For iPhone
List of Best Adblock Browsers For Android
In this article, we will share some of the best Android Adblock web browsers that automatically block ads from all web pages on Android. So, let's check out the best Adblock browsers.
You can use this app on your smartphone using the Yandex browser or Samsung Internet. It's an Ad blocker app that prevents ads from appearing on a selected web browser.
Currently, the app works only with the Yandex Browser and Samsung Internet. It can block all sorts of blocks from websites like video ads, pop-up ads, etc.
AdGuard also has custom filters that give you more control over what types of ads to block.
Microsoft Edge shares many similarities with the Google Chrome web browser. It's a web browser that can help you stay productive and organized.
The web browser lets you surf the web with its new AI-powered Bing search. The Bing Search is based on GPT-4. If we talk about the Ad blocking functionality, it has an ad blocker that blocks ads from webpages you visit.
However, the disadvantage of Microsoft Edge's ad blocker is that it fails to block some types of ads. For example, the pop-ups and redirect ads can still trouble you.
We have listed Brave Browser on the top because it looks similar to Chrome. If you have ever used Chrome web browser but can't get past ads, Brave Browser might be the best pick.
Compared to other web browsers for Android, Brave Browser offers more features. The Browser provides an ad-blocker, VPN, Night mode, and everything you need.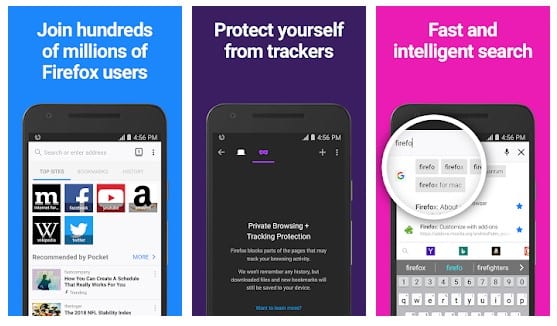 Although not much popular, Firefox is still one of the best web browsers available for Android.
The latest version of the Firefox browser has every feature you need to improve your web browsing experience. From ad-blocker to private mode, Firefox has it all.
Opera is right now the second most popular web browser for Android after Google Chrome. Compared to Google Chrome, Opera offers more features.
With the Opera web browser, you will get a VPN, Adblocker, tracking protection, customization options, etc. The web browser is pretty light on resources and is definitely the best AdBlock browser for Android.
It is a relatively new web browser that comes with ad-blocking functionality. The web browser is focused on privacy, so that you can expect many privacy-related features like web tracking blockers, ad blockers, etc. Regarding the ad blocker, Firefox Focus offers a robust ad-blocking tool to remove ads from all web pages.
If you are searching for a web browser that focuses only on adblocking features, then Free Adblocker Browser might be a perfect choice.
As the app says, Free Adblocker Browser is one of the best web browsers you can have on your Android if you want to block banner ads, pop-ups, video ads, etc.
As the app's name says, Adblock Browser is a web browser app that removes annoyances like pop-ups, video ads & banner ads from web pages.
The good thing is that Adblock Browser is based on Chromium, making the Browser fast, sleek, and secure. Apart from ad blockers, the app offers security and privacy features.
Via Browser is a lightning-fast and lightweight web browser for Android. The web browser is designed for Minimalism, and it's one of the best choices for geek users who enjoy using light products.
Despite being lightweight, Via Browser doesn't miss out on any essential features. Some of the key features of Via Browser include an ad blocker, night mode, data saver mode, privacy protection options, add-on support, etc.
If you are searching for a lightweight and super fast web browser for your Android smartphone, you need to try Kiwi Browser.
Guess what? Kiwi Browser is based on Chromium and WebKit. That means you can expect many Chrome-type features on the Kiwi browser. It also has a robust ad blocker that removes ads from your favorite sites.
If you are searching for an Android web browser for private browsing, you need to give Frost – Private Browser a try. It's one of the best private tabbed web browsers for Android available on the Google Play Store that provides users with many useful features.
Frost – Private Browser automatically cleans all browsing history when you close the app. Apart from that, Frost – Private Browser also has a built-in ad blocker that speeds up the page loading speed.
It's a new web browser app available on the Google Play Store. The good thing is that Oh Web Browser focuses on Privacy, mainly used for private browsing.
It also supports multiple search engines. Other features of OH Web Browser include a PDF converter, ad blocker, download manager, web archive converter, etc.
So, these are the best Adblock Browser for Android that you can use today. The web browser has an adblocking functionality that removes all ads from web pages. I hope this article helped you! Please share it with your friends also.