The AI section has changed considerably over the past few years, especially after the launch of ChatGPT from OpenAI. Now AI is the most viral topic on social media sites, news websites & instant messaging apps.
AI is virtually everywhere now, and there's no hiding from it. Also, now app developers have started to implement AI features in their apps & services.
The exponential growth of AI in the field of technology at present is already seen. Regarding AI on iPhone, many AI applications have been made and are available on the Apple App Store; most of them are free to download and use.
10 Best AI Apps for iPhone (2023)
Hence, if you want to experience the superpower of AI on your iPhone, continue reading the article till the end. Below are the few best AI Apps for iPhone that can drastically reduce your manual work & boost your productivity levels. Let's get's started.
Character AI is an iPhone app that aims to give you a taste of AI superpowers. This is basically a chat app where you chat with ultra realistic AI personalities.
There are many AI personalities on the app; all of them interact with you in a different tone. So, if you want to experience AI chatbots that feel alive, Character AI could be the best pick for you.
There are many anime personas that can help you with different things. You can ask the personas to tell you an interesting bedtime story, help you with your homework, proofread your texts, etc.
The app is 100% free to download and use and allows unlimited message exchanges. Even the app doesn't show any ads.
This is a Google app on the list which is developed by Google. Socratic is an educational app for students to find solutions to their complex academic questions. Since the app is powered by an AI, it can solve even the most complex questions.
It doesn't matter whether you are a university or school student; there's something in the app you will find useful. There's something for every student in the app.
The more useful part of the app is allowing students to use their phone's camera and voice to connect with the online learning resources. The AI power of the app can even break complicated answers into small segments to help you understand better.
Replika is a virtual AI companion app for iPhone. On this app, you need to create your own Replika (Your AI friend) and chat with it about anything, anytime.
It's a good app for people who often need mental support and don't find anyone to share their deepest feelings as it lets them create their own AI friends.
The app is great for those who want a friend with no drama or social anxiety involved. The AI also learns your chat traits and can form an actual emotional connection.
After creating a 3D Avatar, you can customize it anytime. And the more you chat with your Replika, the more it will develop its personality and memories. Overall, Replika is a great fun AI app for iPhone you shouldn't miss at any cost.
Seeing AI from Microsoft is designed for people with visual impairments. The useful mobile app combines AI and machine learning to see & interpret the world around the user via camera.
This is a free AI Powered accessibility app for iPhone that narrates the world around you. It's designed for the blind and low vision community and receives some exposure.
The AI powered iPhone app can help people with visual impairments in various ways. It can speak texts as soon as it appears in front of the camera, scan barcodes, save people's face for easy recognition, recognize currency notes, etc.
It also lets you experience audio augmented reality. This feature helps in hearing objects that the app scans around you.
The official ChatGPT App for iPhone is now available on the Apple App Store. ChatGPT official app is 100% free to download & use and shows no ads.
Since it's an official ChatGPT application, you can use the same OpenAI account to continue chatting where you've left off. It syncs your chat history across devices.
The functionality of the ChatGPT mobile app is very similar to the web version. You can toggle between GPT-3.5 and GPT 4, get instant answers, tailored advice, creative inspiration, and explore learning opportunities.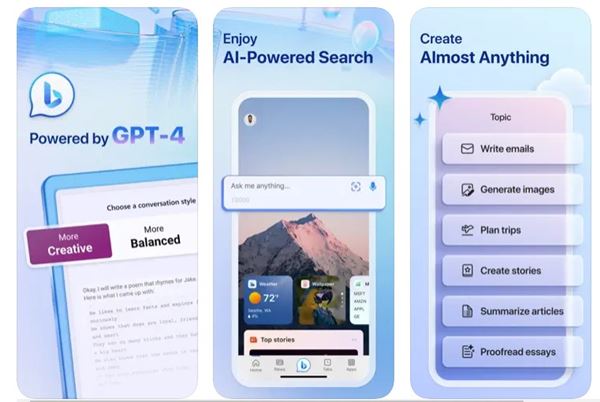 Bing AI Chat app is the second app from Microsoft on the list. It's just an app that allows you to access the Bing search engine.
Since the new Bing search is powered by AI, you can use it just like a chatbot and have a conversation. The new Bing comes up with information with the help of AI, which is pretty accurate.
What we like more about Bing Chat AI is that it also accesses the Bing web search to provide you up to date and reliable information. Also, the new Bing AI is powered by GPT-4 model, which is seen only in the ChatGPT Plus variant.
Another thing worth mentioning is the Bing AI image generator that can generate images based on your text input. So, it's definitely an all in one AI app for iPhone you should use.
Fyle is an expense manager app for iPhones that has some AI capabilities. While the AI capabilities are less, they are enough to keep your expenses organized and in place.
With this app, you can keep track of all your expenses. You can capture a photo of your receipt using the app, and it will automatically scan and extract the expense information for you.
Whether you are running a business, accounting firm, freelance, or an employee who spend a lot of work managing the company's expense, the Fyle: Expense Reports has features for everyone and every purpose.
The app also has a robust policy engine to help identify duplicate expenses and out-of-policy expenses.
Calorie Mama AI is a lightweight and easy-to-use calorie counter app that can count calories by taking food photos.
Since the app takes the help of AI, it can recognize even complex dishes from restaurants. Besides recognizing the dishes and counting the calories, Calorie Mama AI provides meal plans and recipes.
While the app isn't clear on how it provides the AI features to its users, it does claim that it does the fancy work behind the scenes with deep artificial intelligence, neural networks, and image recognition to provide you with nutrition data.
There's also a premium version of the app available for purchase. The premium version automatically logs additional nutrition of your scanned dishes, customizable calorie goals, adds scientifically proven home workouts, and more.
Perplexity is basically a ChatGPT alternative for iPhone that is of great use. Like ChatGPT, you can use the Perplexity AI on iPhone to get instant answers on any topic.
The thing that makes Perplexity more reliable than ChatGPT is access to the web. It can access the web and fetch information in real time. So, having Perplexity AI on iPhone is like having a superpower to search, discover, research, and learn faster about topics.
Perplexity AI is also one of the first AI chatbots for mobile to access internet search and provide reliable information. The app also allows you to use your voice to ask questions faster.
So, if you want something powered by a combination of AI and internet search, Perplexity AI is the app you should install.
Remini – AI Photo Enhancer is a photo editor app that has the potential to turn your old and blurry photo into gorgeous, clear HD in just a single tap.
It's a great AI photo editor for iPhone that can put life into your old photographs. Even if you don't want to experiment with old photos, you can use the app to enhance your everyday portraits and selfies to stunning, influencer style output.
The app generates share-worthy viral photos for you and the before and after comparisons. The premium version of the app is most admired and unlocks every feature.
These are the few best AI apps for iPhone you should definitely give it a try. Almost all iOS Ai apps we have shared are available on the Apple App Store and can be downloaded for free. So, make sure to use these apps to experience the superpower of AI on your iPhone.
Also Read: 10 Best AI Apps for Android