We are going to share 10 best brain training apps/games that will undoubtedly train your brain and boost your IQ level. Go through the post to know about it.
Do You know? Can you get smarter by playing games? You are actually carrying a portable brain trainer in your pocket! Your Android can be your best friend that will find some great ways to exercise your mind when it's idle.
Also Read: 7 Best Android Security Apps You Must Have In Your Phone
Top 10 Best Apps To Train Your Brain 
Today we are going to share an article on games that focus on training your brain. Guess what? This games will boost your IQ level and you can test your brain by simply playing this game on your Android smartphone. So have a look on the games listed below and its features.
With Wallet Play, you can improve your skill with these brain teasers, unlock levels & have endless fun with new word puzzles. The best part is it doesn't need any registration or complication, start playing these simple & highly addictive games by just installing.
Features Of Wallet Play
The unique new concept of Clue texts with pictures!
An awesome feature of a presenting meaning of a word in both text & image format. We guess we are first in this category!
Fun way of learning words
Mind Games is a great collection of games based in part on principles of cognitive psychology to help you practice different mental skills. This app includes nearly 3 dozen of Mindware's brain training games (some of which allow you to play 3 times and require upgrading to play more). All games include your score history and graph of your progress.
Features Of Mind Games
Abstraction – Exercise your ability to quickly differentiate between words with a concrete vs. abstract meaning.
Attention Training Game – Exercise your brain's attention. Based on the flanker attention task. Practice your ability to ignore competing for information and processing speed.
Anticipation – Practice your ability to anticipate and respond rapidly.
Changing Directions – Practice your attention, concentration, processing speed, and mental flexibility.
Also Read: Top 7 Best Free Podcast Apps For Your Android Smartphone
Brain Age Test is simple yet addicting mobile teaser which tests your brain age base on your game performance. Improves and tests your short-term memory and brain age. Shows you exact age of your brain.
Features Of Brain Age Test
Calculate your mental age and draw more information out of your brain.
Improves and tests your short-term memory and brain age
You don't need advanced apparatus or contraptions to play the test
Sudoku Master has been polished to perfection and boasts an intuitive, touchscreen gameplay which makes you never need a paper puzzle again. For those who need some info about Sudoku let me tell you Sudoku is a logic-based number placement puzzle. The objective is to fill a 9×9 grid with digits so that each column, each row, and each of the nine 3×3 sub-grids contains all of the digits from 1 to 9 , It will trick your mind and improve your concentration power.
Features of Sudoku Master
Two modes – Classic & Casual (auto remove the wrong numbers)
4 Levels – Easy, Normal, Hard, Expert
Smooth interface and Impressive graphics
Auto-save & Resume
Undo & Redo function
Smart Notes (pencil marks)
Error checking (incorrect entry highlighting)
Selected digit highlighting
Also Read: Top 10 Best Android Multiplayer Games To Play With Your Friends
MatchUp is a card game designed for two people, although single player modes are available. Cards are laid out in a grid face down, and players take turns flipping pairs of cards over. If the two cards match, the player scores one point, the two cards are removed from the game, and the player gets another turn. If they do not match, the cards are turned back over. The object is to match pairs of cards in as little moves as possible.
Features Of MatchUp
Match Up will allow you to challenge your memory
Your brain's memory will be challenged on various levels
Some of the themes are harder than others as the distinctions can be very specific.
MatchUp is a good Memory trainer for all the family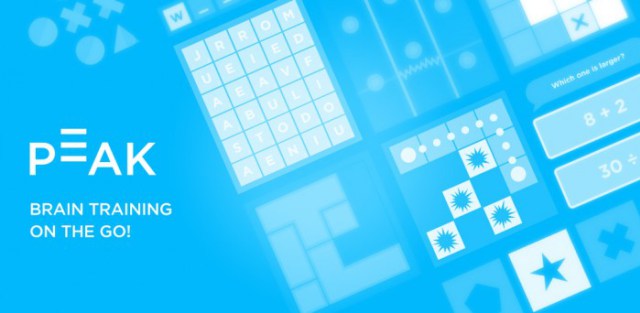 Peak is a personalized training program. It is specifically designed to help you track and improve your brain with memory, focus, problem solving, mental agility and language skills.
Features Of Peak
Over 30 great challenging mini-games across different categories (memory, focus, language, mental agility or problem solving), all designed with the help of neuroscientists to be fun, challenging and rewarding. One new game added each month!
Adaptive and dynamic game difficulty to keep the brain training challenging.
Personalized daily workouts of brain game challenges in the categories that most suit your needs.
In-depth performance tracking with insights including personal and comparative brain maps, data visualizations and per-category graphing (memory, focus, language, mental agility or problem solving).
Also Read: Top 6 Best Free Music Player For Your Android Smartphone
Elevate is a brain training program designed to improve attention, speaking skills, processing speed, memory, math skills, and more. Each person is provided with his or her own personalized training program that adjusts over time to maximize results.
Features Of Elevate:
35+ brain games for critical cognitive skills like focus, memory, processing, math, precision, and comprehension
Detailed performance tracking
Personalized daily workouts that include the skills you need most
Adaptive difficulty progression to ensure your experience is challenging
Workout calendar to help you track your streaks and stay motivated
Lumosity combines 25+ cognitive games into a daily training program that challenges your brain. Games adapt to your unique performances — helping you stay challenged in a wide variety of cognitive tasks.
Features Of Lumosity
Lumosity combines 25+ cognitive games into a daily training program
Lumosity is exploring new ways to challenge the brain
With NeuroNation, you can improve your brain effectively with NeuroNations's professional brain games. Create a personal workout plan for your brain and see the change in your performance.
Features Of NeuroNation
Strengthen your memory
Improve your attention
Increase your intelligence
Make faster decisions
Track your progress and compare yourself with members and friends.
Brain-Train is an innovative brain training app that strengthens the links between the left and right sides of the brain. Intense cooperation between both sides of the brain has a significant impact on brain performance.
Features Of Brain-Train
An innovative and free brain training app for the left and right sides of your brain
4 exercises to improve your creativity, concentration, and memory
The successful BRAIN-TEST on the go
App recommendations for your own personal brain training
Also Read: Top 6 Best File Manager For Your Android Smartphone
So we had listed 10 apps that will never skip ways to train your brain, You just need to download each game one by one and train your brain. You can track your progress too! If you had some more similar game then do share with us in a comment box.
COMMENTS
AUTHOR