Do You know? You are carrying a portable brain trainer in your pocket! Your Android can be your best friend that can help you improve your mental health.
There are hundreds of apps available on the Google Play Store dedicated to brain training. With these apps, you can train your brain in no time. These apps will help you improve your focus, concentration power, and more.
List of 15 Best Apps To Train Your Brain
Today we are going to share an article on games that focus on training your brain. Guess what? These games will boost your IQ level, and you can test your brain. So, let's check out.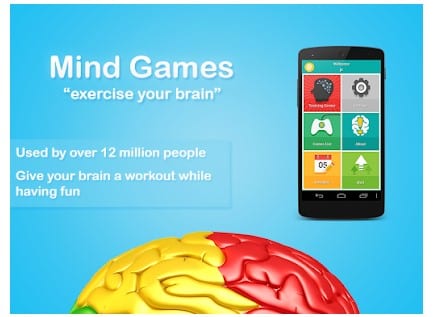 Mind Games is an excellent collection of games based in part on principles of cognitive psychology to help you practice different mental skills.
This app includes nearly 3 dozen Mindware's brain training games (some of which allow you to play 3 times and require upgrading to play more). All games include your score history and graph of your progress.
MatchUp is a card game designed for two people, although single-player modes are available. Cards are laid out in a grid face down, and players take turns flipping pairs of cards over.
If the two cards match, the player scores one point, the two cards are removed from the game, and the player gets another turn. If they do not match, the cards are turned back over. The object is to match pairs of cards in as few moves as possible.
Peak is a personalized training program. It is specifically designed to help you track and improve your brain with memory, focus, problem-solving, mental agility, and language skills.
You need to spend around 10 minutes every day to complete a brain training workout with Peak. The games have been carefully picked to improve your brain health.
Elevate is a brain training program designed to improve attention, speaking skills, processing speed, memory, math skills, and more. Each person is provided with a personalized training program that adjusts over time to maximize results.
The app offers 40+ brain games for critical cognitive skills like focus, memory, math, precision.
Lumosity combines 25+ cognitive games into a daily training program that challenges your brain. Games adapt to your unique performances — helping you stay challenged in a wide variety of cognitive tasks.
The app is now used by over 100 million people worldwide, and it consists of science-based games that are supposed to exercise attention, focus, flexibility, and more.
With NeuroNation, you can improve your brain effectively with NeuroNations's professional brain games. Then, create a personal workout plan for your brain and see the change in your performance.
Memorado is the leading gym for the mind – providing fun, personalized workouts geared towards boosting your memory, concentration, and reaction skills. The app features over 450 levels in 14 games based on neuroscience.
Apart from the brain games, the app also offers you over 100+ meditative audio sessions to calm your mind and promote better sleep.
Memory Games features some logic games to train your memory and attention. While playing our brain games, you not only get a lot of fun but also gradually improve your memory, attention, and concentration. The app offers 21 logic games that will train your brain and memory for sure.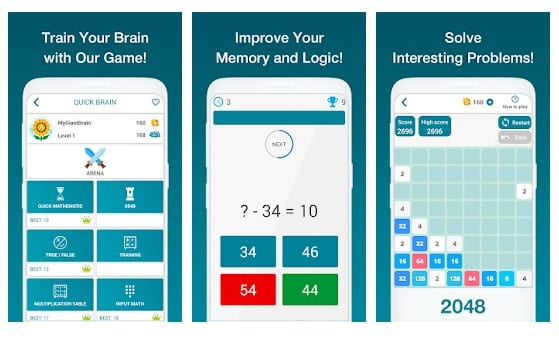 This is one of the best apps you can have if you want to increase your brain power and compete against players worldwide! Brain games are based on principles of cognitive psychology to help you practice different mental skills: memory, attention, speed, reaction, concentration, logic, and more.
Well, CogniFit Brain Fitness is the only brain training and brain games app that allows you to evaluate and improve your memory and cognitive skills in a professional and fun way. Test your brain and learn more about your cognitive abilities and cognitive function.
Brain dots is one of the simple yet challenging Brain games you will ever play on your Android smartphone. In this game, you need to do only one thing to 'bump two balls'. This game will really test your logical thinking and the flexibility of your mind. So, its one of the best Android apps to train your brain
Brain It On! is a physics puzzle brain game that every Android user would love to have. The best thing about Brain It On! is that it offers dozens of brain busting physics puzzles that can be completed only if you are willing to use your logical power. Not just that, but the games can be solved in multiple ways.
If you are looking for an Android game that can test your memory skills, Skillz might be the best pick. Guess what? The game is fun to play, and you will have excellent brain exercise while playing the game. So, Skillz is another best fun logical brain game that you can play right now.
Do you want to increase your brainpower while competing with other online players from around the world? If yes, then Brain Wars might be the perfect pick for you.
Brain Wars is a collection of short brain teasers in which you need to outscore your opponents. So, Brain Wars is one of the best Android games you can play to train your brain.
As the name of the app says, Train Your Brain is a complete package of mini-games that can help you with improving concertation and attention.
Guess what? Train Your Brain can help you focus on a subject, making you learn the art of attention.
So, the best Android apps to train your brain. I hope this article helped you! Please share it with your friends also. If you have any doubts related to this, let us know in the comment box below.