With Android Pie, Google has introduced all-new Gesture navigation. The feature is handy because it eliminates the extra space of a virtual-navigation button. After that, almost all smartphone comes with gesture support.
Now that Google has introduced the navigation gestures with Android Pie, almost all devices running on Android 9.0 can use this feature without using any third-party app. But what if your smartphone is running an older version of Android? In that case, you have no choice left apart from using third-party apps.
Fortunately, every Android user can enjoy the Android Pie or iPhone X Gesture features. It doesn't matter if your device is running on Android KitKat or Marshmallow; the apps which we are going to list below will help to bring the navigation gesture feature.
Below we have shared a list of the best Android gesture apps that mimic the gesture navigation feature. You can use all these apps to get the all-new navigation gestures on any Android smartphone.
Infinity Gestures is another excellent gesture navigation app for Android that brings fluid gestures like swipe to back to all devices.
The good thing about Infinity Gestures is that it lets you customize your actions. You can customize the back, home, last app, recent apps, and other actions.
One Hand Operation from Samsung is designed for the Samsung Galaxy series of smartphones. The Android app lets you use your smartphone with your thumb gesture.
When you install the app, a thin gesture handle is added to the left and right side of the screen. You just need to swipe the screen to execute the defined function.
Gesture Ball is slightly different from all other apps listed in the article. The app brings wipe-to-back fluid gestures to all phones.
Apart from that, Gesture Ball also has a Swipe and hold feature that lets you switch to recent apps. Yes, you can customize all the pre-built actions as per your wish.
It is one of the great gesture apps on the list, which adds a pill-shaped button at the bottom, just like the iPhone X.
The great thing about X Home Bar is its interface which looks amazing and pretty straightforward. Another great thing about X Home Bar is that it works even on rooted Android devices.
Instead of adding a pill shape button on the bottom of the screen, it adds a fluid button on the screen. The gesture animations are unique, and it has two primary gestures – Quick Swipe and Swipe and Hold. Swipe and hold will open the open apps, and the Quick Swipe will open the home screen.
Gravity Gestures is one of the best Android apps that could help you save a lot of time. Guess what? Gravity Gestures brings a wide range of Moto Actions and a lot more on any Android device.
The app has four gestures – Rotation X, Rotation Y, Rotation Z, and Shake. In addition, you can assign different sets of tasks to these gestures.
Looking for ways to access apps, settings, etc., by drawing a gesture? If yes, then you need to give Gesture Magic a try.
With Gesture Magic, you can create custom gestures to launch your favorite apps, make calls, send SMS, open websites in the browser, lock the screen, etc. The app is straightforward to use, and it's free.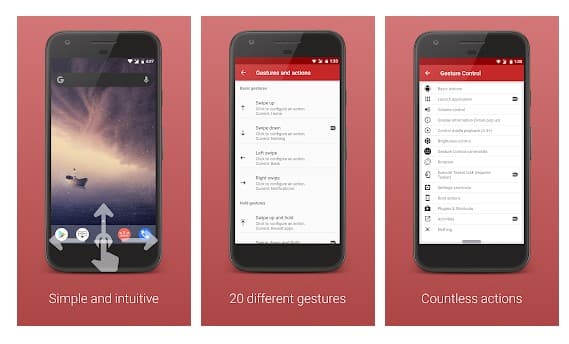 This app can help you to get rid of your navigation bar. Basically, the app replaces the default navigation bar with gesture-based navigation, just like Android Pie. So, Gesture Control is another best Android gesture app you can use right now.
This one is new, at least compared to all others listed in the article. It offers some exciting gesture features like you can set a gesture to launch your favorite app with just a swipe.
In addition, you can set gestures for every different task like the gesture for launching certain apps, switching WiFi, Bluetooth, etc.
With Full-Screen Gestures, you swipe from left, right, bottom edge to perform specific tasks. Another best thing about Full-Screen Gestures is that it works on both rooted and non-rooted Android smartphones. So, Full-Screen Gestures is another best navigation gesture app for Android.
You can use these Android apps to bring gesture navigation on your Android. These apps work on every Android device. If you know any other apps like these, then make sure to drop the app's name in the comment box below.