[dropcap]L[/dropcap]earn how to explore out 15 of the Best Android Investment Apps you Need to Check Out as they will give you a better experience of investing money in stock markets to earn lots of money. So have a look on complete tutorial below.
Investing in the stock markets have become a serious deal for many of the people around the globe, but the thing with which all those investors might be geared up is the heavy fees of the financial experts. The way to invest and hence manage out the investments are too fragile, and that seriously needs great handling, for the reason the starters or the moderately rich people never give it a try. To solve out the issue of that messy entrance and heavy managing changes technology has stepped in. Now through some of the apps, anyone could easily start to invest in the stocks quickly and gain their benefits too. Here in this article, we have written about the 15 of the best investment apps for the Android devices, and all these apps are perfectly the override of all other such apps of the same category. If you are also looking for the best Android Investment app for your device then you are exactly at the right place, the article we have written and the apps listed in it could prove to be beneficial for you in case you want some high-quality investment app for Android. You just go and read out the whole article given below so as to know about all those best apps!
Also Read: How to Make Your Android Look like an iPhone (Without Root)
15 of the Best Android Investment Apps you Need to Check Out (Android Investment Apps)
Let's have a look at apps that are on the top list according to user review and download rates.
Also Read: Top 10 Best Paid Android Apps 2017
If you are willing to start yourself in the stock market but you just don't want to go through that tough challenges or the nuances while required to learning about this sort of business then just know one thing the Acorns app is simply made considering your situations. This app just makes it incredibly easy the investing in stocks, and the procedure is simple to learn up inside the app. The only thing we would say is that you must go for this app if you are willing to seriously step in the stock investments!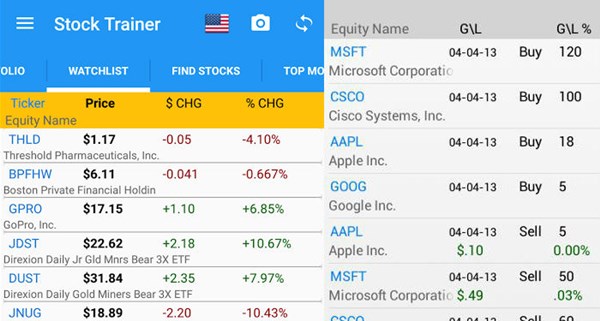 As the name of this app suggests, this is made for the learners those who wish to learn up the investing in stock but all without losing even a penny. The app plays the real game for you, but the only thing is that you are given the virtual money that you could invest in the real time data of the stock. This helps a lot to try and learn more and more strategies while all done without losing any money!
This app demolishes the need of all that brokerage fees while investing in the stock market and it has also eliminated the fees associated with the trading stocks. As a result, this app allows the users to either buy or sell stocks but all without the commission fees. Many other functions are allowed inside the app that helps the user to remain fully connected with the stock market.
Also Read: How To Crack and Patch any Android apps using Lucky Patcher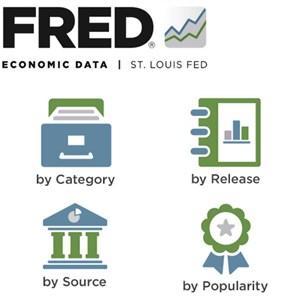 This is great, and a must have app for those who are seeking to step in for the stock investments. This app has a great bunch of 40,000 different data sets gathered from 37 sources which the users could use for research about the performance of the company etc.
This is a kind of social media app that could be used to connect with other investors and traders so as to make up the completely secure investment decisions. Market Analytics or the gain insight on stock trends all these could be followed by this single app!
Also Read: How To Download Paid Android Apps & Games For Free (2 Ways)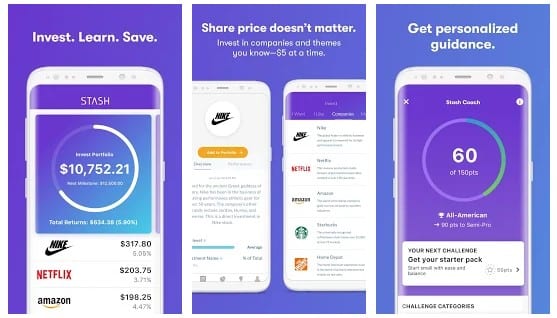 Stash: Invest. Learn. Save is one of the best finance and investment app that you would love to have on your Android smartphone. Not just that, but the app also offers a debit account with zero set-ups. Apart from that, you can use Stash: Invest. Learn. Save to personalize your saving and investment advice.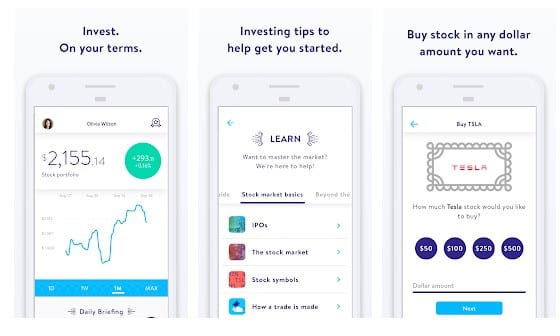 If you are looking for an Android app that can help you with buying and selling stock, then Stockpile might be the best choice for you. Guess what? the app offers fractional shares so that you can trade stocks for just the amount of money you want. So, definitely, Stockpile is one of the best investment apps that you can consider today.
Well, if you are looking for a smart way to track and manage your stocks, or want to manage your financial life in a much better way, then Personal Capital might be the great choice for you. Personal Capital is basically an all-in-one app for managing your financial life. It brings in lots of tools that can really help you with the finances.
Stocks, Forex, Finance, Markets from investing. com is another best financial app on the list which covers a wide range of financial instruments. It won't be wrong to say that Stocks, Forex, Finance, Markets is one of the best one-stop-shop for traders and investors. The great thing about Stocks, Forex, Finance, Markets is that it provides live updates on global economic events customized to your personal interests.
If you are looking for an Android app that allows users to track the stock investment, then JStock might be the perfect pick for you. Guess what? with JStock, you can easily track your stock investment. The great thing about JStock is that it provides users with stock market information in an easy to understand way. So, JStock is another great Android investment apps which you can consider.
SigFig Wealth Management is a little bit different compared to all other investment apps listed in the article. You can either invest with SigFig and let them manage your portfolio, or you can check the stock price and track your investments. The user interface of SigFig Wealth Management is clean and friendly and its definitely one of the best investment app that you can use right now.
Investing.com is one of the best Android investment apps that you can use right now. The best thing about Investing.com is that it offers users a set of financial informational tools which covers a wide range of both local and global financial instruments. With, Investing.com you can analysis the real-time data of over 100,000 financial instruments.
M1 Finance is another best investment app for Android that you can consider. The app allows users to invest for free in the stocks and ETF's of their own choice. Not just that, but with M1 Finance, users can also invest for retirements. So, M1 Finance is definitely the best Android investment app that you can use today.
If you are searching for a simple looking and effective app to follow the stock market and financial markets, then MyStocks might be the best pick for you. MyStocks is a completely free app and it doesn't have any limitation. With MyStocks, you can get real-time quotes and charts of stocks, ETF's funds, etc. So, MyStocks is one of the best investment apps that you can check out.
NetDania Stock & Forex Trader is one of the top-rated Android investment app available on the Google Play Store. Guess what? NetDania Stock & Forex Trader can provide you information on over 10,000 stocks, 2000 currency, and has over 20,000 financial information. So, the app has everything that you need to check before investing on anything.
So you have now got about all those Android apps which are of Investment category and are also the best ones you could ever find for your device. These apps are perfect for the task of managing all your investments directly through the Android device. Hope you might have liked these apps and installed the favorite one on your device, but if you haven't yet tried any of the apps then go now and try these up, you will get amending quality from these!