Let's admit it, one of the most common file formats we deal with is archived files. Modern Android smartphones have a built-in file compressor to create or extract Zip files.
However, the file compression feature is not available on every Android smartphone. If your phone has no stock file compression app, you need to use third-party archive management apps.
Fortunately, the Google Play Store has apps that can help you open and create zip files on Android.
Also Read: 10 Best File Compression Apps For Android
List of 10 Best Apps To Open ZIP Files On Android
This article will share a list of the best apps to open zip files on Android. All these apps serve the same purpose – opening and creating ZIP files. So, let's check out.
RAR is for those searching for a simple, free, easy-to-use file compression app for Android smartphones.
It's a zip archiver, extractor, and creator that can deal with zip files stored on Android. Besides the ZIP files, RAR supports ZIP, TAR, GZ, BZ2, XZ, 7Z, ISO, and ARJ.
You can even use RAR to create password-protected RAR and ZIP files. The app includes file management options such as copying, deleting, moving, and renaming files and folders.
If you are searching for the best free Android archive management app, you must try ZArchiver. The app has a reasonably simple user interface, making the archive management process more efficient and easy.
Regarding file format compatibility, ZArchiver supports Zip, 7ZIP, XZ, tar, etc. Apart from that, ZArchiver also supports multi-thread and partial archive decompression.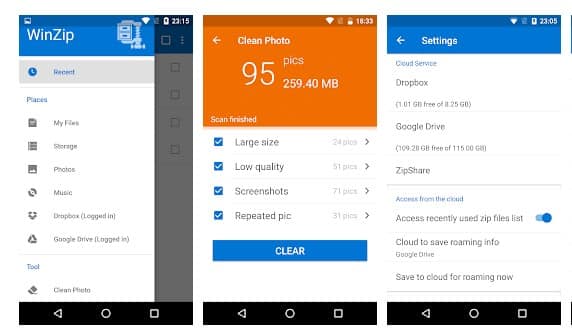 WinZip is another free and most famous ZIP app on the list which you can use to create and extract ZIP files. If we talk about file format support, WinZip supports ZIP, 7Zip, 7X, RAR, and CBZ.
What's more useful is that WinZip can also locate zip files stored on cloud storage like Gdrive, OneDrive, etc.
With WinZip premium, you can create and protect ZIP and Zipx files with 128 and 256-bit AES encryption. Also, the premium version provides you immediate access to ZIP & email feature and direct access to famous cloud storage to save your ZIP files.
Zipify is a full-fledged file compression app for Android available on the Google Play Store. With Zipify, you can easily view, compress, archive, and decompress RAR and ZIP files.
It's a lightweight app that automatically detects all compressed file formats stored on your internal memory and SD card.
The only drawback of Zipify is that it doesn't support password-protected compressed file formats. You can neither create nor open any protected ZIP/RAR files with Zipify.
It's a full-fledged free file manager app for Android to help you with file and archive management. However, ALZip packs every feature you get from a premium MiXplorer Silver despite being a free Android app.
If we talk about the features, ALZip can compress files into ZIP, egg, and all formats and extract zip, RAR, 7Z, egg, tar, etc.
If you are searching for an Android app to take control of archive files stored on your smartphone, then 7Z – Files Manager might be the best pick for you. With 7Z – Files Manager, you can easily open or compress ZIP, RAR, JAR, or APK files on Android.
The app can also unzip files that are encrypted with a password. But, of course, you need to know the password for that.
If you are searching for an Android app that can help you zip/unzip compressed files, then 7Zipper might be the best pick.
It supports almost all decompression file formats like ZIP, ALZ, EGG, TAR, GZ, RAR, JAR, etc. Apart from that, it also got an image viewer and text viewer.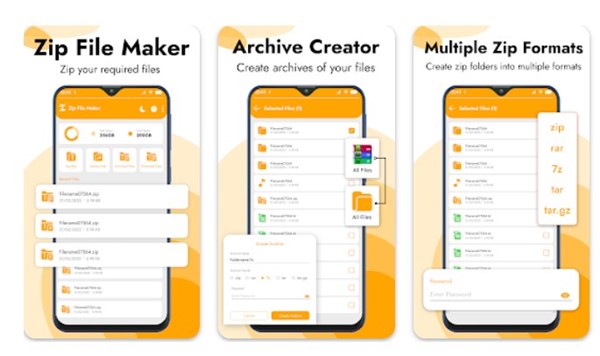 Even though Zip Extractor is less popular than the other file compressor apps, it is still capable enough to handle 7zip, JAR, Tar, and RAR files.
You can use this application to compress your files into ZIP format. Not only that, but Zip Extractor also has a file manager that lists all ZIP or RAR files stored on your device.
You can control multiple ZIP files from the app's interface, extract them into a folder, or view them without extracting them. Overall, Zip Extractor is an excellent app for opening ZIP files on Android.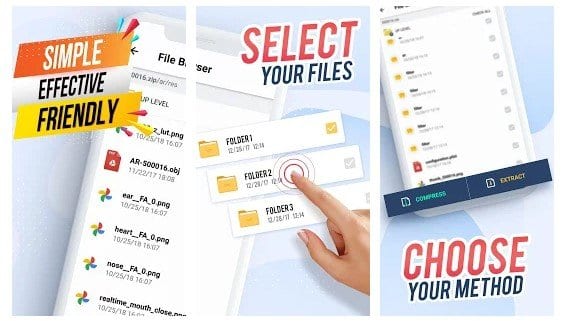 Like every other app on the list, ZIP Master also helps you with archive management. The app is quite popular amongst Android users because it's lightweight and easy to use. With ZIP Master, you can easily extract ZIP and RAR files on your Android device.
However, it misses some essential features, like it can't extract encrypted files, create password-protected zip files, etc.
B1 Archiver is one of the leading file compression apps available for Android. It can decompress ZIP, RAR, B1, and 34 other formats.
Not only that, but B1 Archiver can be used to create password-protected ZIP and B1 archives as well. It also has a Partial Extraction feature, which allows you to extract only selected files.
MiXplorer Silver is technically a file manager app, but it can easily handle ZIP or RAR files. This premium file manager app for Android boasts hundreds of features.
You also get an Archiver for packing/unpacking the 7z, ZIP, TAR, TAR.GZ, GZIP, LZ4, and other file types. The file manager app is easily themebale with customization options as well.
Since it's a premium file manager app, it brings you tabbed browsing and dual pane mode in landscape mode. With the Dual Pane mode, you can drag and drop the files to move them.
Pro 7-Zip is an advanced Android app that lets you extract up to 25 different file formats on your phone.
It works with ZIP, 7ZIP, ZIPZ, JAR, 7Z, TAR, ISO, and other file formats. What makes this one unique is that it also allows you to create password-protected ZIP files.
The only drawback of Pro 7-Zip is that it misses out on support for cloud storage services.
These apps are free to download & use and can open ZIP files on Android. So, these are the best apps to open zip files on Android. If you want to suggest other apps to open ZIP files, drop the app's name in the comments below.