Let's admit it, the technology around us is evolving rapidly. These days, people prefer smartphones and computers to do their daily work. In fact, we are now dependent more on our smartphones than computers.
Using smartphones and computers is not a bad thing. But, overusing these devices can damage your eyes because of the blue light emitted from the screen. Blue Light emits from electronic devices forces our brain cells to think it's daytime.
So, over usage of a smartphone can adversely affect your eye health. However, the good thing is that you can take a few precautions to reduce the eye damage, and the best to get started is by using the Blue Light filter apps. This article will discuss some of the best blue light filter apps for Android that you can use today.
List of 10 Best Night Mode Apps for Android
Below are the apps to reduce eye strain and save battery life. So have a look at all these apps below.
Night Owl is one of the great Android apps that filters out the blue light emitted from the smartphone screen. Apart from emitting blue light, it also reduces the brightness of your phone's screen.
This app is easy to use, and you can manually schedule the start and stop time. Overall, this is a great blue light filter app for Android.
If you are looking for a free Android app to block the blue light and adjust the screen's brightness, look no other than HALO.
It lets you turn on the blue light filter and allows you to adjust its intensity and brightness. Once installed, HALO adds a shortcut icon in the notification area, allowing you to enable/disable the blue light feature easily.
Twilight is a famous and top-rated night mode app on the Google Play Store. It's a blue light filter app that filters the flux of blue light emitted from your smartphone screen.
Limiting the blue light ensures better eye health and reduced eye irritation, especially at night. In addition, the app works great with every type of screen, including AMOLED displays.
Well, if you are looking for an Android app that could allow you to lower your phone's screen brightness to extremely low levels, then look no other than Darker (Screen Filter).
It's a free, lightweight Android application available on the Google Play Store that reduces your eye strains by lessening your screen's brilliance. The app works great with every type of display, and it also lets you apply color filters.
Health experts have confirmed that blue light affects a person's sleep quality. The Blue Light Filter Android app promises to reduce the blue light emitted from your smartphone screen.
Reducing the blue light also lets you adjust the filter intensity, save power, and dim the screen to the maximum level. The app is free to download & use and doesn't even show any ads.
Well, f.lux is a top-rated Windows 10's blue light emitter app. However, it failed to leave its mark on Android. Still, the f.lux app is available for free on the Google Play Store, and you can give it a try.
The worst thing about the f.lux app is that it requires root access to work; otherwise, it is useless. If you have a rooted device, you can give f.lux a try on your smartphone.
This is another best Android blue light filter on the list that adapts the colors on your Android device based on the sun's position or your custom configuration.
The good thing is that it works on every version of Android. In addition, it offers multiple color filters, and every filter is customizable.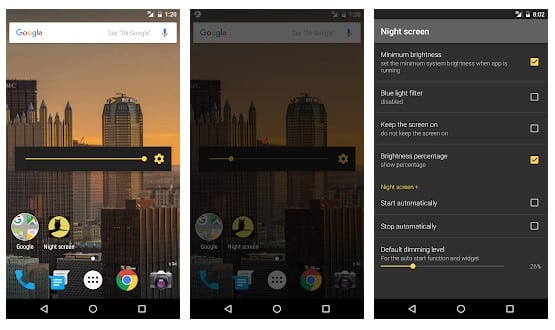 The night screen's primary goal is to lower your screen's brightness than you can achieve with the default settings. This application applies an overlay filter that acts as a dimmer to darken the screen.
It helps avoid headaches and eye pain in a dark environment or at night. The app is available for free, and it doesn't show any ads.
Sfilter is an app that adds a Blue Light filter or Night mode on your Android smartphone. The great thing about sFilter is that it offers 12 different colors to choose from in an optimized filter.
Not only that, but the app also provides a wide range of features, like you can adjust the color balance from the notification bar, navigation bar, etc. The app is free to use and doesn't show any ads.
Midnight (Night Mode) is another great Night Mode and Blue light filter app you would love. The app is designed to prevent eye fatigue.
The app greatly reduces eye strain by changing the color temperature of your phone's display. This is more like a Bluelight filter app that adds a screen filter on top of your screen.
Besides reducing the eyestrain, Midnight (Night Mode) also greatly saves the battery life. The app can save even more battery life if your phone has an AMOLED display.
So, these are the best Bluelight filter apps for Android. With these apps, you can easily reduce the blue light emitted from smartphone screens. If you know of other such apps, let us know in the comment box below.