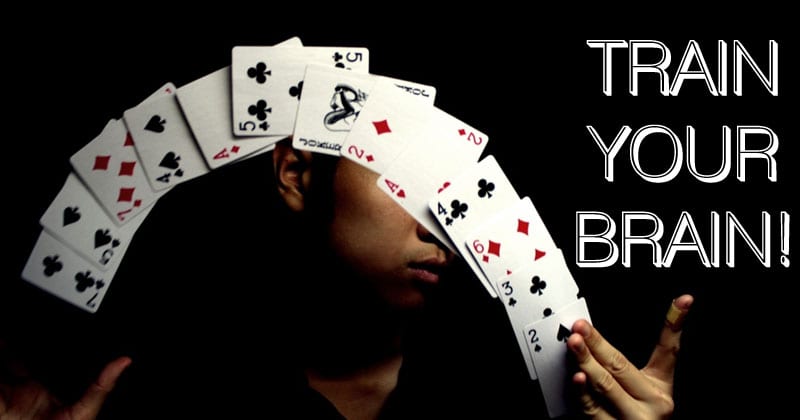 The great thing about Android is that it has a variety of apps and games. Just take a brief look at the Google Play Store; you will find a wide range of apps and games over there. For instance, there are RPG Games, Racing Games, Action Games, etc.
The same thing goes for the apps as well. Similarly, there are brain training apps, which were designed to improve your memory, thinking skills, focus, and even your intelligence. There are lots of Brain training apps available on the Google Play Store, and in this article, we will list a few of them.
Also read: 10 Best Prank Android Apps for Trolling your Friends
List of 10 Best Brain Training Apps For Android
In this article, we have decided to share some of the best brain training apps to improve memory, concentration, increase IQ, or enhance other cognitive skills. So, let's check out.
Peak is an Android app that lets you plan fun & neuroscience-based games to track and challenge your cognitive skills. As of now, the app has more than 45 challenging mini-games that were designed to keep your mind active.
All the games that you find on the app were made in partnership with academics from leading universities such as NYU and Cambridge. You can play free brain games to challenge your memory, math, problem-solving, mental agility, creativity, and more.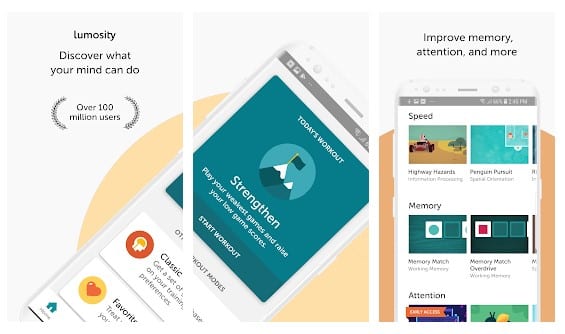 With this game, you can challenge your Memory, Attention, and more. The Lumosity app for Android is right now used by over 70 million people worldwide.
Lumosity combines 25+ cognitive games into a daily training program that challenges your brain. Games adapt to your unique performances — helping you stay challenged in a wide variety of cognitive tasks.
It doesn't matter if you have a weak memory, dwindling concentration, or low thinking capacity; NeuroNation – brain training claims to fix all brain-related troubles for you.
NeuroNation – brain training is one of the top-rated brain training apps available on the Google Play Store, and 15 million users right now use it. Guess what? NeuroNation – brain training has over 27 exercises and 250 levels to get your brain trained.
How To Improve Memory is basically a guidebook that shows you guides on improving memory. If you are not into playing games or participating in tests, you will love this app for sure.
The app has a reasonably clean interface and useful guides to improve memory. If you like some of the guides, you can also share them with others. Overall, it's a great app for improving memory.
It is a brain training program designed to improve attention, speaking skills, processing speed, memory, math skills, and more. Each person is provided with a personalized training program that adjusts over time to maximize results.
This simply means the more you train with Elevate, the more you'll improve critical cognitive skills, which eventually boosts your productivity, earning power, and self-confidence.
Well, Brain Wars is slightly different from all other apps listed in the article. It's a real-time concentration battling app that helps you to increase your brainpower. The app serves as a platform to compete against other players from all around the world.
Brain Wars has easy-to-understand mental training rules and concepts that help you push your brain to its limit.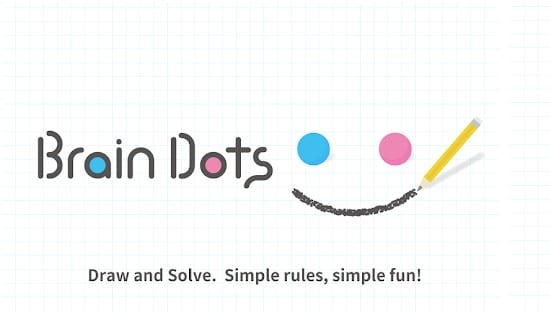 Brain Dots is a pretty addictive Android game that everyone, from children to grown-ups, would love to play. In this game, you need to bump the blue and red balls. You can draw lines and shapes freely to move and roll the balls.
However, the game is not as easy as it sounds, as flexible thinking is the key to victory. The game is best to test or improve your logical thinking and maintain the mind's flexibility.
Mind Games is by far the best and leading brain training app available on the Google Play Store. Like every other app, Mind Games also relies on playing games to improve your memory. However, the games were advanced and divided into different categories.
For example, there are attention training games that let you exercise your attention. Similarly, there are games to improve your anticipation, memory, memory flow, focus, and more.
To improve your memory, it provides a wide range of games. All of the games were based on principles derived from cognitive tasks to help you practice different mental skills.
Well, Memorado is the leading gym for the mind – providing fun, personalized workouts geared towards boosting your memory, concentration, and reaction skills.
The app has over 14 games designed to help you get sharper every day. The app also provides you with over 100 meditative audio sessions to calm your monkey mind along with the games.
Memory Games is another fun Android game to train your brain memory and attention. Guess what? To improve your memory and attention, Memory Games offers over 21 logic games.
Each of the games was designed to increase the bain performance. What makes the app more useful is that it can run without having an internet connection. Overall, it's one of the best Android apps to train your brain.
So, these are the best Android apps that have a great collection of brain training games. You should start using these apps to improve your focus, memory, and attention. I hope this article helped you! Please share it with your friends also. If you have any doubts related to this, let us know in the comment box below.