The great thing about Android is that it has a variety of apps and games. Just briefly examine the Google Play Store; you will find many apps and games. For instance, RPG Games, Racing Games, Action Games, etc.
The same thing goes for the apps as well. Similarly, there are brain training apps designed to improve your memory, thinking skills, focus, and intelligence. Many Brain training apps are available on the Google Play Store, and in this article, we will list a few of them.
Also read: 10 Best Prank Android Apps for Trolling Your Friends
13 Best Brain Training Apps For Android
This article shares some of the best brain training apps to improve memory and concentration, increase IQ, or enhance other cognitive skills. So, let's check out.
If you love playing physics-based puzzle games on your mobile, you need to give Brain It On! a try. Brain It On! is one of the unique brain training apps you can use today. It has dozens of puzzles that require drawing shapes and solving puzzles.
Each puzzle has multiple ways to solve; you need to find the best and easiest. The brain training app for Android also allows you to compete with your friends.
As you might have guessed by the name, Differences is an app that asks you to find differences between two similar-looking pictures. The photos were amazing, but finding different details in both pictures is tricky.
You need to focus on both pictures to find different details, improving your power of observation. Currently, the app has more than 20,000 free pictures to have fun & find differences.
So, Differences is a great app that you should start using to improve your power of observation.
Braindom 2 is one of the best and top-rated brain games that you can have on your Android smartphone. It's an app with many brain games and riddles to give your brain a great exercise.
Brain games usually show you riddles, and you need to find out who is who, who is lying, who is the culprit, and more.
Compared to other brain games on the list, Braindom 2 follows a different approach, and that's what makes the app pretty effective.
Peak is an Android app that lets you plan fun & neuroscience-based games to track and challenge your cognitive skills. Currently, the app has more than 45 challenging mini-games designed to keep your mind active.
All the games on the app were made in partnership with academics from leading universities such as NYU and Cambridge. You can play free brain games to challenge your memory, math, problem-solving, mental agility, creativity, and more.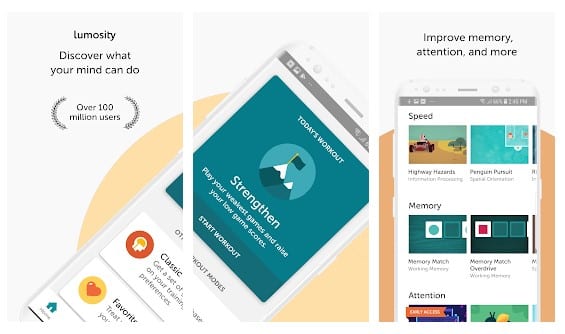 This game can challenge your Memory, Attention, and more. The Lumosity app for Android is now used by over 70 million people worldwide.
Lumosity combines 25+ cognitive games into a daily training program that challenges your brain. Games adapt to your unique performances — helping you stay challenged in various cognitive tasks.
It doesn't matter if you have a weak memory, dwindling concentration, or low thinking capacity; NeuroNation – brain training claims to fix all brain-related troubles for you.
NeuroNation – brain training is one of the top-rated brain training apps available on the Google Play Store, and 15 million users now use it. Guess what? NeuroNation – brain training has over 27 exercises and 250 levels to train your brain.
It is a brain training program designed to improve attention, speaking, processing speed, memory, math, and more. Each person is provided with a personalized training program that adjusts over time to maximize results.
This means the more you train with Elevate, the more you'll improve critical cognitive skills, eventually boosting your productivity, earning power, and self-confidence.
Well, Brain Wars differs slightly from all other apps in the article. It's a real-time concentration battling app that helps you to increase your brainpower. The app serves as a platform to compete against other players from all around the world.
Brain Wars has easy-to-understand mental training rules and concepts that help you push your brain to its limit.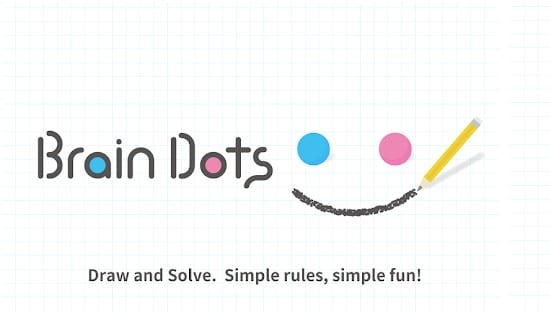 Brain Dots is a pretty addictive Android game that everyone, from children to grown-ups, would love to play. In this game, you need to bump the blue and red balls. You can draw lines and shapes freely to move and roll the balls.
However, the game is not as easy as it sounds, as flexible thinking is the key to victory. The game is best to test or improve your logical thinking and maintain the mind's flexibility.
Mind Games is the best and leading brain training app on the Google Play Store. Like every other app, Mind Games also relies on playing games to improve your memory. However, the games were advanced and divided into different categories.
For example, attention-training games let you exercise your attention. Similarly, there are games to improve your anticipation, memory, memory flow, focus, and more.
To improve your memory, it provides a wide range of games. The games were based on principles derived from cognitive tasks to help you practice different mental skills.
MindPal is an app that can challenge your memory, attention span, language, and problem-solving skills.
It's a package of education games that targets the seven key cognitive areas – Memory, Attention, Math, Flexibility, Language, Speed, and problem-solving skills.
Currently, the app has over 35 games, all set to target different cognitive areas. Also, you get personalized workouts based on your training goals.
Puzzle Page is basically a puzzle game for Android that's great for keeping your mind active and engaged.
Currently, the brain training app for Android has over 20 varieties of puzzles like Sudoku, Nonogram, Wordsearch, Crossword, etc.
The app's premium version unlocks the library of subscriber-exclusive thousands of more puzzles.
If you are searching for an Android app that can help you stimulate your cognitive skills, look no other than Focus.
Focus is a free brain training app for Android that stresses your cognitive skills. Currently, the app has over 25 games, each targeting different brain skills.
Playing the games the app brings improves your attention span, memory, coordination, reasoning, and visual perception.
So, these are the best Android apps with a great collection of brain-training games. It would be best to use these apps to improve your focus, memory, and attention. If you know of other apps to train your brain, let us know in the comments.