Unless you have been inactive on social networking platforms for a while, you should have come across the term 'ChatGPT'. ChatGPT is a craze in social networking platforms, and an increasing number of users are showing interest in it. We will share a list of the best ChatGPT alternatives available if the latter is unavailable.
What is ChatGPT?
In short and simple words, ChatGPT is a powerful and versatile language processing tool. It's a chatbot from OpenAI that's immensely gaining popularity over the internet.
The chatbot is based on GPT-3 language and is expected to revolutionize the technology field. The language processing tool has been trained with large data sets, which enables it to understand human queries and reply appropriately and easily.
We have seen many AI-based writers and chatbots in the past, but ChatGPT is something you can't ignore due to its uniqueness. While the chatbot is good, the biggest downside is that it is often out of capacity due to its immense popularity.
Even if you get your hands on ChatGPT, you may occasionally or always face downtime. This is because the servers of ChatGPT have been overloaded with users. So, if you can't access GPT, you must try other similar services.
10 Best ChatGPT Alternatives
Currently, many ChatGPT alternatives on the web are available that serve the same purpose. While these alternatives may not be as good as ChatGPT, they will still help you understand the concept and feel the power of artificial intelligence. Below, we have listed a few best ChatGPT alternatives in 2023.
1. Chatsonic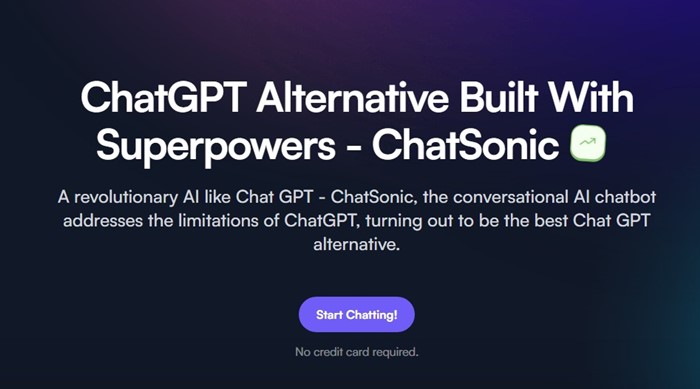 While the site's name is writesonic, its AI chatbot is named 'ChatSonic'. ChatSonic calls itself the best ChatGPT alternative built with superpowers.
Under the hood, it's just a conversational AI chatbot that tries to address the limitations of ChatGPT. The biggest advantage of ChatSonic is that it can access the internet and pull data from Google's knowledge graph to answer your questions.
This thing allows ChatSonic to be more accurate and provide you with more information than ChatGPT. With ChatSonic, you can write factual trending content, generate AI artwork, understand voice commands and responses like Google Assistant, and more.
If we talk about the pricing, ChatSonic is not free; you get about 25 free generations every day, after which you need to pay to use it further.
2. Jasper Chat
Jasper Chat is very similar to ChatGPT when it comes to the feature. It uses natural language processing to generate human-like responses.
Actually, Jasper Chat has been on the web for a while, but it has yet to make it to the top. Now that the craze of ChatGPT has reached sky-high, people are starting to show interest in the Jasper Chat.
Jasper Chat is mainly used for generating content and has features that can immensely help writers. Like ChatGPT, Jasper Chat is also based on GPT 3.5, which was trained on texts and codes published before Q4 2021.
Anyone willing to explore the power of GPT 3.5 can use Jasper Chat to write video scripts, content, poetry, etc. The big downside of Jasper Chat is that the chatbot is pretty expensive. The boss plan, which is the base plan of the tool, starts at a hefty $59 per month.
3. YouChat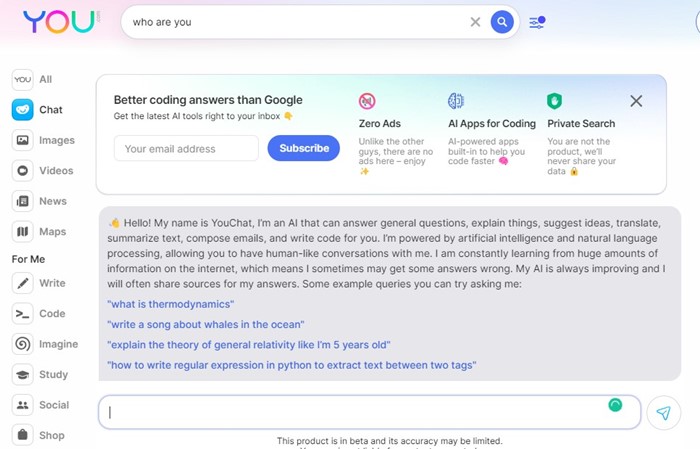 YouChat is for those who prefer simplicity over anything else. The site's user interface is clean and less cluttered than ChatGPT or every other tool on the list.
YouChat is an AI that can answer your general questions, explain things to you, suggest ideas, summarize texts, write codes, and compose emails.
YouChat is supposed to do everything that ChatGPT does, but don't expect accurate responses on questions related to events after 2021 because it uses OpenAI's GPT-3.5, the same powering ChatGPT.
While the tool is useful, sometimes it provides generic answers that may be totally unacceptable. However, the site claims that the tool is still in a beta state, and its accuracy is currently limited.
4. OpenAI Playground
OpenAI Playground, also known as GPT 3 Playground, is slightly different from all other options in the article. It's a tool that's designed to give you a taste of the ChatGPT capabilities.
You can take OpenAI Playground as a demo version of ChatGPT, as it lets you play with the GPT-3 AI Model. Since it's just a demo version, it isn't meant for daily users. The reason why OpenAI Playground hasn't received much praise is due to its difficult and messy user interface.
You will require technical knowledge to use the OpenAI Playground. However, the upside is that OpenAI Playground has more advanced options than ChatGPT, like the ability to select a language model to play with.
Also, you can play with a wide range of other advanced options like the frequency penalty, stop sequences, number of tokens, etc. This high level of advanced options restricts non-technical users from using the site.
5. Chinchilla by DeepMind
Chinchilla is often considered the most competitive GPT-3 alternative. It's possibly the biggest competitor of ChatGPT since it's a compute-optimal model with more than 70 billion parameters.
According to the research papers, Chinchilla easily outperforms Gopher, GPT-3, Jurassic-1, and Megatron-Turing NLG. Chinchilla is developed by DeepMind, and it's supposed to compete with the most popular AI Models.
On the downside, Chinchilla is less popular because it's not publicly available. If you want to give hands-on Chinchilla, you must contact Deepmind.
Since Chinchilla awaits public reviews, it isn't easy to assess which of its claims are true. However, the research paper published by DeepMind gives us a hint on what to expect.
6. Character AI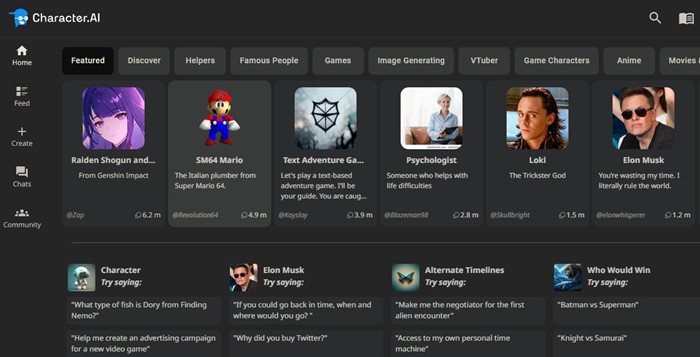 Character AI is one of the unique ChatGPT alternatives on the list. The tool is powered by their deep learning models but is trained from the ground up with chats in mind.
Like every similar tool, it also reads huge amounts of text to generate a response. What makes Character AI unique is that you can interact with various personalities instead of relying on a single chatbot.
You will find many popular personalities on the homepage, like Tony Stark, Elon Musk, etc. You can pick the person as per your wish and have conservation. What's more interesting is that the conversation tone changes based on the character you have picked.
Besides that, Character AI offers you an image generator that could help you create avatars. The tool itself is free to use, but don't expect superior features. It's also slow compared to ChatGPT in terms of response generation.
7. Rytr
Rytr shares lots of similarities with ChatSonic and Jasper. It's possibly the biggest contender of Jasper, but it's far away from being what ChatGPT is.
Rytr claims to provide you with a better and faster way to write text-based content. You can use it to generate blog ideas, write profile bios, Facebook ad copies, landing page copies, product descriptions, and more.
The key thing is that Rytr has three different types of plans. The base plan is free, whereas the Saver plan costs just $9 monthly. The top-tier plan is priced at $29 per month but has many useful features.
All of the plans of Rytr allow you to generate images with the help of AI. It's a very useful tool if you can't get your hands on ChatGPT. Even if it doesn't serve all your purpose, it won't disappoint you. The development team is also very active and shares its roadmap with registered users.
8. Socratic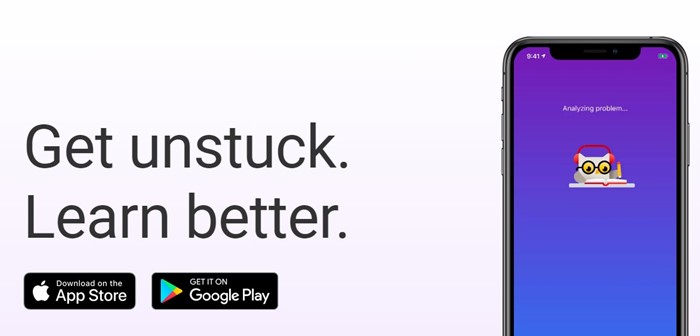 Yes, we know that many of the students may also be reading this guide; hence, we have something for students as well. Socratic is basically an AI tool designed for students and kids out there.
Google owns Socratic, an educational AI that helps students solve homework questions. It can be a great learning tool as it can solve complicated problems in easy steps.
There's no web tool available; to use it, students need to download the app for iPhone or Android. Socratic works with all subjects but focuses more on Science, Match, Literature, and Social Studies.
Since Socratic is powered by Google AI, you can use text and speech recognition to bring answers to a variety of subjects. You also get an option to use your phone's camera to capture & upload a photo of your homework to seek a solution.
9. PepperType
The claims of PepperType are a bit high; it says that its AI tool can generate content that converts in seconds. It's just an AI content generator like Jasper that helps you create high-converting content.
Unlike ChatGPT, which focuses on creating conversation-type texts, it can generate various text-based content. This web tool can create AI content for your Google Ad Copy, generate blog ideas, create Quora answers, write product descriptions, etc.
However, the AI that powers the tool needs lots of optimization. The text it generates may not go well with writers as it requires several proofreads and checks.
If we talk about pricing, PepperType has two different plans: Personal and Team. The Personal account starts at $35 per month, whereas the Team one is for professionals, marketing teams, and agencies and costs $199 per month.
10. Perplexity AI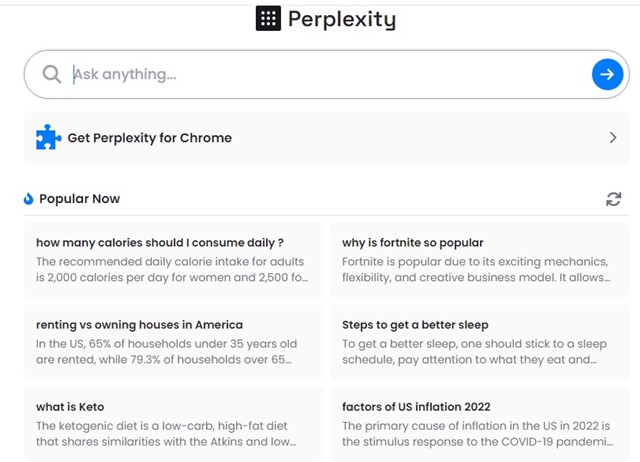 Perplexity AI and ChatGPT share lots of similarities. It's the best ChatGPT alternative since it has been trained on OpenAI's API.
You can expect many ChatGPT-type features with Perplexity AI, like asking questions, conversing, etc. The tool is powered by large language models and search engines.
The good thing about Perplexity AI is that it cites the sources from where it grabs the answers to your queries. Since it fetches the search engine to provide answers, the chances of copy-pasting are a bit high.
However, the most important thing is that Perplexity AI is completely free. You can use this tool for free without even creating an account. Overall, Perplexity AI is a great ChatGPT alternative that you should check out.
So, these are some of the best ChatGPT alternatives worth checking out. If you want to suggest any other tools like ChatGPT, let us know in the comments below. Also, if the article helped you, make sure to share it with your friends.