Well, if you use Google Chrome for web browsing, then you might know that the web browser supports extension. On Chrome web store, you will find different types of extensions like extensions for saving notes, extensions for productivity, etc.
Google Chrome web browser generally doesn't provide much customization options. However, with the right extensions, you can avail a few customization options. For example, you can easily customize the new tab page of Google Chrome by installing certain extensions.
20 Best Chrome Extensions to Transform 'New Tab' Page
So, in this article, we have decided to share a list of best Chrome extensions that would help you to transform the 'New tab' page of Google Chrome web browser.
Earth View was one of my favorite extensions. I usually give this extension the top-priority because whenever you open a new tab, this add-on displays a beautiful image photographed by satellite. The photo shown is chosen randomly: there are urban landscapes, canyons, beaches, and even volcanoes. You can also know the image which is showing up by simply clicking on the small globe that is located just on the lower right.
2. Currently
If you love a simple and minimalist theme, then this one is made for you. Surprisingly, it is simple and clean and more minimalist. Currently displays the time, current temperature and weather forecast for the city. The detail is that it does so in a very attractive manner. You can easily customize the colors and set your location manually.
Also Read: How To Make Google Chrome Faster For Web Browsing
3. OneFeed
In simple words, OneFeed turns your new tab into the terminal social dashboard. It is the extension that is entirely focused on social networking. You can easily get your updates directly in your Chrome's new tab. Moreover, it also comes with a notification center that helps you manage your social networks more efficiently.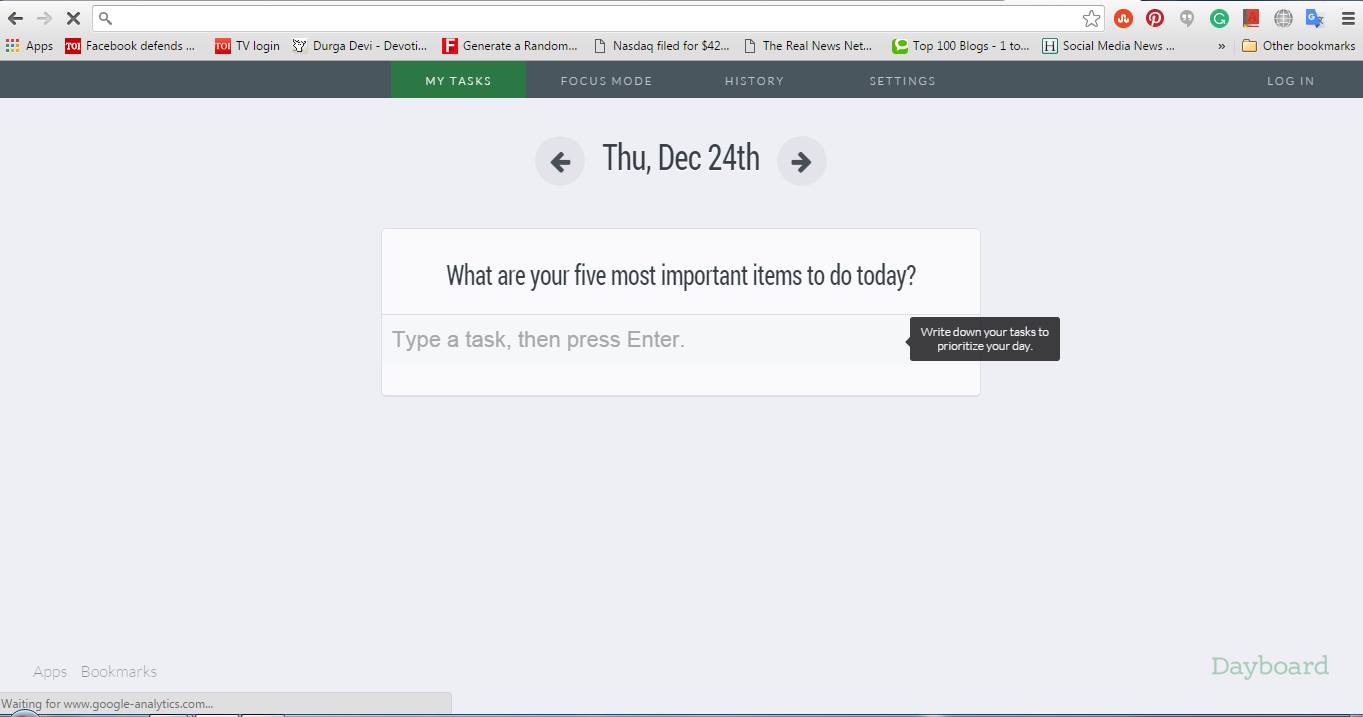 Dayboard is a perfect extension for those who can not do without a task list to organize your affairs. You will be given the option to add at least five tasks that you need to complete till the day ends. And it will be there whenever you open a new tab in your Google Chrome browser. It is not a beautiful one, but it is guaranteed to help you in some way.
Also Read: How to Make Your Own Google Chrome Theme
5. Dream Afar
As its name suggests, Dream Afar is a highly motivated extension which will show some extraordinary travel photos from most beautiful places in the world. This shows some good photos which include scenery, flowers, photography, and everything that is based on traveling. It also shows a Google search box which also displays the time and location. Its look is quite similar to the Bing.com homepage.
6. Card Board
Cardboard is extremely stimulated by Google. It shares the related type of look. While you open the new tab, you can see the list of installed extensions, your recent downloads and your bookmarked site in an attractive manner. It is also very handy as it can help you manage your cookies, browsing history and passwords by providing you the shortcut in the new tab.
7. Be Limitless
If I had to describe this Be Limitless extension in one sentence, then I will not hesitate to say that this extension will be very useful if you want to boost your productivity because this helps you to track your time spent on any particular tab. Moreover, it also comes with the beautiful background image which turns your Chrome's new tab into a beautiful background, and it also updates the weather report.
Taco (tacoapp.com) brings all of your existing tasks from 40+ services – like Gmail, Basecamp, Trello, and Zendesk – on to Chrome's new tab page. Confidently focus. It is so fast that it could replace your Google Chrome's new tab. It is productive too you just need to drag-and-drop your tasks, tickets, and todos from various websites.
The iChrome New tab is a lightning-fast new tab page that supports dashboard with stunning backgrounds, news, weather, sports, RSS, to do and more. It is fast, customizable, beautiful and productive too! It will provide you nearly 50 widgets thousands of stunning backgrounds and powerful features that include widgets like Weather, Sports, News, Stocks, RSS, Bookmarks, Gmail, Recently Closed Tabs, and more
10. Home
You will fall in love with this new tab page. It has all notification panels, badges, recently closed tabs, quick notes and more. It is a bit larger in size compared to another extension. However, it gives you the option to add your custom apps like Notifications and badges of Gmail, Google Calendar, Yahoo Mail, Outlook, Facebook messages, etc.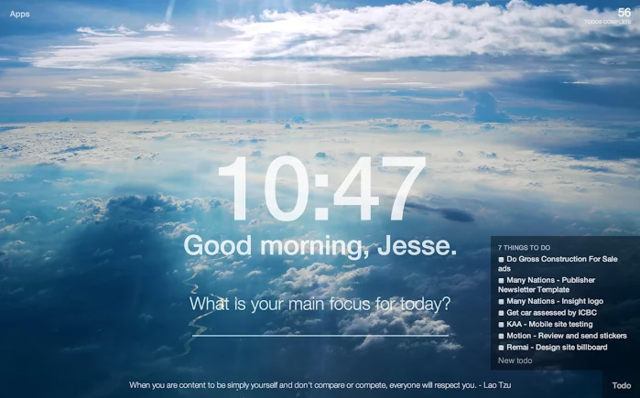 The new Tab page gives you a moment of calm and inspires you to be more productive. Set a daily focus, track your to-dos, and get inspired with a daily photo and quote. Over 1 million users are using this extension.
'Figure it Out, or FIO beautifully displays the time zones you work and play in. A minimal time zone extension that adds up to ten time zones of your choice to your 'new tab' screen, making it easy to schedule meetings, connect with family.
Set your priorities for the day, week and month, and be reminded of them every time you open a new tab! A new tab page that emphasizes setting priorities. You will find this extension very useful once you start using it.
Speed dial 2 is an ultimate replacement of a new tab page with quick access to your most visited pages, bookmarks and browsing history. You can easily organize your favorite websites to boost productivity.
15. Wunderlist New Tab
Replace your New Tab page with a lightweight version of Wunderlist that lets you quickly add new to-dos to your lists. If an idea comes to your mind, you can instantly capture them just by opening a new tab. You can even create the to-do list.
Well, the extension doesn't transform the look of your new tab page on Google Chrome, instead, it does a better job. The extension allows users to change the New Tab page to the specific URL. The feature is previously seen on the Firefox browser and now you can avail the same feature on Google Chrome.
17. Juicy Drops
The extension sets Instagram feed photos as your new tab's background. The extension allows users to choose the set of photos that they want to display based on a tag or username, users can even add their own photos or they can also choose Juicy Drops' favorite photos of the day
This is another extraordinary Google chrome extension that can transform the look of your new tab. The app shows you amazing photos from different places around the world as well as how much it costs to go there. But, beware, this extension can force you to visit those places due to its stunning photos.
Developers, designers, and entrepreneurs will love Panda 5 for sure. The extension allows users to stay updated with the latest trends and popular content from top websites. The extension also allows users to set their desired layouts for showing popular content from all over the world.
Muzli 2 is by far the best extension on the list to stay updated with the latest and best shots in design from around the world. The extension brings you the freshest design, UI, UX and interactive news and shots from around the web.
21. Moment
Moment replaces Google Chrome's start page into a powerful utility tool. With Moment, you can add, remove, replace, and manage any of the chrome new tab tiles. The Moment dashboard provides users more control over Chrome new tabs. Some of the key features of Moment include adding ToDo, Notes, Quick Access Panel, Session Manager, Customizable Bookmarks, etc to the new tab page.
Infinity New Tab is another best Chrome extension that could help you to transform the 'New Tab' page. Millions of users right now use the chrome extension. Infinity New Tab can be used to customize the new tab pages to display weather reports, notes, bookmarks, To-Do List, Gmail notifications, etc. So, Infinity New Tab is another best chrome extension to transform the new tab page.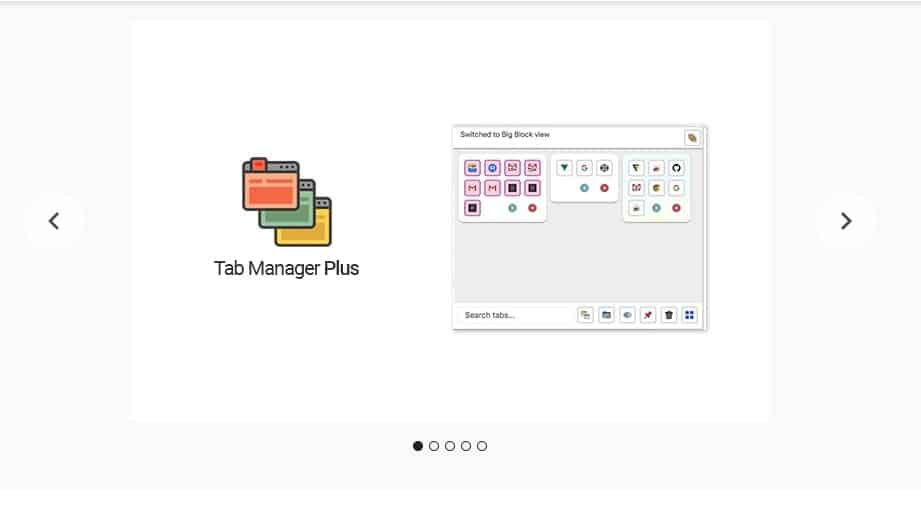 Well, if you are searching for a chrome tab manager extension that can provide you a detailed overview of the opened tabs, then Tab Manager Plus for Chrome might be the best pick for you. Guess what? With Tab Manager Plus for Chrome, you can re-arrange tabs, move tabs, filter tabs, etc. Apart from that, Tab Manager Plus for Chrome also highlights the duplicate tabs.
So. these are some of the best Chrome extensions to transform the 'New tab' page. If you know any other such extensions, let us know in the comment box below.