People are becoming busy with their jobs, and hardly any employee can enjoy a full week off. As life becomes busy, the chances shrink to meeting new people. This directly affects the people who are willing to date someone.
Actually, you now have the option to find a perfect partner with the help of your Android smartphone. You can use dating apps for Android to meet new people and find dating partners.
List of Best Dating Apps For Android
Hence, this article will share a list of the best dating apps for Android. These apps are available on the Google Play Store and are free to download and use. So, let's check out the best dating apps for Android.
HAPPN is probably the most famous dating app on the Google Play Store. It's a dating app that lets you find everyone you have crossed paths with.
With this app installed, whenever you cross paths with another happn user, their profile appears on your application. The other one will also see your profile. If both users are interested, they can send a message.
This is another great dating app that is popular amount users. About millions of people are registered over this network of the app server.
You have to sign up for your account on this app and update your profile details. Then, searching for new people is like searching on the internet or any other social media. You can filter out the age, height, etc.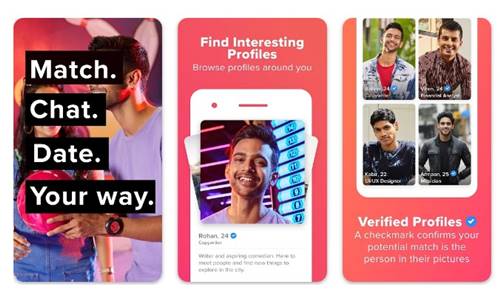 Tinder is a top-rated dating app, but it now receives many negative reviews. Users do not like the new features and the bugs that are available on the app.
Tinder is a great app to make friends, find dates, and everything. You can use this app to match, chat, and date. It's a great dating app and follows a unique approach to finding the perfect partner.
With millions of registered people in the database, this app could be your best companion in finding the right person for dating. It allows the users to chat over the network and some other methods for creating conversation. Overall this app deserves well on the list!
This app names to be Plenty of Fish. We don't know why the developer has named it so, but somehow the relation would be to the number of users it has.
Through this app, anyone could go for finding the right dating individual. The great thing about this app is that it has no premium features or paid access routes inside!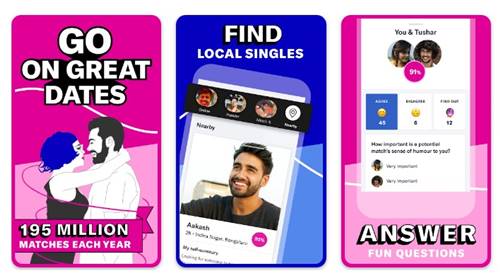 OkCupid might be the best pick if you are looking for the best free dating app for your Android device. It's an app that helps you make a match based on who you are and what you love.
This one is very similar to Tinder, where you go on and find local singles, match interests, etc. Overall, it's a great app and can help you find your soulmate.
LOVOO is a free dating app where you can meet new people and singles in your area, chat, and arrange to meet up. You can discover a partner who keeps the same interests and can chat with them.
MeetMe helps you find new people nearby who share your interests and want to chat now. This app can be taken as a dating app because it helps you find people with a shared interest nearby. This app uses GPS to search for nearby people.
Coffee Meets Bagel app gives users potential matches every day at noon. Once a match occurs, the app will connect you in a private chat room and provide icebreaker questions to start your conversation.
This is another dating app that you can have on your Android smartphone. Over 30 million people love the app, and it can help you start and build a valuable relationship.
Bumble is at the forefront of matchmaking technology by providing an app that allows users to foster more than just romantic connections.
Badoo is a very simple-to-use dating app for Android that allows you to match and chat with people, make new friends, or even find a partner.
This app functions like Tinder, where you go out and meet new people near you. Once matched with your partner, you can have fun, share pictures, video chat, etc.
Dating.com is one of the oldest dating apps out there, but it's less popular due to negative reviews and potential scams.
However, the app is now acting against fake users and removing spam accounts. This app is designed to connect you with lonely men/women.
The dating app for Android has all features you would need to find a partner. The app's premium features let you chat in real-time, send offline messages, send stickers, etc.
So, these are some of the best free dating apps you can use on your Android. If you want to suggest other dating apps like these, let us know in the comments below.