It's of no doubt that Android is right now the most popular mobile operating system. Compared to every other mobile OS, Android provides users with far more features and customizations. Not only that, but the app availability is also quite high on Android compared to any other OS.
On techviral, we have shared multiple articles on how to speed up Android devices. Not only that, but we have also shared an article on boosting Android's internet speed. Similarly, in this article, we are going to talk about the best download managers for Android.
30 Best Download Manager Apps For Your Android Device
With the proper download manager app, you can easily manage your downloads. Not only that, but these download manager apps will also offer maximum download speed provided by your ISP or telecom operator. So, let's check out the best download manager apps for Android.
This app automatically captures the downloadable files and links from supported browsers or just long-tap on the downloadable link in your default browser and then select this download manager to download the file. This app supports browsers like Chrome, Dolphin, Stock Browser, Boat Browser, and much more.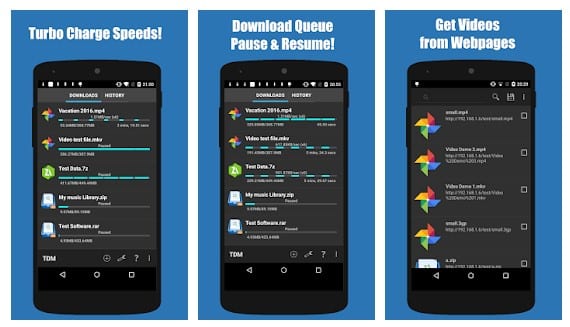 This download manager is a fast Android download manager that can boost your download speed up to 5 times than the stock downloaders. Turbo app uses multiple HTTP connections to accelerate download speed too much extent. Also, to increase download speed, you can increase maximum connections per download for a file.
This app presents a nice and easy startup wizard when you first launch this app, which shows you how to add downloads to this app and prompts you whether you want to download.
This is one of the Best Download Manager for Android as this app doesn't provide unnecessary options in preference apart from the basic part and download folder. In this, you can download almost all types of files with this download manager very easily and with a high download rate.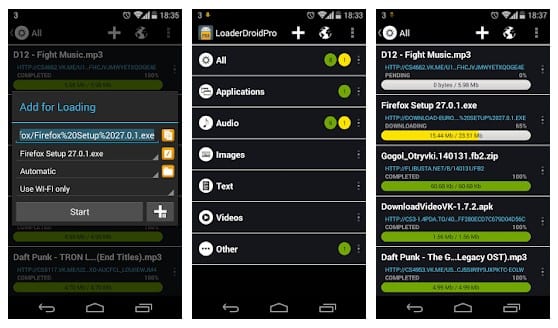 This is as same as the download manager discussed above. This download manager can pause and resume the downloading file. This app also has a speed booster option built-in.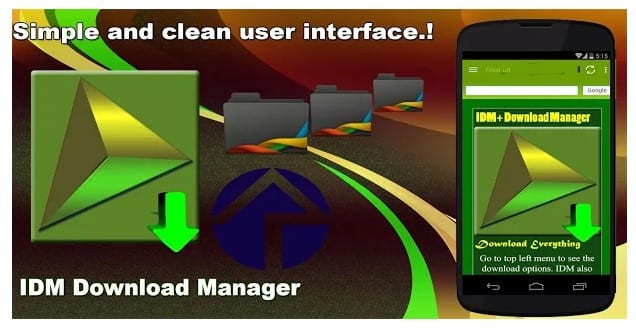 IDM is also counted as one of the popular download managers. The reason behind this is because of its computer version and the download speed. Users are mainly attracted to that software that helps them to get their files downloaded at maximum speed. You can easily download videos or any files using this app
Guess what? If you want to control your downloads efficiently, then Fast Download Manager is only for you. Files were downloaded much faster as compared to another download manager out there on Google Play store.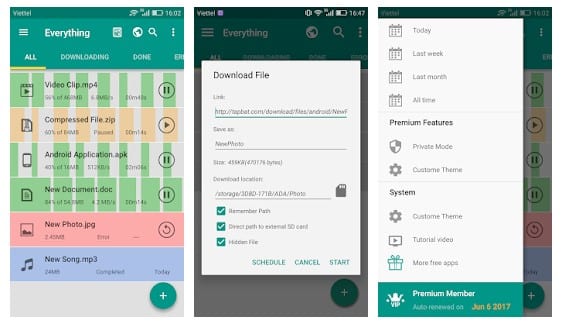 Download Accelerator Plus is a powerful download speed booster, an advanced download manager, a must-have tool for Android phones/tablets. It divides your files into three parts to boost download speed with an auto-resume option. This is one of the best download managers you can have on your smartphone
Download Accelerator overcomes most of the limitations of the default download manager. It is faster, reliable with pause and resume, scheduling downloads option, and also option to download only when WiFi is available to save mobile bandwidth. This is free and efficiently download and manage files of any size.
Downloader & Private Browser lets you easily download music, videos, photos, and other files from your favorite sites directly to your Android device. You can save all of your videos and music downloads in a private password-protected folder that only you can access and play your favorite files offline with the in-app media player.
FVD is a utility that allows you to download files from many web sites directly into your device so that you can open them every time you want saving internet traffic. Once installed, you only need to go to your desired web site with your favorite browser or with the one integrated into the application and choose the file. The FVD icon will appear, and it will allow you to download.
12. Download Blazer
Download Blazer is easy-to-use, the free download manager for your Android devices. Download Blazer with boost your download speed and make your downloads more reliable with download resume support.
Download Manager can quickly download many types of files from the Internet to your phone or tablet Android. You can pause, resume, restart, and cancel any download. It automatically detects links from the Web browser, so you do not need to copy and paste them into the app.
14. Super Download Manager
Super Download Manager downloads files faster and in a significantly more convenient way than any browser or downloader. Use the built-in browser for web-surfing, visiting your favorite sites, and finding the files you want to download.
15. G-Download Manager
This is all in one download manager for your Android device. This software lets you schedule your downloads whenever you want. It can also download up to three files at the same time.
GetThemAll is a whole new dimension in mobile download management software. GetThemAll will find all files available on the page you view by itself – all you need is to choose what exactly you want to download.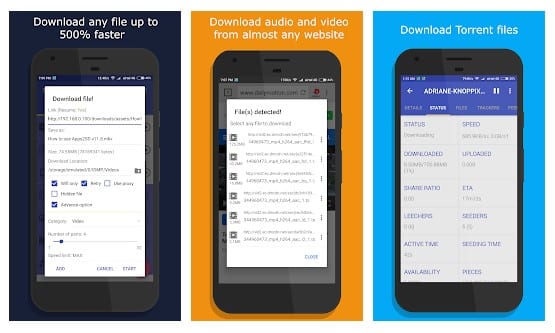 Download manager is the fastest and most advanced download manager available on Android. It's up to 500% faster than a normal download. This app doesn't run background services if there's nothing to download, and the Smart download option is disabled, which increases battery life.
Download All Files is an easy-to-use, free download manager for your Android devices. It boosts your download speed and makes your downloads more reliable with download resume support.
Private Downloader is a private browsing app with a video downloader that lets you easily save videos and photos from your favorite media sites to your Android. Save all of your downloads in a secure folder, and playback your favorite videos offline with the in-app player.
20. Best Download Manager
If you are looking for a fast and clean download manager, then you should stick with the Best Download manager. The download manager will save your time on downloading files through the browser or the standard download manager. The app is powerful enough to boost the downloading speed of your file.
Well, it's a torrent manager, but it deserves to be on the list. Since we all love to download files from a torrent, the article is incomplete without any torrent downloader. So, Torrent Manager is one of the best Android download managers that you can use today. The app downloads file by splitting them into multiple parts. So, it basically downloads each piece of files which leads to better download speed.
BitTorrent is another best Android torrent downloader on the list that comes with lots of exciting features. BitTorrent, Inc. developed the app, and it's one of the best torrent downloaders that you can use today. Guess what? the torrent downloader also offers a built-in browser for surfing and visiting your favorite torrent site. Apart from that, the downloading speed is also pretty good.
IDM Lite is the lighter version of IDM that has been listed on the article. This is one of the best and fastest Android download manager that you can use today. The great thing about IDM Lite is that it also comes with Torrent download support. That means you can also download torrent files using IDM Lite.
Ponydroid Download Manager is a premium download manager app on the list which is specially designed to optimize and automate the downloads. This is basically an advanced download manager app that provides users full control over the downloads. You can block the downloads if there's no WiFi connection, manage the waiting time. Another best thing is that Ponydroid Download Manager offers a built-in browser.
If you are looking for a download manager app that can detect videos automatically, then Downloader & Browser might be the best pick for you. The app also offers a browser that you can use to visit sites from where you want to download videos. The app auto-detects videos and provides you a one-click download link.
Download Manager From Magdalm is a relatively new yet powerful download manager app available on the Google Play Store. Guess what? with Download Manager, you can easily manage your download folder like file compression, zip/unzip files, share files, etc. Apart from that, Download Manager From Magdalm also supports adding download links manually.
Download All Files is one of the best and top-rated Android download manager app available on the Google Play Store. The great thing about Download All Files is that it allows users to prioritize the ongoing downloads. Apart from that, Download All Files also packs basic download manager features like pause/resume support, continue disconnected downloads, etc. So, Download All Files is another best download manager app that you can consider.
As the name of the app says, Downloader & Browser is both a download manager and a browser app. With Downloader & Browser, you can easily download videos and all other file types. The only thing you need to do is to use the built-in browser. Apart from that, Downloader & Browser also packs a built-in media player which can play videos offline. Not only that, but Downloader & Browser also provides a password-protected folder which can be used to store downloaded files.
29. AIDM Download Manager
AIDM Download Manager is a relatively new download manager app available on the Google Play Store that you can use right now. The great thing about AIDM Download Manager its interface, which looks clean and well-organized. Apart from that, the download speeds with AIDM Download Manager is pretty fast compared to all other download manager app listed in the article. AIDM Download Manager relies on multithreaded operating to download multiple files at once at great download speeds.
Watercat Download Manager is not a popular one on the list, but it also depends on the multi-thread technique. That means, the download manager app splits the file from servers into small chunks and downloads it to get better download speed. Watercat Download Manager also offers a built-in web browser, and it got the ability to catch videos from web pages. Apart from that, Watercat Download Manager also offers a private box that can be used to hide and lock your downloads.
So, this is all about the best download manager apps for your smartphone. With these apps, you will get the maximum downloading speed. If you know any other such apps, let us know in the comment box below.