Earphones become our best friends when we are traveling. The perfect earphone will make all of your music sound its absolute best, but it's not easy to find an earphone that will satisfy all your needs.
For your convenience, we have shortlisted 10 Best Earphones Under Rs 1000 in India; All the below features earphones are shortlisted after the comprehensive research of 72 hours. The best buy link is also available below.
10 Best Earphones Under Rs 1000 Which You Can Buy
Soundmagic ES18S is an in-ear headset with a microphone; Mostly, people prefer to buy Soundmagic ES18S because of its excellent accuracy and strong bass performance; the headphones will also offer you an inline remote and mic for all smartphones.
You will experience sound quality which you have never experienced before. That's to its upgraded 10 mm neodymium drivers. In addition, the ES18S's rugged construction and comfortable fit make it the perfect earphone for use in the gym or on the track.
SoundMagic E50C Headphones are constructed from metal; you will experience the beauty lies in simplicity; it's durable, and light coexists. Its 3.5mm 60-degree gold-plated plug is responsible for the amazing sound quality. In addition, it will offer you a stable signal output.
The headphone also features three buttons to control all your music, phone calls. In addition, its Tensile twisted cable offers you extended life duty; You will also experience its excellent noise isolation hearing protection.
You will experience a punchy, rhythmic response to the most demanding tracks thanks to its 10mm dynamic driver with a speaker resistance of 16 ohms. boAt BassHeads 100 Hawk Inspired Earphones come with Alexa built-in.
Its HD Microphone will offer you crystal clear calls; You can also play/pause music, answer and end calls with one click. oAt BassHeads 100 Hawk Inspired Earphones are incredibly user-friendly.
SoundMagic ES11S in-Ear Wired Headphones come with a comfortable fit and distinctive design; You will experience the powerful bass balanced with superb musical details. In addition, this headphone will sit comfortably in the ear canal, ensures you hours of fatigue-free listening fun.
SoundMagic ES11S is the in-ear headphone with a mic for the ongoing series. In addition, it provides call answering, pauses, and plays with one-button remote control.
boAt Chennai Super Kings Edition Bassheads 100 Wired Earphone offers you premium HD Sound thanks to its 10mm drivers, which will deliver a crisp and clear sound. This headphone is equipped with a superior 120 cm coated cable.
You can use it for a long time because of its tangle prevention design and durability; Its limited edition design offers you a comfortable fit to finish. You will experience the crystal clear audio and best call experience.
Must Read: 15 Best Apps to Test Hardware on Android
Motorola Pace 110 In-Ear Headphone comes with a traditional 3.5 mm jack that can be plugged into a wide range of devices for you to enjoy the fantastic all-around sound.
The headphone will also offer you access to Alexa; Now, you can easily do more with smart assistants in your ears, all the other assistants, including Siri and Google Assistant integration.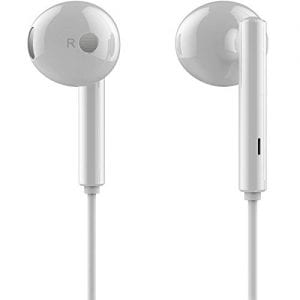 Honor AM115 Half in-Ear Earphones with a mic will offer you more adaptability than other in-ear headphones because of their unique ergonomic design. You will experience the rich, snappy bass for a soothing, mellow sound.
You can control all your music & calls with the button on it, press to answer call and press and hold to reject a call, press to play music, and press to pause music. The manufactures will also offer you one year of manufacture warranty.
JBL doesn't need any introductions; this is one of the most preferred headphone brands. Moreover, those headphones are compatible with Android devices; you can activate the google assistant with a long press.
JBL C50HI in-Ear Headphones will offer you the right JBL level bass response making the everyday musical journey more appealing. In addition, its bright and trendy colors stand out and make a statement.
This Mi Earphone will offer you tangle-free cable, ultra-deep bass, the buttons to controls all your activity. You can play pause music with those inbuild buttons. The earphone will come with high-quality silicone earbuds and a long cable of 1.25 m.
Mi Earphone Basic with Ultra deep bass will offer you super extra bass, powerful 10mm drivers, HD clear sound, inline microphone, play/pause button.
JBL headphones don't need any introduction; These JBL C100SI In-Ear Headphones come with One-Button Universal Remote with Mic, Quick Launch Access to Google Assistant / Siri, Noise Cancelling Microphone, Extra Deep Bass, Sleek, Glossy & Ergonomic design & Lightweight and Comfortable with three sizes of ear tips.
Those headphones are also capable of android devices; you can activate your smart assistance with them.
All the below features Earphones Under 1000 are shortlisted after the comprehensive research of 72 hours based on the sound quality & user reviews; you can buy those from all the leading shopping websites; we have also placed the best buy link above.
If the article is useful for you in any manner, then kindly share it on social media; stay connected with us for all the latest technology updates.