Those days are gone when texting seemed to be a tedious task. Thanks to the thousands of different emojis and stickers available on messaging apps, texting nowadays is fun. Emoji is a new way to express ourselves to other people.
However, not every app has emoji support, and it's always best to have an emoji-supported keyboard app. If we search for the emoji app for Android on the Google Play Store, we will find hundreds of them. But not all of them are effective.
Also Read: 5 Best Apps To Hide Messages On Android
List of Best Emoji Apps For Android
Below, we will discuss everything about the best emoji apps for Android. You can use these apps to chat with friends or family via social networking sites like Twitter, Instagram, and Facebook. So, let's check out.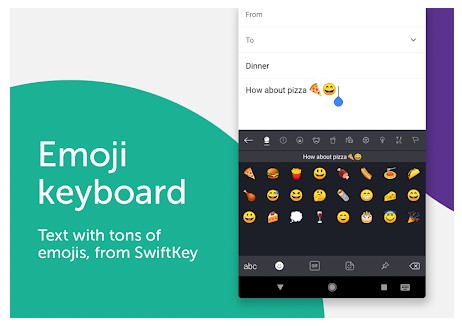 SwiftKey Keyboard is the best app if you want to enjoy emojis on your Android smartphone. It is an Android keyboard app that comes with lots of emojis.
The app allows users to use emojis on almost every platform, including social networking sites. The app has many advanced features like flow-typing, spell suggestions, dictionary word suggestions, and more.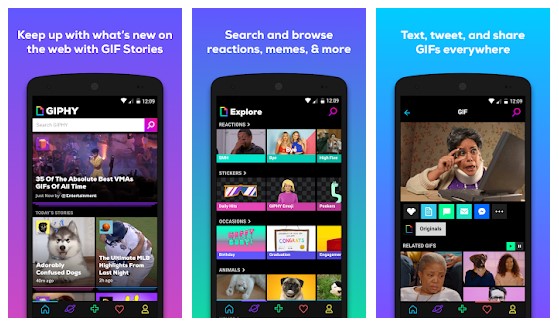 GIPHY is known for its GIFs, stickers, and emojis, and it's available for Android and iOS devices. The app also allows users to use GIFs, Stickers, and emojis on various social networking platforms.
Moreover, if you don't like any of the emojis available on the app, you will also get an option to create your emojis. The app is compatible with almost every popular platform, like Facebook, Instagram, WhatsApp, etc.
If you are searching for a free and fully customized keyboard app for your Android device, then Facemoji Emoji Keyboard might be the best pick.
Guess what? Facemoji Emoji Keyboard offers over 3600+ emojis, cute stickers, emoticons, GIFs, fonts, etc. You can utilize those elements while chatting on your favorite app.
Although not very popular, Emoji Keyboard is still one of the capable Android keyboard apps that you can use today. The keyboard app lets you access thousands of emojis for your personal use.
Emoji Keyboard is useful because it enables you to use emojis on several popular instant messaging apps like WhatsApp, Viber, and Snapchat.
Bitmoji is another exciting app available for both Android and iOS users. The app allows users to create their own personalized and unique emojis.
Not only these, but the app also allows users to use those emojis in different messaging apps like Facebook, Twitter, Instagram, Snapchat, and much more. Overall, Bitmoji is one of the best emoji apps for Android that you can use.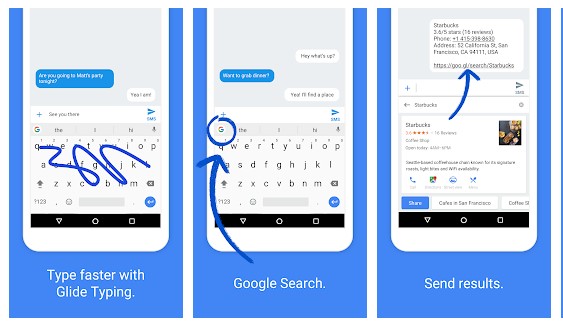 Gboard from Google is one of the keyboard apps for Android available on the Google Play Store and it supports emojis. The app is known for its clean interface and never fails to deliver a better keyboard typing experience.
The app also has a feature called Emoji Predictions that suggest relevant emojis as you start typing the text and automatically suggests the correct emoji. Gboard also supports Gestures, and it comes with some unique themes.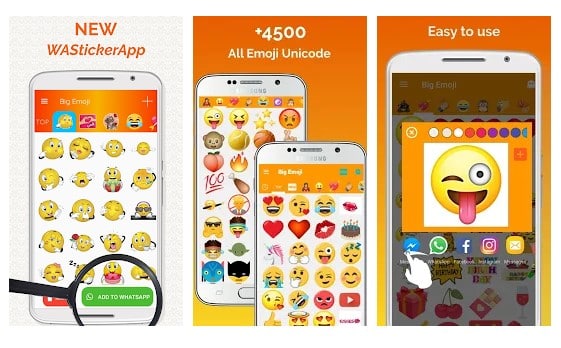 Well, Big Emoji is another best Android apps on the list that you can use today. The great thing about Big Emoji is that it offers users over 5000+ awesome emojis from Unicode.
What's more interesting is that Big Emoji is compatible with almost every major instant messaging app, like WhatsApp, Messenger, etc.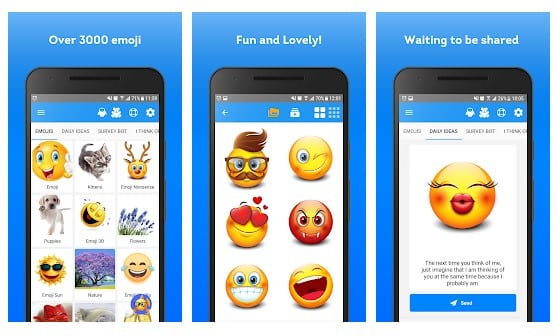 Elite Emoji is slightly different from all others listed in the article. It's a full-fledged emoji app for Android that offers over 2000+ high-definition emojis and stickers.
The app lets you send high-definition emojis with a single touch in WhatsApp, Messenger, Instagram, and other instant messaging apps.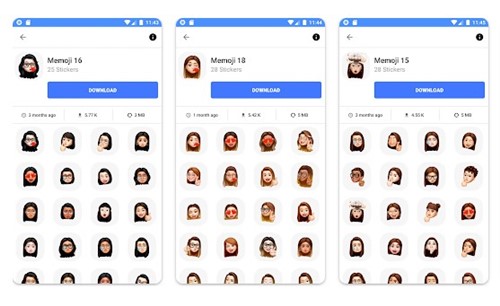 Memoji is very similar to the Bitmoji app we have listed above. However, unlike Bitmoji, which offers individual customization options, it only brings a set of emojis. You need to pick the one that looks like you.
This app can install 3D Memoji sticker packs on your WhatsApp. The app lets you choose from over 500 stickers, which is pretty easy to use.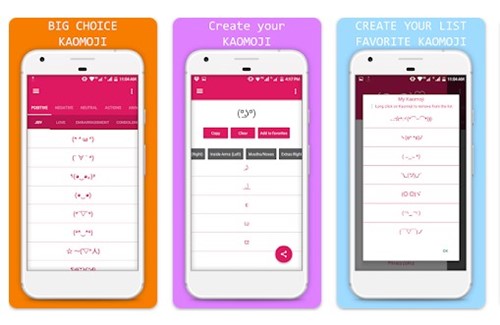 Kaomoji is a Japanese-style emoticon that uses Japanese characters, Latin letters, and punctuation marks to represent facial expressions. So, this is not an emoji app; it just brings Japanese emoticons to your smartphone.
Using the app is also pretty straightforward; you must select the Kaomoji you want to use, tap on it to copy it to your clipboard, and then paste it on apps or websites. Overall, Kaomoji is another best emoji apps that you can consider.
Fleksy is a top-rated emoji keyboard app for Android that you can download from the Google Play Store for free.
The keyboard app for Android provides you with millions of free themes, millions of GIFs, stickers, etc.
The app has everything you would possibly need to fulfill all your keyboard needs. Some other app features include swipe-to-type glide typing, auto-correct feature, etc.
Mirror is a 3D avatar maker app for Android. This app lets you create your own character, memes, and 3d emojis.
The app has a face emoji feature that lets you create emojis from your portrait. After creating your facememoji, you can transform it into a sticker and use it on various apps.
EmojiOne serves as an add-on for the GO Keyboard app. If you use the Go Keyboard app on your Android smartphone, you can install this app as an add-on to get color themes and over 800 emojis, emoticons, and smiley faces.
The app basically brings an exclusive collection of fancy emojis. All emojis get added to the GO Keyboard app, and you can use them across all instant messaging or social networking apps.
To install and use EmojiOne, open Go Keyboard Settings > Emoji > EmojiOne and tap the Apply button.
So, these are the best emoji apps for Android smartphones. You can use these Android apps to include emojis in your chats. If you know of any other emoji apps for Android, let us know in the comment box below.