These days, messaging apps are important as they let you exchange text messages for free. We don't need to purchase a calling or SMS pack, thanks to the messaging apps.
Messaging apps for Android rely on the internet to provide you with communication features. While you have many messaging apps for Android, not all of them are secure and provide you with encrypted messaging options.
End-to-end encryption on messages means no third party can read your texts. There are many popular Encrypted messenger apps available for Android that you can use for free.
List of 10 Best Encrypted Messenger Apps for Android
Hence, in this article, we have carefully picked and listed the best messaging apps that provide the end-to-end encrypted messaging feature. So, let's explore the list of best Encrypted messenger apps for Android.
Signal Private Messenger is the best and most popular encrypted messaging app you can use on your Android smartphone.
Every form of communication on Signal Private Messenger is end-to-end encrypted, be it text, voice, or video calling. Apart from that end-to-end encryption, Signal Private Messenger also offers self-destructing messages option.
Signal Private Messenger's other features include the ability to send stickers on the chat, group chat, view-once media, etc.
Telegram may not be as secure as Signal Private Messenger, but it's still more secure than most other instant messaging apps for Android.
This one is a very popular instant messaging app for Android that provides encrypted conversations and voice and video call options.
Apart from end-to-end encryption, Telegram provides other security features such as self-destructing messages, group management features, and more.
The most popular instant messaging app for Android, WhatsApp, also has end-to-end encryption chat messaging options.
Even WhatsApp has end-to-end encrypted backups that ensure nobody can access your backup files. WhatsApp has features like transferring chat history from iPhone to Android, disappearing chat, etc.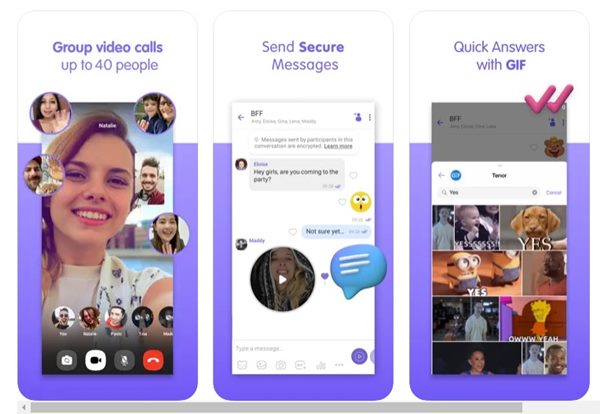 Even though Viber has lost its shine, it's still considered one of the best instant messaging apps for Android.
Viber shares many similarities with the Telegram app and offers end-to-end encryption on all platforms.
On Viber, you can make free audio and video calls, send free messages, react to messages, create group chats, send self-destructing messages, and more.
While not all forms of communication are end-to-end encrypted on Facebook Messenger, it has a Secret Conversation mode that unlocks end-to-end encrypted messaging.
Hence, you need to use the secret chat option on Messenger to start an end-to-end encrypted messaging session.
Other than that, Facebook Messenger allows you to make voice/video calls, send file attachments in chat, and more.
Line is an instant messaging app very similar to WhatsApp. It allows you to exchange text messages and make voice and video calls. You also have the option to send stickers and emojis on the chat.
You need to use the Letter Sealing feature to enable end-to-end encryption for chat messages on Line. The feature provides E2EE for chat messages.
Session Private Messenger is not as popular as the other options on the list; it still provides end-to-end encryption chat options and requires no phone number to sign up.
It's a messaging app that truly keeps your messages private and secure. The app also has many other security-related features like the Decentralised server network, no metadata logging, IP address protection, and more.
This app provides you with all the features other apps offer, such as text audio and video, stickers, emoticons, and messages in a group with encryption technology. It enlightens with its major feature: Shredder feature.
This feature "shreds" all traces of your private data from the app. Its security is too strong that they have a 100,100 bug bounty program. It doesn't take your data. It fixes security on your ID, which is known only to you and your Wickr network.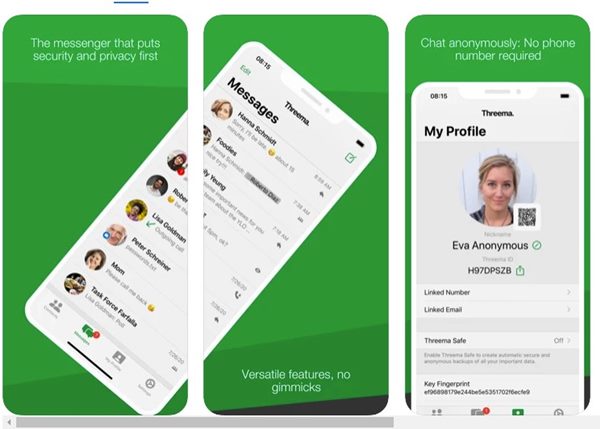 Threema is the world's favorite secure messenger and keeps your data out of the hands of hackers, corporations, and governments.
The app can be used anonymously, allows one to make end-to-end encrypted voice calls, and offers every feature one would expect from a state-of-the-art instant messenger.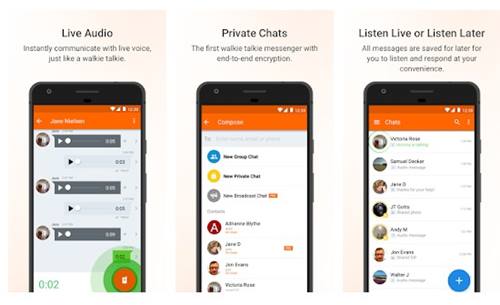 Voxer Walkie-Talkie is a free app that combines the best of Live Voice, text, photos, and videos into a powerful, secure messaging tool.
It allows users to send end-to-end encrypted messages so that only you and the other party on the chat can read or hear messages.
So above are the best encrypted messenger apps for Android. If you want to suggest any other encrypted messenger apps for Android, let us know in the comments below.