There are numerous possibilities in the world of Android, as Android has many applications that open the doors of possibilities. It has applications available on its official store for almost anything or any task, from smart calculators to GPS navigation systems that tell us exactly where we are.
But, apart from all its possibilities, it has many apps focused on making people laugh through fun features. Hence, today we will discuss the applications that allow users to swap or change faces.
List of 10 Best Face Swap Apps For Android
These apps are focused on modifying your photos to make them funny just for entertainment purposes, as all these apps can be used to change your face with your partner, your child, or any other person, which will be fun to get shocking results. Hence, now without wasting time, let's explore the list mentioned below.
One of the most used and well-known applications that allow us to exchange faces with any person, and not only that, apart from its face exchange feature, it also has lots of exciting features as well.
Moreover, if we talk about availability, the app is available for Android and iOS. While its operation is very simple, as you have to select one of the faces already available in the device gallery, that's it.
The most exciting thing about this awesome application is that it simply does its work in real-time.
If you want to have fun, let me clarify that this is the ideal application for you, as it simply allows you to change the eyes, noses, and even the hair of the person to give it a funny look.
It is one of the most complete applications of its category that allows you to swap faces in several ways with the possibilities like changing parts of the face. Moreover, this excellent application has several interesting and extraordinary features like auto face change, auto-selection of a face from your gallery, and much more.
And not only that, but even this excellent application also allows you to swap faces in the same photo or two different images, which makes this app quite different from other apps.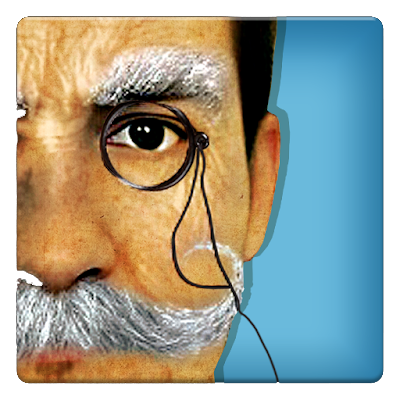 This app has some extraordinary features and characteristics that its name itself depicts. The app is designed to age the appearance of people's faces.
Its work is quite interesting, but its operation is quite simple, as you can load your desired photo that you want to retouch, and the app itself will do all work; and I bet the results will amaze you and make you laugh.
This app also allows you to add glasses, mustache, and beard to give your photo an even more realistic look. It is a fun app that is very easy to use and offers many exciting features.
Undoubtedly, it is also one of the best applications that change faces for free and the most interesting that we can find for Android and iOS. It has all the tools you need to make your photos look incredibly funny.
Moreover, this awesome app allows you to swap faces with your favorite celebrities, features advanced editing tools, preloaded skin tones, the possibility of mixing and combining facial features, and much more.
Not only that, even this awesome application has a more precise system that allows you to exchange parts of your face with celebrities of the moment. So, basically, with all these extraordinary features, you will be able to realize how you would look if you had the eyes of Brad Pitt or the hair of the current president of the US, of course, Donald Trump.
This awesome application allows you to add animated images of mouths, lips, eyes, and eyebrows to make it look like the person is talking. And not only that, you can add your voice and then modify it with several filters.
Moreover, if we talk about its use, let's clarify that it is an easy-to-use and very entertaining app that allows you to create videos that are very good to share on social networks.
This well-known application change faces that will make you laugh for a while, as it contains several tools to make your photo very funny.
Among the main editing tools that this well-known and excellent application, of course, Face Swap offers are: Option to save and open photos from the gallery, the bomb effect (many people with one face), the possibility of exchanging looks with celebrities, and even much more.
The best thing this application does is its results, as all the edited photographs look realistic and, above all, are very funny. So, what are you waiting for? Try it now.
This awesome application is quite different from the others as it allows you to swap more than one face at a time; it mixes the different faces and shows you a single result.
You have to load the photos you want to mix, then retouch them if necessary; you can use the inbuilt tools, which include an eraser to correct certain parts, brightness, color, saturation adjustments, and much more.
Well, Reface is probably the best and top-rated face swap app available for Android smartphones. With this app, you can swap your face with a celebrity, superhero, TV Star, or any picture of a human being.
It also allows you to swap your face in videos. Everything is good on this app, but some bugs sometimes crash the app.
FacePlay is very similar to the Reface app we have listed above. This one is slightly different from most of the other apps in the article. It features various models videos; you need to pick one and add your face to swap it.
While the app is very popular and has better features, most of its content was locked. You need to unlock those items by making in-app purchases.
If you are interested in an AI-based face swap app for Android, then FaceApp might be the best pick. The app is capable enough to turn your selfie into a modeling portrait. The app has been downloaded over 500 million times and is one of the best face swap apps you can use today.
FaceApp provides features such as Gender Swap, Old & Young Filter, Face swap with friends, and more. Apart from that, FaceApp can even be used to edit portrait shots, and you can use its AI features to add a beard, change your hairstyle, add creative light effects, etc.
All these are the best Face Swap apps for Android, and all are free and available on the Google Play Store. So, what are you waiting for? Go and download now, and do not forget to share all your views and thoughts in the comment section below.