Email services serve as an easy contact option for people. Through email services, anyone can share their documents, manage their business work, chat with others, etc. Many web email services are currently available for anyone to register and use.
However, not every service is best; some offer unlimited storage, whereas others focus on privacy. So, in this article, we have decided to share a list of the best free email services and service providers you can use today.
10 Best Free Email Services/Service Providers (2022)
We have used these email services, which are worth your time and money. So, let's check out the best free email services and service providers.
If you are using Google Services, you might be well aware of Gmail. Gmail is an email service from Google that lets you exchange emails. With Gmail, you can send file attachments, schedule emails, etc.
With every Google account, you get 15GB of free storage space. You can utilize that storage capacity to store important emails, photos, videos, documents, and many other things.
Other than that, Gmail also offers a few useful features like sending confidential emails, email scheduling, email forwarding, and more.
Microsoft Outlook is the second-best email service you can use today. With Outlook, you can not only send and receive emails, but you can also create new meetings, tasks, etc.
Outlook is mainly known for its excellent integration with Microsoft products and availability on all popular platforms.
Outlook app is also available for Android and iOS. Also, it lets you schedule important emails beforehand. The only downside of Outlook is that sometimes it marks legitimate emails as spam.
Well, Mail.com is another best email service provider on the list which you can consider. It's a free webmail service with an email domain, mobile access, and Mail collector feature.
Mail.com provides you with 2GB of free online storage. You can use that storage to store your important emails. Also, Mail.com has its app available for Android and iOS users.
If you are looking for a secure and reliable business email solution, you must try Zoho mail. Zoho mail provides an integrated calendar, contacts, tasks, notes, and bookmarks right within your inbox.
Apart from emails, Zoho mails also offer you many other features like your work collaboration features.
Also, if you have a Zoho account, you can organize your calendar events, take notes, create tasks, and manage your contacts.
Yahoo Mail is still a worthy competitor of Gmail regarding personal/business solutions. The new Yahoo Mail offers some exciting features compared to the old one.
The latest version of Yahoo Mail also has a calendar integrated and offers you a new theme & layout.
The free version of Yahoo Mail shows many ads that might disturb your email experience. However, you can eliminate all ads by purchasing a Yahoo Mail Pro subscription that starts at only $3.49 per month.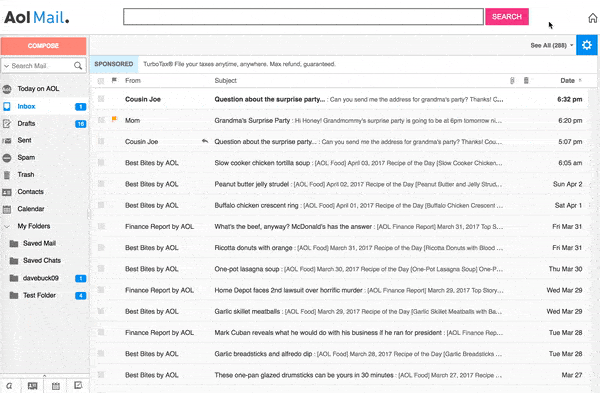 This one is known for its security and spam filters. Not just that, but AOL Mail also claims to detect emails with malware-filled attachments. Another best thing about AOL Mail is that it provides users with the unlimited storage facility to the users.
So, if you are looking for a secure email service, give AOL Mail a try. It can even integrate with lots of third-party programs.
Apple users mostly use this one. Since iCloud mail is meant for Apple devices, the Apple ID can be associated with the iCloud email address. In addition, the email server offers users lots of features like security verification, spam protection, etc.
You can even integrate many cloud-based tools with iCloud like Reminder, Calendar Notes, and more.
ProtonMail is another best free email service on the list that you can use today. Like every other email service, You can use ProtonMail to send or receive emails. However, the mailbox size of ProtonMail is limited to only 500MB.
The email service is meant for privacy-focused users, and its app is available for Android and iOS. The only downside of ProtonMail is its poor customer support service.
GMX is very similar to the Mail.com we have listed above. It's a full-fledged email service that allows you to create a free email account fast.
It provides enough storage space to store your essential emails, send attachments up to 50MB in size, and more.
Apart from all these, GMX also offers a few other features like an Online office and organizer. You can manage docs, PDFs, etc., right from the email interface with online office integration.
If security is your priority, you shouldn't look other than Tutanota. Tutanota is a highly secure email service that provides you free email address.
The good thing about Tutanota is its mobile app is available for Android and iOS. This means you can easily manage your emails from your mobile devices.
Tutanota provides 10GB of space to store emails, and the file upload size is limited to only 25MB. The only drawback of Tutanota is that it misses out on email scheduling.
So, this article is all about the best free email services. You can create an account on these email services for free. Also, if you know of other such services, let us know in the comment box below.