Let's have a look at the 10 Best Free OCR Software of 2019 that will help you to convert the image printed text into the editable document or you can easily fetch text out of an image by just scanning using these tools. And also it will be convenient to use and share them anywhere you want too. So have a look at complete guide discussed below to proceed.
Converting the text from the handwritten or printed text on paper is something new. The advanced technology is making more easier for the people to convert the paper text into the digital text for the sharing purpose. The software that uses the technology to convert the text from paper to digital text is named as OCR. There is numerous OCR software available in the online world and new ones are also arising day by day.
Yet only a few are the ones that are really functional and great, the best ones can be difficult to look from all the available OCR tools. Here in this article, we have written about the best free OCR software of 2019 and this is to help you. If you are interested to know about it then please go and start to read the information given in this post and try to read till the end. So this is we believe enough for the introduction section of this post. Just go and start with the main section of the post below!
Also Read: 5 Free Tools To Check The Speed Of Your USB Flash Drive In Windows
10 Best Free OCR Software of 2019
Actually I got one image where there was one awesome quote written but that was quite long, around 70-80 words so I thought about getting the text out of it and use that for my status and then I thought of searching some  best OCR tools that will be able to do this job and get me the data that I can post on my social profiles. And I started researching some tools and got lots of tools but very few of them were actually good as they were able to fetch all type fo handwriting and I can use that text anywhere.
So I decided to write one guide for this so that you guys can also get to know the available tool that you can use for this purpose as I selected these tools on the basis of user ratings, reviews, download rates and with some of my personal experience. So have a look at these tools below.
Also Read: 15 Best Duplicate Photo Finder & Fixer Tools for Android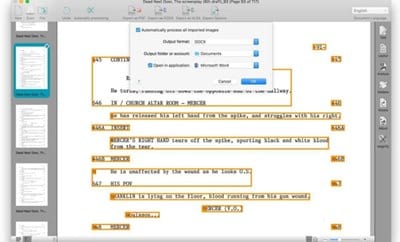 This was the first tool that I tried and got great results that is the only reason I'm putting this on the number one. Readiris is the best OCR programming with greatly capable highlights and you can utilize this product without numerous endeavours. It bolsters numerous documents configurations and accompanies numerous alluring highlights that disentangle the change procedure. With the assistance of Readiris, You can stack the pictures from associated gadgets, for example, scanners and furthermore it enables you to change preparing parameters, for example, DPI Parameter alterations. In this way, Once the Processing is Complete, Readiris decides the content zones for you and after that, you can alter them effortlessly.
FreeOCR is the best OCR Software on the list and is placed in second place over here. This utilizes the Tesseract Engine made by HP and is kept up by Google. FreeOCR bolsters TWAIN gadgets, for example, scanners and computerized cameras. Besides, It underpins a wide range of record arrangements and you can utilize the product to remove content from a picture document. Saying to put it plainly, FreeOCR is the best free OCR Software!
SimpleOCR is a convenient apparatus to change over the printed copy printed content into advanced content records. In the event that you have a considerable measure of printed content archives and you need them to change over into editable content shape, Then SimpleOCR is the best decision for you. You can likewise set up the product to peruse a report specifically from the scanner. You can also use this online to upload your photo and get the text out of it.
This is one of the best tools that I found at the last but its functionality was quite good in comparison to most of the tools that I researched. In this OCR there is an element known as "Duplicate Text from Image" which enables us to duplicate the content of a picture. The Interface is exceptionally basic and clean. The effortlessness of OneNote OCR makes it one of a kind and you simply need to embed a photo, tap on the duplicate content from picture alternative and OneNote OCR will wrap up. You simply need to process the record and afterwards glue it into the Microsoft word or some other program. So must try this out as this tool worth trying and you will surely love this tool.
Also Read: 15+ Best Powerful Tools To Customize Your Windows 10
ABBYY FineReader 14 is right now the most powerful OCR software available on the Google Play Store. The OCR tool is known for its fast and accurate text recognition. Not just that, but ABBYY FineReader 14 is also capable to convert the scanned text files into HTML or ePUB file formats. It's a premium app, but you can avail the 30 days free trial period in which you can access all premium features for free.
Boxoft Free OCR is another best free OCR tool that you can use today. The tool can extract text from all types of image formats. The most notable feature of Boxoft Free OCR is its interface which is very clean and well organized. However, due to its free nature, the tool is limited to only OCR stuffs and it misses the converting feature.
Well, Google Docs is not an OCR tool, but it's more of free web-based apps that can be used to create and edit docs and spreadsheets files. Only a few Google Docs users know that the web-based tool packs an ORC tool that can extract text from any image. So, Google Docs is another best web-based OCR tool that you can consider.
Well, its a premium OCR tool, but you can try it for free. TopOCR is a little bit different from all other listed above. The tool works best on pictures that are captured with digital cameras and scanners. That means it can extract text from only high-quality images. TopOCR also allows users to convert the output files into PDF, HTML, TXT, and RTF format. So, TopOCR is definitely the best OCR tool that you can use today.
If you are looking for an OCR Software that allows users to open an already scanned image to extract the text out of it, then YAGF OCR might be the best pick for you. The software effectively scans and extracts texts from different image areas. Not just that, but YAGF OCR also allows users to translate the text into different languages. So, YAGF OCR is another best OCR Software of 2019 which you can use right now.
As the name of the software says, Free OCR to Word is an OCR tool which extracts text from image files and saves as a word document. The app doesn't have many features and it converts a whole scanned document to editable word document. The great thing about Free OCR to Word is that it can extract text from a wide range of image formats including BMP, GIF, PNG, ICO, JFIF, PCX, PCD, TGA, etc. So, Free OCR to Word is another best OCR Softwares for Windows that you can use right now.
Finally, after reading this article, you have got to know about the best free OCR software of 2019. We have tried to provide you with the whole details in easy to grab manner and hope that you might be able to grasp it. We believe that you would be liking this information in the post if it is so then please go and share this post with others too. Also, share your opinions and suggestions regarding this post by using the comments section below. You know that your indulgence in our post is more important. At last but nevertheless thanks for reading this post!