It's no doubt that Virtual Private Networks or VPNs are one of the essential things that every electronic user should use. Internet-connected devices like computers, smartphones, tablets, etc., are now the prime victim of hackers, and they need that one chance to trap you.
VPNs are not only meant to make you anonymous, but they can also give you some amount of security. Of course, you can hide your IP Address with VPNs, but VPNs are also used to encrypt the traffic. However, most of the popular VPN service providers available out there offer a premium plan, and the prices of premium packs are quite high.
That's why users look for free VPN services. Now, if you search for free VPN on the internet, you will find tons of sites giving VPN services for free. However, those free VPNs can actually cost you a lot. So, before picking any VPN service, make sure to read this article.
Also Read: How To Set Up A VPN In Windows 10
List of 10 Best Free VPN Services in 2021
To make things a little bit easy, we will list down some of the best totally free VPN services. These VPN apps are trustable, and you can use them without any worry.
Surfshark VPN provides great performance. It easily unblocks almost all major apps like Netflix, Amazon Prime, Disney+, and more. It provides a perfect connection, so you won't face any issues while using Surfshark VPN. If you are looking for a VPN, then you must give it a try to Surfshark VPN.
Features:
Offers free trial.
Availible on all platforms ( Android, iOS, Windows, macOS).
More than 3200 servers are available to encrypt your data.
Best pricing when compared with other VPN services.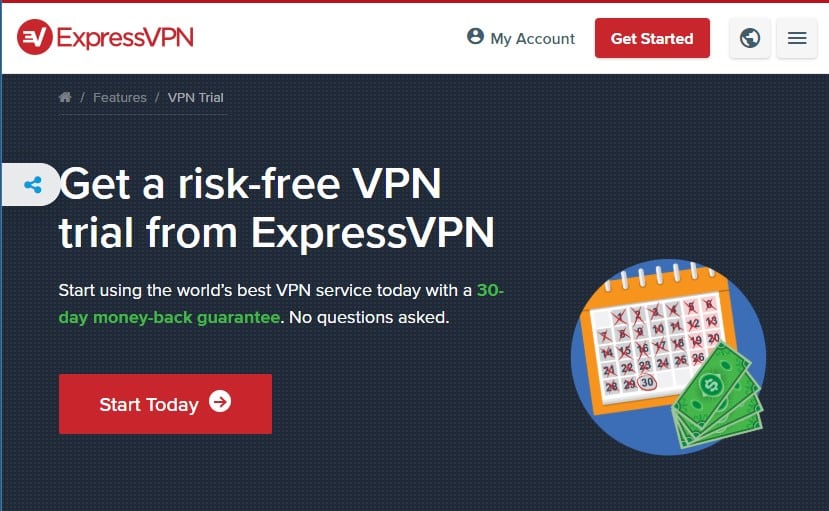 Well, ExpressVPN is a premium VPN app, but you can use it for free. The service provider offers a 30 day trial period under which you can use all its premium features. Not just that, but ExpressVPN also offers a 30-day money-back guarantee in which you don't need to go through any questionaries.
Features:
Express VPN offers you over 300+ global VPN servers.
You can use the VPN service to browse, stream, and download content.
It uses 256-bit AES encryption to protect the traffic.
Express VPN also has DNS/IPv6 leak protection, Kill Switch, and split tunneling.
This one does have a free version in which users can spend 500Mb of data every day. The premium one works well for some purposes, but few limitations come to country selection. Apart from that, the free version also shows ads.
Features:
There's no trial, but you get 500MB of free data every day.
You can stream, browse, and download with this VPN.
The premium version has a strict no-log policy.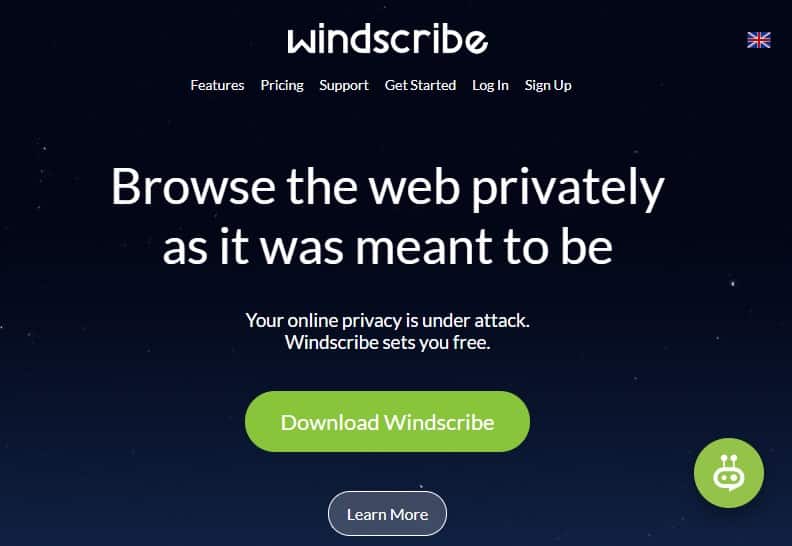 This is a newcomer in a VPN section, and it offers 500MB of free data to spend. The best thing about Windscribe is that it claims that it doesn't store any connection logs, IP stamps, or visited sites.
Features:
Compared to all others, Windscribe free version offers more bandwidth.
It offers 10GB of free data every month.
You can have unlimited connections and access to over 10 countries.
The free version doesn't ask you to link a debit card.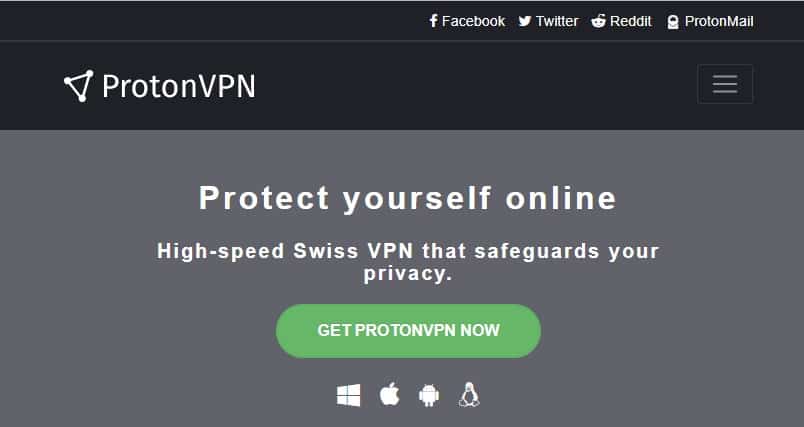 The great thing about ProtonVPN is that it doesn't put any restrictions on bandwidth. That means you can use unlimited data for free. However, the free version puts a limit on location and connected devices. With the free version, you can only connect to three locations, and you can use it only on one device.
Features:
The free version of Proton VPN offers unlimited bandwidth.
The VPN servers of ProtonVPN were well optimized.
The free version lets you connect to three different locations.
This is another great VPN app on the list that offers users 2GB of free data per month. The data limit is not the only limitation here, as there are limits of connected devices and locations. With the free version, you can only connect to three server locations.
Features:
The VPN is known for its advanced security.
Hide. It doesn't store logs of your online activity.
It offers lots of privacy features like Split Tunneling, Stealth Guard, IP Leak protection, etc.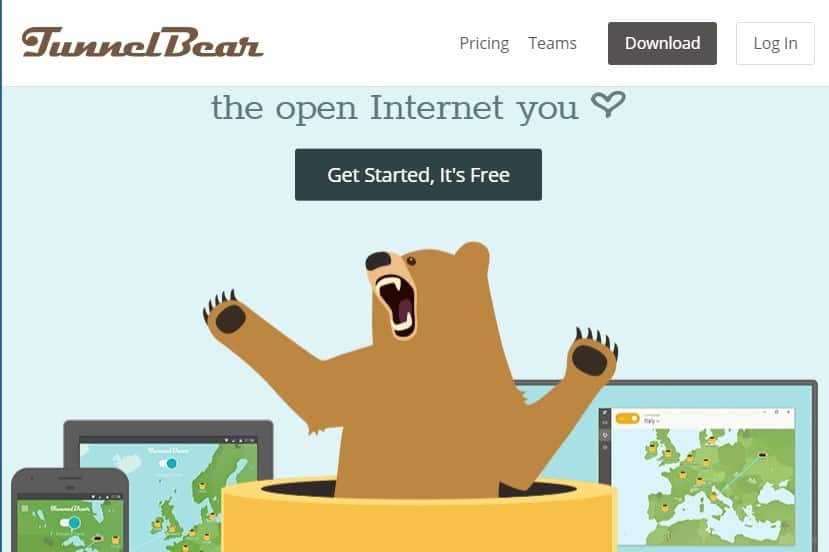 The great thing about TunnelBear is its interface which looks amazing. Guess what? with the free version of TunnelBear, you can connect to servers located in 22+ countries. Not just that, but browsing speed and security are also high.
Features:
This is a free VPN service for Windows 10.
Tunnel Bear is always known for its clean UI.
With the free version, you can connect to 22+ different locations.
It offers 500MB of free data every month.
The latest version of Opera offers a free VPN and ad-blocker. The free VPN works within the browser, and it's perfect for anonymous browsing. So, if you don't want to install any other third-party app for VPN purposes, then the Opera browser might be the best pick for you.
Features:
Opera VPN is a part of a web browser. That means you don't need to install a separate VPN app.
It offers free & unlimited VPN.
Opera VPN also works in a private browsing window.
This is another best and free VPN service that you can use on your Windows 10 computer. The best thing about Speedify is that it offers 1GB of monthly data. Compared to all other VPN services listed in the article, Speedify provides users better browsing speed.
Features:
Speedify offers 2GB of data usage every month for free.
You don't need to create an account to use the free version.
Speedify free version offers all VPN-related features like kill switch, IP Leak protection, etc.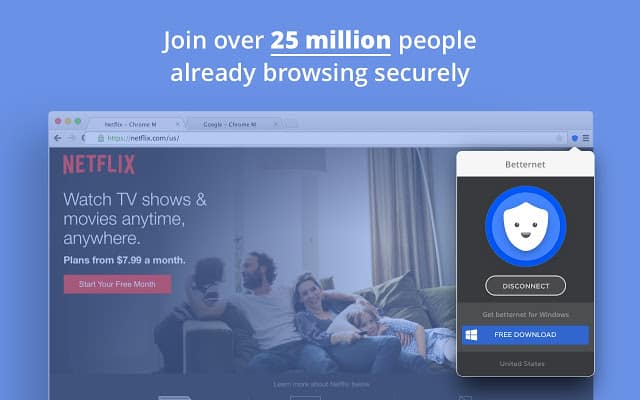 Well, Betternet is another best free VPN service on the list which provides users unlimited bandwidth. The user interface of the Betternet is clean and well organized. On the free version, there's no option to select a VPN server manually. The VPN app randomly connects users to different servers.
Features:
Betternet offers unlimited bandwidth.
The VPN is known for its well-optimized VPN servers.
The VPN also offers lots of privacy and security features.
NOTE: If you are not satisfied with the above-given list of VPNs, then you can try the Avira Phantom VPN.
Well, if you are searching for a VPN service to get secure, private, and unrestricted access to the internet, then you need to give Avira Phantom VPN a try. Avira Phantom VPN is available for Mac, Android, and iOS, and it has a strict no-log policy. The VPN server right now has only 82 servers spread across 25 countries.
Features:
Avira Phantom is a free VPN service, but it offers 500MB of data only.
Phantom VPN encrypts your web traffic and routes your online activities via a secure tunnel.
Avira Phantom VPN is also available for Android & iOS.
So, these are the best free VPN services that you can use right now. If you know any other free VPNs like these, then make sure to drop the name in the comment box below.