It is always better and friendly to play with a dedicated game controller rather than on-screen controls.
We have shortlisted the best game controllers for android smartphones among hundreds of the options on leading shopping websites based on price, quality & user reviews.
10 Best Game Controller For Android Device
You can purchase any of the below game controllers from all the leading shopping websites; we have also given the best buy link over there.
1.

BEBONCOOL Android Wireless Game Controller with Clip
This BEBONCOOL wireless gaming controller allows you to connect the android smartphone and tablet capable with Bluetooth 2.0 or higher. With it, you can keymap your game as you want. Thanks to a 3.0 to 5.6 inches telescopic holder design, it is compatible with almost all the popular smartphones in the market.
2. BEBONCOOL Android Controller for PUBG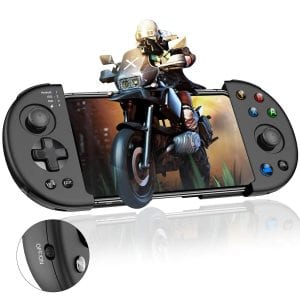 The cool BEBONCOOL Android Controller features 12 buttons, including 2 triggers and 10 game control buttons. It is specially designed for PUBG; you will experience a more accurately aim joystick, faster response triggers. In addition, this game controller will offer you 15 hours playing after fully charged, thanks to its 350mAH large-capacity battery.
CHENGDAO mobile smartphone gaming controller specially designed for Apple devices, you can also use it with all Android smartphones, including iPhone,iPad, iOS & all the popular android smartphones. This game controller performs well with turbo, action, racing, fighting, shooting, athletics games.
This Bounabay Wireless Telescopic Bluetooth Controller is equipped with a built-in lithium-ion battery that offers you 80 hours of playback when it is fully charged. It features WEE 2T integrated six-axis gyroscope body sensing technology far better than a typical smartphone.
5. Smartphone Game Controller by Bowie
You can easily attach this game controller to your smartphone without any tools or modifications. Talking about its wireless connectivity, it supports 10 meters operation to improve your gaming experience on the mobile phone. You can also use this game controller with a PC & Laptop with wireless connectivity, not just a smartphone.
6. PowerLead PG9021 Mobile Gaming Wireless Bluetooth Controller
PowerLead PG9021 mobile gaming wireless Bluetooth controller comes with a 3.0 wireless transmission that can support a 6-8 meters wide range of control from the operation. Furthermore, it is designed based on ergonomics and designed for the most comfortable thumb position and gaming experience.
7. Wireless Game Controller Rechargeable for Android Phone by SaharaMicro
This wireless game controller from SaharaMicro supports all the popular devices, including Android Phone, Pad, TV, KODI TV Box, Amazon Fire Stick, Fire TV, Smartphone, Sony, Samsung Smart TV. It features 10 buttons and 3 movement controls for the ultimate experience.
YOBWIN L1R1 L2R2 Gaming Grip Gamepad Mobile Controller is not just the gaming controller. It features a powerful built-in cooling fan that helps you keep your smartphone cool to offer you an outstanding smooth gaming experience.
This gaming controller features a very comfortable handle grip that offers you, perfect feeling to relax your hand fatigue for a long time comfortable gaming experience. You will need to install any power supply or driver to connect it with your device. You can connect any smartphone with it.
This COOBILE Mobile Game Controller is specially designed for PUBG players to enjoy comfortable gaming. It features a comfortable handle; the long-term game will not fatigue, alloy trigger, Fire while moving, 4 fingers operate simultaneously & you are always faster than the enemy.
We hope this article on the best game controllers for smartphones is helpful for you; if the article is helpful for you in any manner, do share it on social media; stay connected with us for all the latest technology updates.