It doesn't matter how powerful your PC's specs are for gaming; if you don't have a perfect monitor to utilize the power of your GPU unit, everything will go into vain. These days, gaming monitors have become more relevant than ever; since gaming is slowly becoming a money-making opportunity.
A good monitor doesn't just render videos in higher resolution; they make everything look stunning and keeps up with fast-paced gaming. So, if you have just assembled a new gaming PC for yourself but don't know which monitor to choose, you have landed on the right page.
List of 10 Best Gaming Monitors You Can Buy
This article will list down some of the best gaming monitors for PC. All of these gaming monitors for PC will provide you with ultra-fast refresh rates and will render videos of high quality. So, let's check out the best gaming monitor for PC.
Samsung Odyssey G5 is one of the affordable gaming monitors available online and in the local market. This is also probably the most inexpensive 1000R curved monitor you can buy today.
Samsung Odyssey G5 is perfect for gaming as it packs in 1.7 times the pixel density of Full HD. The Samsung Gaming Monitor for PC has a 144hz super-smooth refresh rate which is perfect for rendering graphics videos & high-end games smoothly.
Some other features of Samsung Odyssey G5 include HDR10 support and AMD FreeSync Premium for adaptive sync technology.
If you have a mid-end PC and want a budget gaming monitor, you need to purchase Sceptre IPS LED Gaming Monitor. It has an IPS panel that consistently delivers top color performance and sharp visibility from multiple viewing angles.
Regarding the refresh rate, the affordable gaming monitor has a 75Hz refresh rate that ensures the images change faster and smoother than the standard options.
The key feature of the Sceptre IPS LED Gaming Monitor is its built-in speakers, which deliver smooth audio.
Alienware 34 QD-OLED (AW3423DW) has 34-inch screen size and the panel type is QD OLED. The monitor just nails it when it comes to PC gaming.
The massive gaming panel has two HDR modes – HDR 400 True Black and HDR Peak 1000. The maximum resolution that the display can support is 3440×1440.
Alienware 34 QD-OLED supports a screen refresh rate of 175Hz and uses G-Sync Ultimate for Refresh rate technology.
This could be the perfect gaming monitor for you if you use top-end graphics cards such as RX 6800 XT or RTX 3080. LG 27GN950-B is one of the first 4K gaming monitors with a 1ms response time.
The gaming monitor for PC lets you re-imagine every scene with vivid, responsive IPS. It supports 16:9 screen ratio (3840×2160) resolution. And with a 144Hz refresh rate, LG 27GN950-B is perfect for showing off your powerful graphics card.
It also has a fantastic video Sync Mode feature that lights up the RGB Sphere Lighting 2.0 according to the game visuals for a fully immersive experience.
If you are searching for a gaming monitor that offers the ultimate specification and quality, then Gigabyte G27Q could be your top choice. The monitor is not very expensive, but it packs some powerful features.
The screen size of this monitor is 27-inch with an aspect ratio of 16:9 and a max resolution of 2560 x 1440. The key highlight of Gigabyte G27Q is its 1ms response time which provides a smooth gaming experience.
The monitor also has a 144hz refresh rate which favors smooth gaming performance. Other than that, Gigabyte G27Q also provides you with a pair of 2W built-in speakers. Overall, Gigabyte G27Q is one of the best gaming monitors you can purchase today.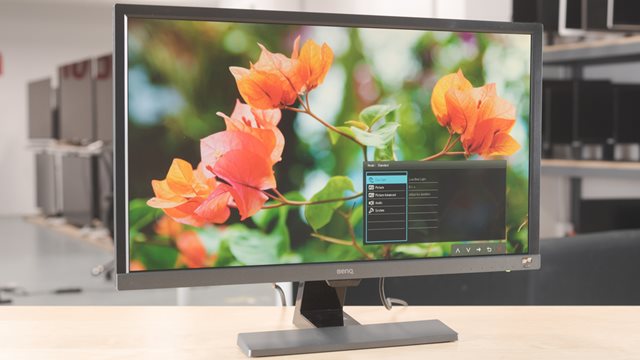 If you are looking for an affordable LED gaming monitor for your PC, then BenQ EL2870U could be the best choice for you. The monitor has a 28-inch LED UHD (3840×2160) display with HDR.
Gamers would probably like the 1ms response speed BenQ EL2870U offers as it eliminates motion smears for smooth video and gaming. With a 1ms response time, you can see fast-moving objects without any lag or ghosting.
With an AMD Graphic card, the BenQ EL2870U monitor will eliminate image tearing, broken frames, and laggy gameplay with AMD FreeSync technology. Still, the screen refresh rate is limited to just 60Hz, which might turn off many gamers.
Besides these, BenQ monitors also use advanced eye care technology to restrict the blue light emitted from the computer screen. You will have the same feature with this model, and it can prevent eye strain.
While Acer Predator CG7 might not be suitable for many, it's still perfect for those who prefer a big screen for playing games.
Acer Predator CG7 stands out from the crowd due to its massive 43-inch 4K display. The panel has a 4000:1 contrast ratio, 120Hz refresh rate, and 1ms response time.
The monitor also has 10-watt speakers built-in that solve the sound problem for you. Overall, if you want an actual 4K monitor that's huge and checks all boxes in the specification front, then Acer Predator CG7 could be the one for you.
Sony Inzone M9 is one of the most good-looking gaming monitors available today. The screen size of this monitor is 27 inches, and it supports a maximum resolution of 3440×1440 pixels.
This 4K HDR monitor can provide you with the best gaming experience. The screen supports a refresh rate of up to 144Hz, which is enough to give you that split-second advantage over your opponents in online gaming.
Sony Inzone M9 is also compatible with NVIDIA G-Sync, which can eliminate screen tearing, stuttering, and delay. The monitor also has more ports than any other on the list – 2 HDMI 2.1, 1 USB-B, 1 USB-C, and 3 USB-A Ports.
ASUS Tuf Gaming VG279QR is for those who want an affordable gaming monitor with a better refresh rate and 1ms response time. The monitor has a 27-inch Full HD (1920 x 1080) display that supports a 165Hz refresh rate.
ASUS Tuf Gaming VG279QR has something called ASUS Extreme Low Motion Blur technology that enables the 1ms response time to eliminate ghosting.
Also, the monitor has some ASUS-specific features, such as the 'Shadow Boost', that optimizes the image details in dark areas. The feature changes the color temperature and brightness based on your viewing.
Viotek GNV34DBE is a 34 inches curved gaming monitor with a maximum resolution of 3440 x 1440, and the screen ratio is 21:9. It's one of the best-curved monitors available for gaming.
The display has HDR10 support, and it's optimized with an ultra-fast 144Hz refresh rate. While the official site of Viotek GNV34DBE claims that the monitor works with AMD FreeSync, it also is G-Sync compatible. Overall, Viotek GNV34DBE is a great gaming monitor that you can have today.
So, these are some of the best gaming monitors available on the market that will help you unlock the true potential of your graphic unit. You can also fetch more details about the listed monitors from their official websites. All gaming monitors were available on online shopping sites like Amazon or the local marketplace. If you want to add your favorite gaming monitor to the list, drop the monitor name in the comments below.