If you are a professional gamer or want to become a gamer, then it doesn't make any scene to enjoy gaming on standard monitors. On the standard monitor, you will experience ghosting and image dragging. You can not experience real gaming on standard monitors; it always worth purchasing gaming monitor that offers you real-life gaming quality.
Because of lots of technical aspects, it is not easy to choose the best gaming monitor for you. For additional convenience, our team of technical professionals has shortlisted 10 best gaming monitors that you can purchase.
10 Best Gaming Monitors in 2020
You can purchase any of the below featured gaming monitor from all the leading shopping website, we have placed the best buy link over there.
This Acer Nitro QG221Q is 21.5″ monitor that comes with VA panel with full HD resolutions of 1920 X 1080, the responsive time of this gaming monitor is even less than 1MS with the refresh rate of 75 Hz.
For more connections, it features 1VGA & 2 HDMI ports, this gaming monitor works on AMD Radeon free sync technology & black boost technology.
The response time of this Acer 27-inch gaming monitors is even less than 1 m with the pre pixel pitch of 0.311mm, it works on latest AMD free sync technology & the refresh rate of this gaming monitor is about 144 Hz
Comes with additional HDMI display port and stereo speakers that offer you outstanding sound quality.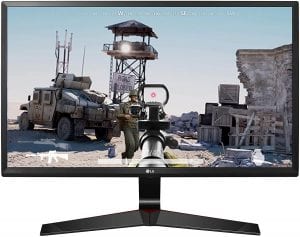 Viewing angle is a speciality of this LG gaming monitor, it's about 178 degrees horizontal 178 degrees vertical with a screen size of 24 inches, the resolution of the monitor is FHD 1920 X 1080.
Talking about the other technical aspect, the refresh rate of this monitor is about 1 ms, and input is 100~240Vac, 50/60Hz.
This Asus ROG Swift PG65UQ is the first preference of lots of games; it works on 114 Hz refresh rate so that you will get super-smooth gaming visual, also has plus quantum dot technology.
It's NVIDIA G-SYNC ULTIMATE will offer you best HDR gaming experience that you never experience before.
You will always experience seamless and practically blur-free gaming thanks to its 75 Hz refresh rate and 1 ms visual responsive boost (VRB). With the tilt of -5° to 20°, you will get a much more comfortable experience.
Its Radeon FreeSync4 finishes choppy gameplay and broken frames with fluid, artefact-free performance.
Must Read: Download Huawei Enjoy 10 Plus Wallpapers
This ASUS ROG Swift PG348Q curved ultra-wide 34 inches IPS panel will deliver you superior resolution, colour, and smoothness, maximizing immersion in games.
No need to worry about your eyes, this gaming monitor comes with advance ASUS eye care technology, will automatically lower blue light and eliminates flickering.
Acer Predator XB272 bmiprz is the another most prefered gaming monitor, works with a refresh rate of 240Hz using display ports; the responsive time of this monitor is even less than 1ms.
It works on NVIDIA G SYNC Technology, always provide you with smooth gaming experience.
You will always experience entirely blur-free gaming on this gaming monitor thanks to its AMD FreeSync technology. It also features black boost with 11 levels of deep level adjustments, will optimize the dark field so that you will see the details at a glance.
You can tilt this from -5 Degree to 15 Degree; you can adjust it to get a more comfortable position.
When it comes gaming, MSI is the first brand name that comes in mind; this gaming monitor is specially designed to offers you best gameplay immersion. Because of its FHD resolution will get more details.
Always offer you a smooth gaming thanks to its 144Hz refresh rate and 1ms of response time.
This gaming monitor woks on advance AMD Radeon Free-Sync Technology has the viewing angle of 178 / 178 degree, you can also mount it on the wall. Always provide you with outstanding gaming experience with its flicker-free and low blue light technology.
Those are the 10 best gaming monitors; you can purchase any of them from all the leading shopping website, we also have the best buy link over there. We hope this article on the best gaming monitors is helpful for you. If the article is useful for you in any manner, then do share it on social media, Stay connected with us for future updates.