Let's admit, we all want to be productive in our daily life. However, we all were messed up between our personal and professional life. To be productive, one needs to learn time management skills.
How well you manage your time between tasks and manage your daily life defines your productivity level. Although you can't become a productive person overnight, you can take small goals to become more productive than yesterday.
List of 10 Best Goal Setting Apps for Android
Therefore, in this article, we will list down some of the best goal-setting apps for Android. All of these apps were free to download and would help you to set up your goal. Not only that, but some of the apps will even motivate you to work on your goal without procrastinating. Let's explore the list.
1. Habitica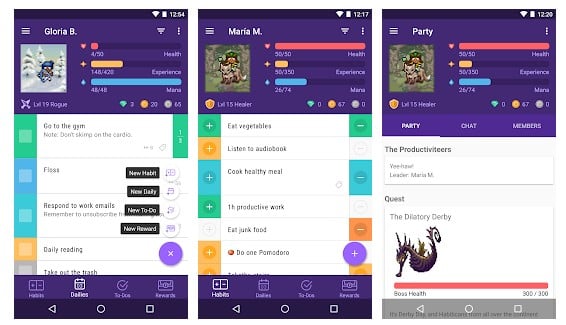 The app has all the features that could help to make your habit of remaining attached to the work that you will set on the app.
To motivate you, the app provides you rewards and some tasks that will help you reach the destination quickly. So utilize it, and you will know about that!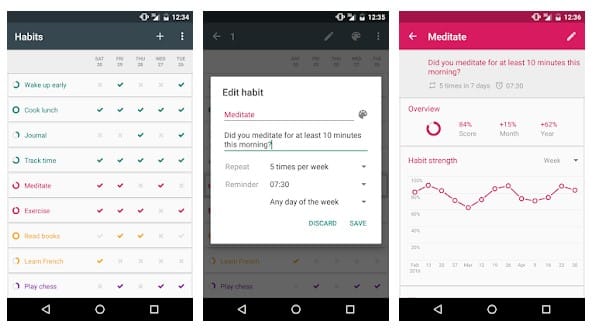 If you are looking for an Android app to create and maintain long-term positive habits in your life, then look no other than Loop Habit Tracker.
The app has an advanced formula for calculating the strength of your habits. It also shows detailed chats and statistics of how your habits have improved over time.
Habithub is another powerful app that can track habits, accomplish your goals, and finally rewire yourself. It comes with a powerful reminder system that will help you stay on top of all your habits. This is one of the best goal tracking apps you can have on your Android smartphone.
You can use the Fabolous Android app to coach yourself to reach your goals, lift yourself to Get Active, Eat Better, Sleep better, lose weight and stay motivated.
With Fabulous, you can receive science-based coaching to increase your energy levels which can help you achieve your goals.
7 Weeks is the easiest way to develop a new habit or goal or break a bad habit. The Android app creates an ultra-simple strategy to complete one day of your habit/goal at a time.
Each day you complete helps you to get one step closer to not just making or breaking a new habit, but it increases your motivation, willpower, and discipline.
HabitBull is another best Android goal-setting app on the list, which is powerful and can help you keep track of your day-to-day habits.
The best thing about Habitbull is that it allows users to set goals and track anything and everything.
LifeRPG is another best Android app that allows users to set goals and achieve them. The best thing about LifeRPG is that it allows users to sort out missions by suggested priority.
Apart from that, LifeRPG allows users to assign unlimited goals which needed to be accomplished. The app can also lead you to improve your skills toward anything as it shows a radar chart that displays your top skills and the skills you need to work on.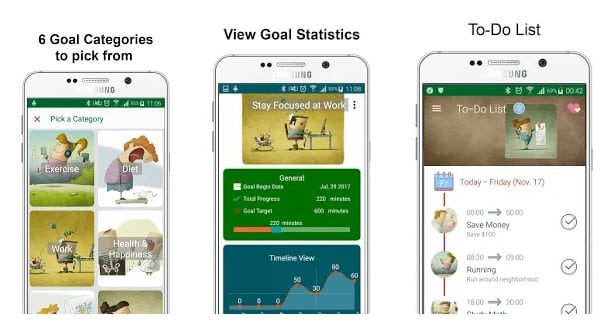 Goal Meter is a multi-purpose app that allows users to create a to-do list for goals and habits. The best thing about Goal Meter is that it allows users to improve their daily routine and schedule the day in advance. Apart from that, it was the interface that makes the app more interesting.
GoalMap is one of the best and unique goal-setting apps you would love to have on your Android smartphone. The best thing about GoalMap is that it allows users to choose from predefined goals or create their own.
Creating goals is easy with GoalMap; users just need to tap on the '+' icon and update the goals. Another thing about GoalMap is its community-based app that means you can connect with others to find motivation.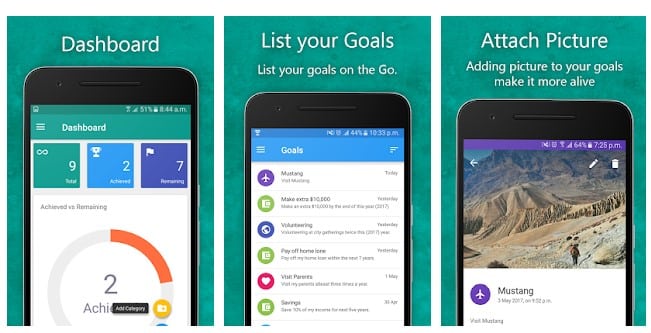 Lifetime Goals is a relatively new Goal setting app available on the Google Play Store. The great thing about Lifetime Goals is that it allows users to list their goals, attach pictures, assign categories, set reminders, etc. Not just that, but Lifetime Goals also allows users to keep track of their achievements.
So, these are the best goal-setting apps for Android. I hope this article helped you! Please share it with your friends also. Also, if you know of any other such apps, let us know in the comment box below.