It's no doubt that the world around us is evolving rapidly. We can now watch movies, TV Series, etc., from our smartphones. There is plenty of video streaming apps and sites available on the web, which you can use to watch endless hours of videos. However, most of those services ask users to subscribe to a premium package which turns down many users.
So, to watch videos from a smartphone, Kodi seems to be a perfect solution. For those who don't know, Kodi is a type of media player app which depends on addons and repositories to stream video content. Therefore, you need to use Kodi movie addons to stream movies, TV Series, etc., directly.
List of 10 Best Kodi Movie Addons For Watching Movies
If you search for Kodi addons on the web, you will find many options. So, to prevent you from the troublesome task of searching Kodi addons to watch movies, we have rounded up the list of best Kodi addons for movies. So, let's explore the list.
1. Seren
Seren is an immensely popular Kodi movie addon on the list, offering you thousands of movies and TV shows to watch. Unlike other Kodi Movie addons, the streaming video quality on Seren is high-quality, and you will not face buffering issues.
The good thing about Seren is that it allows you to search Movies based on the release date, genres, actors, and more. Overall, Seren is an excellent Kodi Movie addon that you can consider.
2. WatchNixtoons 2
If you are looking for a Kodi addon that would allow you to stream cartoon content, look no other than WatchNixtoons 2. WatchNixtoons 2 is a Kodi movie addon with a massive collection of cartoons from Disney, Marvel, and more.
The video streaming quality is good, and you won't face buffering issues while streaming videos. Other than that, all video content on WatchNixtoons 2 was uploaded with proper subtitles.
3. FilmRise
If you are looking for the best Kodi Movie addon to watch movies, documentaries, and trailers of upcoming movies, you need to use FilmRise.
The great thing about FilmRise is that it has tons of video content that you can stream right from your smartphone. Guess what? FilmRise claims to have more than 8,000 video titles.
4. SnagFilms
SnagFilms is a delight for movie lovers because it has a massive database of video content. The Kodi addon has around 25 categories of video content ranging from Bollywood, Hollywood, Drama, Horror, Romance, etc. If you are searching for a Movie Kodi addon with huge video content, SnagFilms might be the best pick.
5. Crackle
For those who don't know, Crackle is a media streaming service that Sony backs. That means you can legally watch video content on Crackle. The great thing about Crackle is that you will find tons of famous movies like Men In Black, The Green Hornet, Resident Evil Series, etc., on the addon.
Apart from that, the movies are usually of high quality. So, Crackle is another best Kodi Movie addon that you can download from the Kodi repository.
6. Exodus
Exodus is one of the top-rated Kodi addons, which offers movies and TV Shows. Guess what? Exodus now has the most extensive Movies and TV Shows database, and almost every video content is available on 720p.
Not just that, Exodus also provides users a wide range of filtering options like you can filter videos by their genres, actors, directors, etc.
7. Popcornflix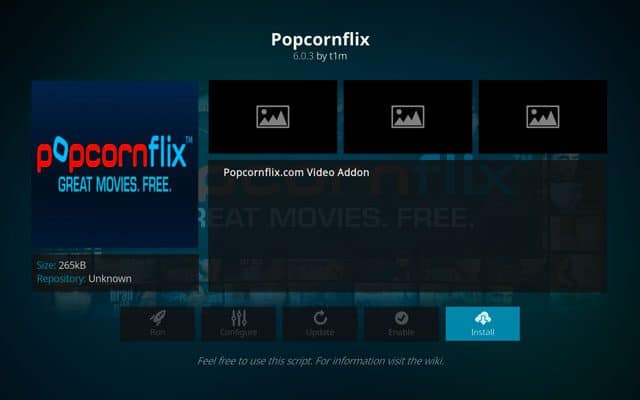 Well, Popcornflix is heavily popular amongst all video lovers. Popcornflix is already available on Windows and Android, and it's known for its vast database of Movies and TV Shows.
Guess what? The Popcornflix movie addon serves the same purpose, and you can stream more than 5,000 videos through the addon.
8. Viewster
Viewster is another excellent Kodi Movie addon on the list known for its massive database of video content. Guess what? On Viewster, you can watch movies, TV Shows, Web Series, etc.
What makes Viewster more interesting is that it has lots of Korean dramas and Movies as well. So, Viewster is another best Movie addon that you can install from Kodi Repository.
9. The Crew
If you are looking for a Kodi addon to watch Movies and Live IPTV channels, look no other than The Crew. Apart from the Movies, The Crew has a separate section for IPTV. You can stream over hundreds of channels from the IPTV section for free.
Apart from that, The Crew also lets you stream shows and movies based on Streaming services like Netflix, Disney Plus, and more.
10. Maverick
If you are searching for a Kodi addon to watch TV Shows, Movies, and sports videos, Maverick might be the best pick.
The Kodi addon covers various sections like One Click TV Shows, Daily Motion TV, Latest TV Shows, Movies, etc. Also, it has a good collection of wrestling shows.
So, these are some of the best third-party Kodi addons that can provide you with endless hours of entertainment. Almost all of the addons have a massive library of movies and provide content of superior quality.