When it comes to the best games for Nintendo Switch, you will be loaded with tons of options, and it is not easy to list the best among them. For your convenience, our team of professionals shortlisted the 10 Best Nintendo Games based on popularity and player reviews. 
Talking about the gaming experience, Nintendo Switch is optimized for personal, handheld play. You can also go with Nintendo Switch Lite since it's a smaller and lighter Nintendo Switch system.
List of 10 Best Nintendo Switch Games
All the below-featured games are of different categories, including fighting games, racing games, adventure games & puzzle games. 
Well, if you are a huge fan of Super Mario, you will love this game for sure. It's a collection of 5 classic boards from the Nintendo 64 Mario Party games. Compared to Super Mario Party, Mario Party Superstars have additional game modes and enhanced multiplayer features.
In this game, you need to move around via dice rolls and gain coins and stars to win. At the same time, you need to avoid hazards and dodge opponents' power-ups that serve as an obstacle in your path.
If you are a huge fan of the action-adventure game, you shouldn't miss this one. It's a game developer by MercurySteam, and the story sets after the events of Metroid Fusion.
The game sees you controlling bounty hunter Samus Aran, and your role is to investigate the source of a mysterious transmission on the planet ZDR.
As you explore the planet, you will find opportunities to find new powers for your armor suit.
If you have played dodgeball and loved playing it, you will love Knockout City. It's a game published by Electronic Arts and is available for Nintendo Switch.
It's a team-based competitive multiplayer game that is very simple to play. Your goal is to attack the players from the opposing team and knock them out with a ball.
The twist in the game is that there are several types of balls available within the game, and each ball grants different abilities to the player.
Bayonetta 3 is an exclusive action game developed by Nintendo Switch, which means you can not play this game on any other platform rather than Nintendo Switch.
PlatinumGames developed this game; Bayonetta 3 is the third game in the Bayonetta series after Bayonetta and Bayonetta 2. Its is basically a hack-and-slash action-adventure title.
It accompanies the plot of the eponymous Bayonetta, a witch who is proficient in shapeshifting and using her magic hair to combat her enemies. 
The Legend of Zelda: Breath of the Wild is an action-adventure game that was first available to play on March 3, 2017.
The game is set the open world in which you, as the player, are tasked with exploring the kingdom of Hyrule while controlling Link. The Legend of Zelda: Breath of the Wild is about exploration and adventure. In terms of graphics, the game is quite reasonable.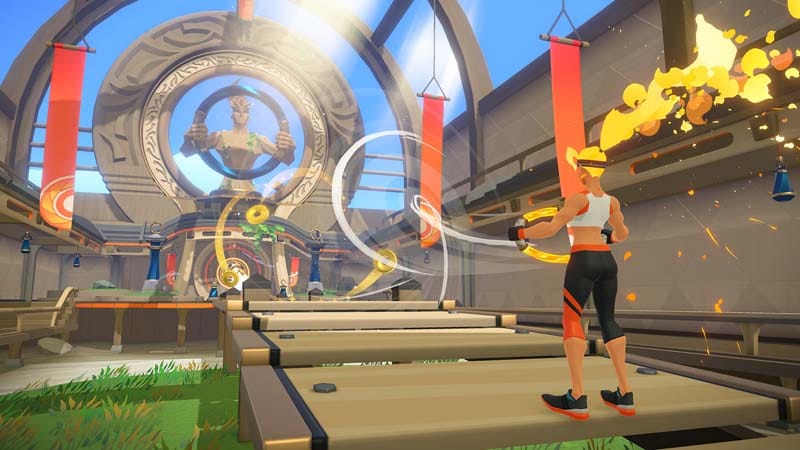 Ring Fit Adventure is another best game for Nintendo; this game is all about defeat enemies. In the game, you will explore a huge fantastical world and defeat enemies using real-life exercise.
The game was first available to play on 18 October 2019; Nintendo Entertainment Planning develops it. This game is an excellent escape for players of all skill levels and schedules. This is one of the Best Nintendo Game
Super Smash Bros. Ultimate is a fifth installment in the series of Super Smash Bros. This version of the game also follows the traditional style of gameplay.
Super Smash Bros. Ultimate is a crossover fighting game; you can play this game in different modes such as Campaign for single player and Multiplayer versus mode.
It would help if you used differing attacks to undermine their opponents and knock them out of an arena.
Pokémon Sword and Shield is just like another game in this series; the shield brings the world of Pokemon to life. The game is full of fun; it takes a massive curveball from the traditions and is very refreshing for many players.
This game was the first available to play in 2019; it was developed and managed by Game Freak and published by The Pokémon Company. This is one of the Best Nintendo Game
Fire Emblem: Three Houses is another best game for Nintendo Switch, its a tactical role-playing game where you control a player character, You can choose the gender and name of your role at the starting of the game.
You will be asked to teach at the Garreg Mach Monastery, which acts as a hub for game activities in the gameplay. Fire Emblem: Three Houses were developed and managed by Intelligent Systems and Koei Tecmo for the Nintendo Switch.
Xenoblade Chronicles 2 is one of the most played games for Nintendo Games; It is an open-world action role-playing game developed by Monolith Soft. Xenoblade Chronicles 2 is the first available for Nintendo Switch on 1 December 2017. In the game, you will experience the story of Rex and his new friend, Pyra.
These are the best Nintendo Switch games that you can still play today. I hope this article helped you, kindly share it on social media. Also, stay connected with us for all the latest technology updates.