You have hundreds of graphics HD games for Android, such as PUBG Mobile, COD Mobile, Among US, and more. These games offer endless hours of fun and entertainment, but what if you don't have an internet connection?
Almost all games that have been on the trend for the past few years require an internet connection to run. However, there could be a situation where you might want to download offline Android games.
Offline Android games have two benefits – first, they don't require an active internet connection, and second, they don't try to send your data to third parties. There are quite a few best offline Android games on the Google Play Store that can provide you with endless hours of fun.
List of 10 Best Offline Android Games
Hence, if you are looking for the best offline games for Android, you have landed on the right page. In the following article, we have listed some of the best offline games for Android smartphones. Let's get started.
Alto's Odyssey is a famous endless runner and sandboarding game for Android that requires no WiFi or mobile data. In this game, you must ski down mountain slopes, soar above windswept dunes, traverse thrilling canyons, and explore the long-hidden temples.
The game is highly addictive, easy to learn, but difficult to master. As you progress in the game, the missions become more challenging. Overall, Alto's Odyssey is a great offline endless runner game for Android you should play today.
Angry Birds 2 is a sequel to the popular puzzle-based game Angry Birds. The game is developed by Rovio Entertainment and is the twelfth game in the Angry Birds Series. Compared to other series, Angry Birds 2 is more popular.
The gaming mechanism of Angry Birds 2 remains the same as Angry Birds. You need to launch your birds and destroy the pig's towers. Angry Birds 2 has both online and offline modes. The offline mode allows you to complete the missions and unlock the birds.
If you are looking for an Android car racing game with both online and offline modes, then look no other than Asphalt 8. Asphalt 8 is an arcade car racing game with over 75+ tracks and 300+ licensed cars.
The offline mode of Asphalt 8 has fairly limited content, but you can drive cars & motorbikes and complete the career mode. The online multiplayer mode allows you to compete with other racers worldwide.
If you are into offline shooting games for Android, you will love Cover Fire for sure. You will need WiFi or Mobile data to download the game, but you don't need them to play.
It's an action-packed shooting game for Android that has a challenging story mode. You need to start the story mode, take your weapons, and strike the enemy army with various weapons and grenades.
Despite being an offline game, it has HD graphics that look realistic. So, Cover Fire is a great offline shooting game for Android that you should play once.
Shadow of Death 2 is a side-scrolling 2D hack-and-slash game with a shadowy aesthetic. It's a sequel to the popular Shadow of Theme, which received over 10 million downloads worldwide within a few months of launch.
The game sees you playing the character of Maximus, whose role is to battle against demons to bring light back to Aurora, the city of magic and swordsmanship. So, if you are a huge fan of the Action RPG adventure game genre, you should play this game on your Android.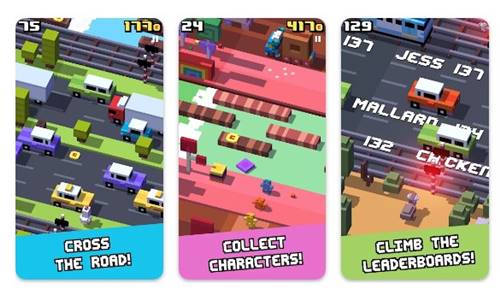 Crossy Road is a top-rated arcade video game developed and published by Hipster Whale. In this game, you control a chicken and guide it to the other end of the road.
As you control the chicken, you need to dodge the traffic, hop across logs, sidestep trains, and collect coins. The game's concept is unique; it has offline support, Android TV Support, local and online multiplayer mode, and more.
If you are a cricket lover like me, you may already know about the Real Cricket 22. It's the most popular cricket game for Android, available on the Google Play Store. The game has a variety of modes for playing cricket. You get the world cup, test campaign, T20 formats, and more.
Currently, the game has over 500+ batting shots, manual fielding setup, multiple commentators, dynamic stadiums, almost all cricket players, and more.
You can play real Cricket 22 without the internet as well. However, on the offline mode, you get very limited modes to play cricket. Apart from the offline mode, Real Cricket 22 also supports online and local multiplayer modes.
Well, 2048 is a sliding tile puzzle game for Android that's full of fun and highly addictive. Here you need to slide the tiles around to get the number 2048 or higher.
In this game, you need to swipe on the screen to move tiles, and when two tiles with the same number touch, they merge into one with a higher number.
After collecting the 2048 tile, you must keep playing the game to attain a high score. It's a fully offline game for Android and is highly addictive.
Vector is an arcade-style free runner game similar to Alto's Odyssey listed in the article. You must control and guide the protagonist to the next level in this game.
As you run, you need to overcome hurdles and cover the distance as more as possible to get more points. The difficulty increases as you progress in the game and complete the levels.
This is an offline game for Android with HD graphics, amazing gaming mechanics, and controls. Overall, Vector is a great and highly addictive offline game for Android that you should play.
Well, The Room is one of Android's top-rated mystery-based puzzle games. It's a full offline game that follows a mysterious theme. The visuals of the game were realistic and looks super cool.
In this game, you see yourself locked up in a room, and the only way to escape the room is by solving the mysterious puzzles.
The puzzle game for Android is free to download and play and has no in-app purchases. Overall, The Room is an awesome mystery-based offline puzzle game for Android that you can play today.
So, these are some of the best offline Android games you can play now. Almost all the games listed in the article were free and can be downloaded from the Google Play Store. If you want to suggest any other offline Android games, let us know in the comments below.