Let's admit, sometimes we accidentally delete a file and then regret it. If you have lost files on Android, there are not many options left to recover them. However, if you have accidentally deleted files on desktop operating systems like Linux and Windows, you have multiple recovery options.
Recovering deleted files is pretty easy on a desktop operating system. You can make use of several third-party apps to recover your lost data. When it comes to data recovery, there are multiple options available too. Some data recovery tools require premium accounts, whereas others were just free to use.
In this article, we will talk about open-source data recovery tools. Not only that, but we will also share a list of the best open-source data recovery tools available on the web. But, before exploring the list, let's know where the deleted files go.
Where do the files go when they are deleted?
First, deleted files can be recovered when it comes to a normal hard drive. The operating system does not remove them entirely from the sectors they occupy on the device (even when you empty the recycle bin). Still, something similar happens to that they are marked as not essential, and it is considered that the space they occupied can be overwritten.
When the system needs space for new files and overwrites those where the files were deleted, they will be permanently lost. While this does not happen, a data recovery program can scan the disk and find anything that has not yet been overwritten to recover it.
With that detail in mind, it would make sense that when you want to recover files from a hard drive, stop using the device immediately to avoid overwriting the space by adding new files. That is why installing the recovery tools in a portable device is advisable. If possible, remove the hard drive from your computer and connect it to another where you have installed the software you will use.
List of 10 Best Data Recovery Tools
So, now without wasting much time, let get started and explore the list that we have mentioned below.
The guys from Piriform have made a great program to recover deleted files called Recuva. The program allows performing a quick or deep search, both on hard drives and external drives. And not only that even it also allows to recover of all file types like emails in applications such as Outlook or Thunderbird that were accidentally deleted. It also has a portable version, which we recommend running from a different disk to the one you want to recover to avoid overwriting data.
Pandora is an excellent data recovery software that allows you to recover deleted files from FAT, NTFS, and NTFS/EFS partitions. It is straightforward to use and has a very user-friendly interface. Moreover, in Pandora Recovery, a more advanced "Surface Scan" is available that must recover more files than the standard search, as long as they are of a popular format. Pandora Recovery recovers files from hard drives, memory cards, etc. Almost anything that stores files that can also be connected to your PC must be supported.
If you are looking for a complete and more advanced application, then TestDisk & PhotoRec might be the best pick for you. A GPL license pack allows you to use the disks to observe all types of information, recover or repair partitions, make copies of security, and even recover files from FAT, NTFS, or even EXT2/EXT3 partitions. It is available for DOS, Windows, Linux, FreeBSD, SunOS, and Mac.
The Stellar Phoenix brand stands today as one of the most reputable IT software brands thanks to a wide range of data services designed to rescue users from difficult situations. Stellar Data Recovery can be used to restore files that you have deleted accidentally. It can also recover data from damaged or corrupt hard drives or unmounted partitions. The advantage that we love is that it includes the ability to recover data from external hard drives, USB flash drives, and damaged CDs or DVDs.
The MiniTool Power Data Recovery is one of the well-known recovery tools available in the market. The free edition of MiniTool allows you to recover deleted files, damaged partitions, partitions with lost data or USB drives from digital cameras, auxiliary memories, pen drives, or optical media (CD or DVD).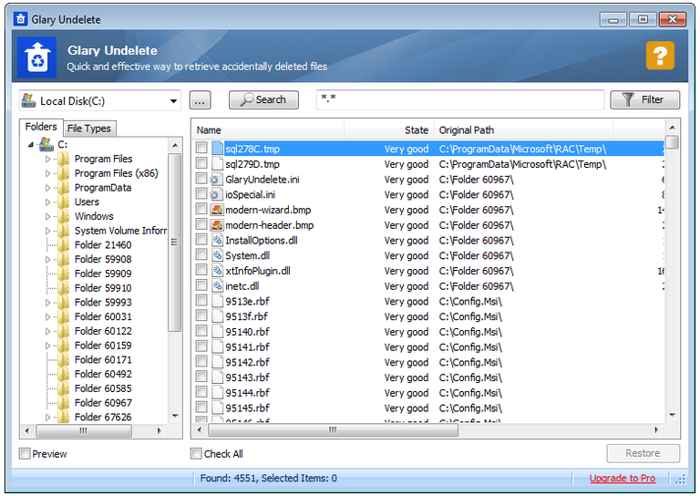 Glary Undelete is an excellent free file recovery program. It is very easy to use and has one of the best user interfaces ever I've seen. The biggest advantage of Glary Undelete is that it includes the easy view of "folders," a view of Windows Explorer-style recoverable files, and a prominent indication of "Status" for each file, suggesting if the file can be recovered or not.
A disadvantage of Glary Undelete is that the installation is required before it can be used, and it simply asks you to install a toolbar, which you can decline. Apart from these facts, Glary Undelete is one of the best tools in its segment class.
Wise Data Recovery is a free recovery program that is simple to use. The Data Recovery tool can scan various USB devices, such as memory cards and other removal devices. An instant search function makes it straightforward and quick to search for deleted files that Wise Data Recovery features. A Recoverability column shows the probability that a file will recover with good, bad, very bad, or lost, and right-click on the file you want to restore.
Disk Drill is an excellent free data recovery program, not only for its features but also because of its very simple design, which makes it almost impossible to get confused. The Disk Drill website says it can recover data (up to 500 MB) from "virtually any storage device," such as internal and external hard drives, USB devices, memory cards, and the iPod. Disk Drill can also preview image files before recovering them.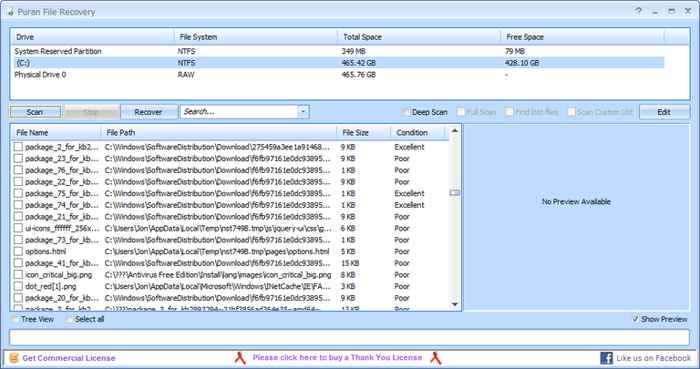 Puran File Recovery is straightforward to use, and it lets you scan any Windows drive you see. Not only that, it even offers you a lot of advanced options if you need them. One thing to keep in mind, in particular, is that the tool identifies more files than any other recovery tool. So, if you have already used Recuva and unable to recover the file that you want to restore, then give it a try, as it worth it.
One of the best aspects of EaseUS Data Recovery Wizard is that the user interface is structured in a similar way to Windows Explorer. While the ideal way may not be everyone's taste to show the files, it's a very familiar interface that most people feel comfortable with. EaseUS Data Recovery Wizard can recover files from hard drives, optical drives, memory cards, and almost anything else that Windows sees as a storage device. It also supports partition recovery as well.
So, these are the 10 best open source data recovery tools. I hope this article helped you! Please share it with your friends also. If you know of any other such tools, let us know in the comment box below.