PDF, its abbreviation is Portable Document Format, is an essential tool used for all personal and professional purposes. It takes nothing to create a PDF, and people use this facility to go green and save paper – an environment-friendly idea.
It appears the same to anyone, anywhere, and anytime. You have the option to edit it partially or wholly using Editors. Today, we will talk about those free and premium editors labeled as the best in the market.
6 Best PDF Editors (Paid and Free)
Before I proceed with this discussion, I would like to let you know that most of this PDF editing software comes free of cost, and for the others, you only need to pay a minimal amount to gain full access to all the features these editors offer.
1. PDFelement 6
PDFelement 6 is an affordable yet powerful PDF tool to edit, convert, review, protect, sign, and compare PDFs at a fraction of the price of Adobe Acrobat.
The most impressive is its smooth editing capabilities, and the user can fully experience the PDF file as quickly edited in the Word document. Plus, its excellent features include automatic form recognition, data extraction, and batch process to improve the user productively. Here we can take a look at its compelling features:
1. Convert PDF into Word, Excel, PPT with one click
2. The powerful batch function lets you convert PDFs, extract data, bates numbering, watermark, print files, protect files, and so on.
3. OCR function turns paper documents and photos into digital, searchable documents.
4. Excellent form Recognition & batch data extraction
5. It's available for Windows, Mac, iOS, and Android. (Plus, the mobile version is free now)
6. Experience a seamless product transition through 1:1 sessions with product experts, 24×6 customer support, online tutorials, and a technical community
Conclusion:
Because of the affordability and ease of use, most people can be an easy PDF editor in their pockets.
2. Foxit Phantom PDF 8 Editor 
With a basic and straightforward interface, Foxit has paragraph editing, an inbuilt spell checker, and the ability to drag and drop media files.
You have an option to convert web pages to PDF, generate PDF from CAD files, and also access to advanced options for tracking document pages.
The other unique option here is merging multiple PDF documents into a single fluid document.
It is available in 3 offers, Standard, Business, and Education offers, and the prices are set accordingly.
3. Nitro Pro 11
An excellent professional or personal PDF editor, Nitro Pro has features to support a heavy workload.
The software allows you to convert PDF files to Word, Excel, and PowerPoint formats and vice versa.
The option to create and edit scanned documents is also available. This is a handy option for official purposes.
Digital Signature on a PDF is quite common, and this editor has that option too.
With a straightforward and easy-to-navigate interface, they offer a 2-week trial period before you go ahead and purchase the editor.
There is only one product of such kind and a price worth every cent due to its features.
4. PDF Architect 5
Free download software with limited features, PDF Architect 5 comes in 3 packages – Standard, Pro, and Pro + OCR.
Each package has a set of modules with various creating and editing features. The entire suit Pro + OCR package is available at a very reasonable price.
If you need only a few modules to work with, you could only select those and purpose them individually or as a package.
With a robust optical character recognition and the ability to convert PDF into HTML or vice versa, this editor does wonders if you know your way around the modules.
5. PDF Editor 6 Professional (free)
It is a beautiful tool packed with various features, including the option to edit PDFs as easily as a word file. Apart from this, you can also add annotations and markups as well. This is by far one of the finest editors which you can hope to use for the sake of handling your PDFs. It comes packed with many useful features, making it a very robust choice. You can also PDF Editor 6 Pro, which is relatively simple and easier to use.
6. Sedja PDF Editor (free)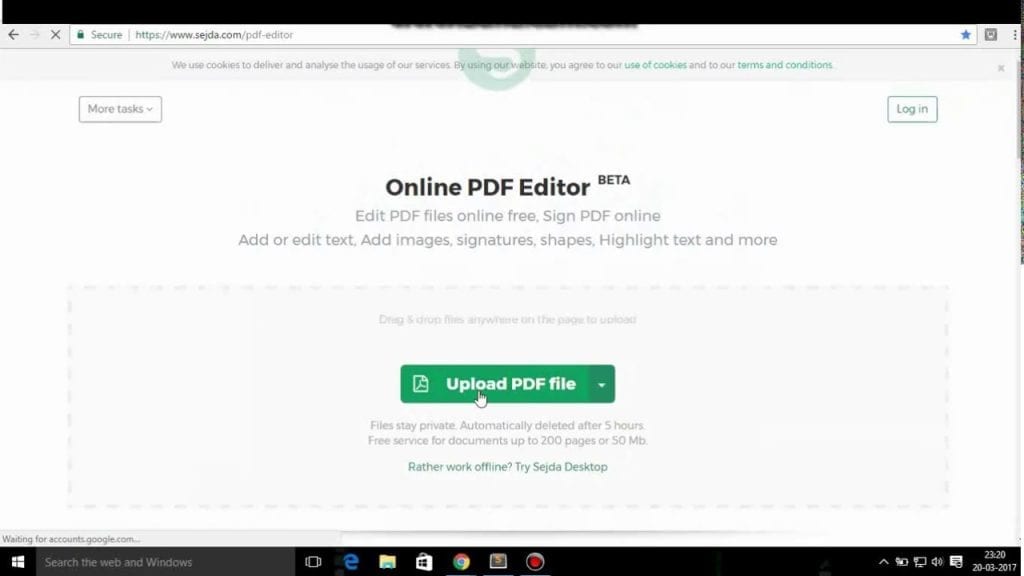 Seja PDF editor allows you to perform all PDF-related tasks on a file by converting formats and editing files without adding a watermark, which is a pretty rare feature in free PDF editors.
This tool can solely run on your web browser, making it easy to edit online PDFs if needed.
7. PDF XChange Editor (free)
This is a free PDF editor with minimal features needed to create and edit PDF files.
Even though the pages will be saved with a watermark, you have the option to edit the file and save it back without the watermark.
We have discussed a few paid and free PDF editors in this article, which will undoubtedly do the tasks you need related to PDF creation and edition. You can also visit, Hipdf for only editing your PDF files.
I hope this article was insightful and helpful and has served the purpose of helping you find the suitable and best PDF editor to use.