We have to admit that music is the most beautiful thing humans have ever made. Music can help you relax quickly and, most importantly, it frees up the mind.
We hear lots of songs daily. Sometimes we love any particular song so much that we want to keep it as our phone's ringtone.
However, we can't keep lengthy songs as ringtones because of certain limits. But, since we all now use Android smartphones, making your favorite song as a ringtone is possible.
If we search for ringtone makers on the Google Play Store, we will find tons of them. However, not all of them work.
Also Read: How To Easily Change The Default Ringtone App On Android
List of 10 Best Ringtone Maker Apps For Android
Therefore, we have decided to share a list of the best Android ringtone maker apps to help you convert a song into a ringtone. These apps are mostly the MP3 cutter, letting you cut a few parts of any song to apply as a ringtone.
MP3Cut Pro, also known as Ringtone Maker, MP3 Cutter Pro is an Android app that can help extract music from any video. After extracting the audio, you can trim it and set it as your phone's ringtone.
MP3Cut Pro is easier to use and is very lightweight compared to other ringtone maker apps for Android. Apart from the ringtones, you can also create tones for alarms, notification sounds, and more. Overall, MP3Cut Pro is an excellent Ringtone maker app for Android.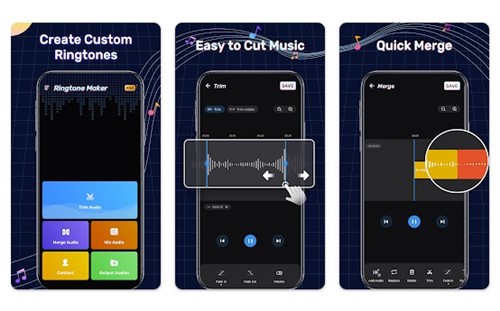 Ringtone Maker: Music Cutter is an Android app that allows you to cut, crop, and merge audio files. You can even use it to mix two or more audio files to create a unique one for your ringtone.
Apart from trimming or merging audio clips, Ringtone Maker: Music Cutter also lets you add various music effects like fade in/out to your ringtones. You can use this app to create ringtones, notification sounds, alarm tones, and more.
You can create ringtones, alarm tunes, and notification sounds with Ringtone Maker. It's a free application that allows you to cut, paste and merge audio files.
Besides that, Ringtone Maker can also apply the fade-in/out effect, adjust the volume for MP3, and more. Compared to all other Ringtone maker apps on the list, Ringtone Maker is easier to use and lightweight.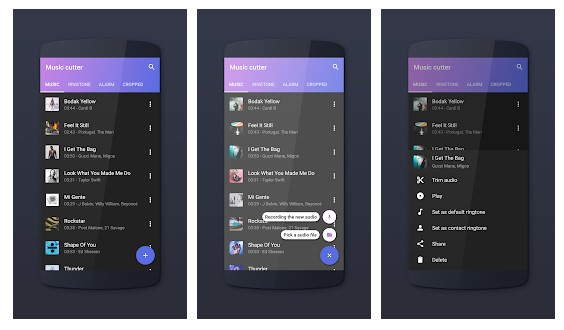 If you are looking for a simple-to-use MP3 cutter app for your Android smartphone, you need to try Music Cutter. Despite being lightweight, Music Cutter doesn't miss any important features.
With this app, you can effortlessly cut out the best part of a song to set it into your ringtone, alarm sound, or notification sound. What's more useful is that the app allows you to cut any sound format, such as MP3. WAV. FLAC, ACC, etc.
As the app's name says, Ringtone Cutter for Android lets you cut any part of music to apply as a ringtone. The app supports almost every popular music file format and is pretty simple to use.
So, if you are searching for an easy-to-use Ringtone maker app for Android, then Ringtone cutter might be the best pick for you.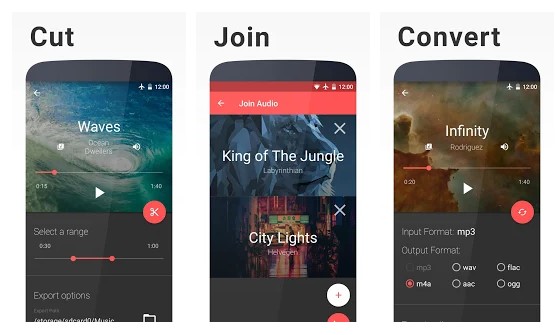 It is a video editing app with lots of audio editing features. It allows users to cut any part of videos and music files. That means you can also use Timbre to create your ringtones.
The app allows users to cut, join, and merge audio files. However, the app is a little bit difficult to use compared to all others listed above.
Ringtone Slicer FX is a full-fledged ringtone cutter application available for Android smartphones. With Ringtone Slicer FX, you can easily create custom ringtones or edit your favorite music files.
The application has an excellent user interface, and it's completely ad-free. Ringtone Slicer FX includes Equalizer for boosting bass and treble, volume compression, audio effects, and more.
Audio MP3 Cutter Mix is one of the most powerful music cutter applications that one can use on Android. This app offers more features to create a ringtone than all other Ringtone maker apps.
For instance, with Audio MP3 Cutter Mix, you can easily cut the best part of a song, merge two or more audio clips, mix audio clips, change the metadata fields, and more. Apart from that, Audio MP3 Cutter Mix can also be used to convert music files from one format to another.
It is one of the top-rated ringtone cutter apps on the Google Play Store. The great thing about the MP3 cutter is that it can cut out audio from any MP3 or video file.
The MP3 cutter also allows users to combine the connected MP3 parts to form MP3 ringtones, Notification tones, alarm tones, etc.
Like all other ringtone maker apps, Music Hero also allows users to cut the best part from audio and save it as a ringtone.
The great thing about Music Hero's Ringtone maker app is that it supports a wide range of audio file formats, including WAV, MP3, AAC, AMR, 3GP., etc. Apart from that, there's an embedded MP3 player as well.
So, these are the best Ringtone maker apps you can use on your Android smartphone. These apps are entirely free to use, and it does their job pretty well. If you want to suggest any other app, let us know in the comments.