Voice-to-text apps are underrated, but they are helpful, especially for college students and busy professionals. Voice-to-text apps can be handy if you are always on the go or attend lectures every day.
You will never know when you will need a voice-to-text app. With voice-to-text apps, you can convert voice to notes while on the go, share text notes, record a message, send the text version to family members, etc.
List of Best Speech To Text Apps For Android
Whatever might be why Google Play Store is filled with the best speech-to-text apps to meet your needs. This article will share some of the best speech-to-text apps you can use on your Android device.
As of now, there are hundreds of keyboard apps available for Android smartphones. However, the Gboard stands out from the crowd out of all those. Gboard got everything that you need to experience a better typing experience.
The voice typing feature of Gboard can be used to convert speech into text. When you see the 'Speak Now,' say what you want to be written. You need to touch and hold the microphone button to type with your voice.
This is one of the best note-taking apps available on the Google Play Store. The app is known for its real-time speech-to-text conversion feature.
The app's good thing is that it supports hands-free speech recognition at the press of a single button. Some other features include password-protected notes, note sharing options, etc.
As the app's name says, Speech To Text is an advanced Android app on the list that uses your phone's built-in speech recognizer to turn speech into text.
What's more interesting is that the app can also speak text out using the built-in TTS engine.
Are you searching for an easy way to write down a message without typing anything? It would be best if you gave Voice Typing App a try.
One of the best voice typing and text transcriber apps available on the Google Play Store. It had lots of language support, and the converted text could be copied.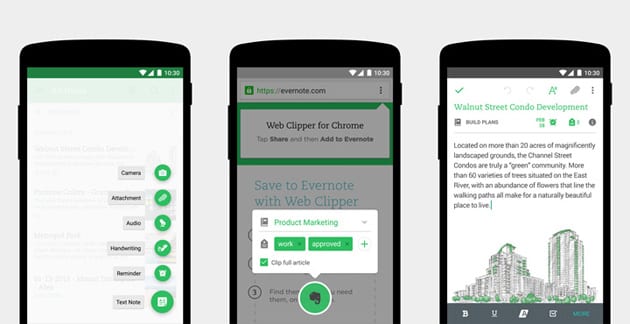 Evernote is one of the best productivity apps you can use on your Android smartphone. The great thing about Evernote is that it offers plenty of tools to keep your work organized.
With Evernote, you can create notes, to-do lists, reminders, event reminders, and more. The latest version of Evernote also offers a speech-to-text feature that can be used to convert spoken words into text.
Voice notes could be the best app if you want to take quick notes on the fly. It is slightly different from all others listed in the article as it offers multiple ways to record your notes.
You can either use the speech-to-text feature to convert voice into text or write down the text and convert it into a speech. As of now, the app supports speech recognition in over 120 languages.
Speechnotes is probably the best speech-to-text app that one can use on an Android smartphone. Millions of users now use the app, and it offers continuous, non-stop, and unlimited dictation. It's a simple notepad app letting you create notes.
After creating a note, you can use the app's TTS service to translate the text into speech. Once converted into speech, you can access the voice notes online and offline.
Google Docs is another exciting app for writers to make the writing process much more manageable. The app comes built-in on most Android smartphones, and it can convert speech into text.
The app can effectively recognize spoken words and dictate them in 43 languages.
e-Dictate is one of the best and most accurate speech recognition apps available on the Google Play Store. The good thing about e-Dictate is that it can convert various languages into English.
Also, the app provides you an option to send the converted text via email or other messaging apps, social media apps, etc.
Live Transcribe & Notification is a part of Google Research that uses Google's state-of-the-art automatic speech recognition and sound detection technology to convert speech into text in real-time.
The app transcribes in real-time; the text appears on your phone screen as you speak the word. Overall, this is an excellent speech-to-text app for Android.
So, these are the ten best Speech to text apps for Android. If you feel that we have missed any important app in the list, please comment on the name below. So, what's your opinion on this? Share your views in the comment box below.