Now the speech to text functionality is possible on the smartphones and for attaining this feature the users just require to download a small piece of apps, unlike the computer devices that clumps heavy software. So, let's have a look at Best Speech To Text Apps For Android that will help you to make your work easier by converting your voice into the text. So have a look on complete guide discussed below to proceed.
Speech to text apps and software are quite popular for computer devices. Through this intense software, anyone could easily interpret the spoken words into direct text. These software work on heavy algorithms so the computer devices could easily run these. Talking about the smartphone devices, these are also becoming capable of performing each and every computer supported actions. Now the speech to text functionality is possible on the smartphones and for attaining this feature the users just require to download a small piece of apps, unlike the computer devices that clumps heavy software.
There are certainly many apps available for the Android device to let you help convert speech into text. Not every app is capable of providing you with good output. It could be hard for you to find the best working speech to text apps for your Android device, hence we decided to write this article so as to provide you with a list of every best speech to text apps. The list is given below so you can read it out now!
Also Read: Best Android Apps To Identifying Music Playing Around You
Top Best Speech To Text Apps For Android
Also Read: Best Android Apps For College Students
This is the custom keyboard app for the Android devices. Once it is installed and enabled them it replaces the default keyboard app. This is not only the best ever keyboard app but certainly, it is also the best speech to text conversion apps. The built-in function of this keyboard enabled the users to write the speech. As this app is a universal app so it could be used for any text field inside any app!
This is a note making an app which is meant for quick notes saving. This app world differently because it has the capability through which the users could type in their notes quickly by just speaking these to the device. The text to speech conversion inside this app lets the users do so. The restriction here is that the users could only write with speech inside the app only!
This is particularly a text notepad but the users here write the content using the speech only. This app recognizes speech and several related commands and utilizing that encode all that data to text. Simple but efficient app for accurate text writing without touching the Android device!
Another great speech to text converting app that is more precisely a better option for the users to easily input their emails, respond to the text messages. It could rather also be used for writing long paragraphs.
This app could do two sorts of work. One is to read out their text messages for you and the other is to help you write text just through the speech. Both of these when combined just helps your to easily communicate messages without even touching your device!
This is an excellent app that supports up to 30 languages and lets the users write in all those languages through the speech. The accuracy of this app also tops the competition. The only flaw of this app is that it is limited to emails and messages only!
This app is the only speech to text app that supports amidst every app on the Android and also supports the 21 languages. The accuracy levels of this app are intermediate. Yet it is just ok for writing long-form texts!
This is another good app that lets the Android users transform their vocal commands and words into text. With multiple language support and clean UI, this app is totally usable for messaging and chatting with of text articles too!
Also Read: Best Android Apps to Help You Wake Up in the Morning
This speech to text enables you to converts your spoken words to text and copy/share to any other Android App like Whatsapp, Facebook Messenger, Gmail etc. This app is compatible with all latest Android versions.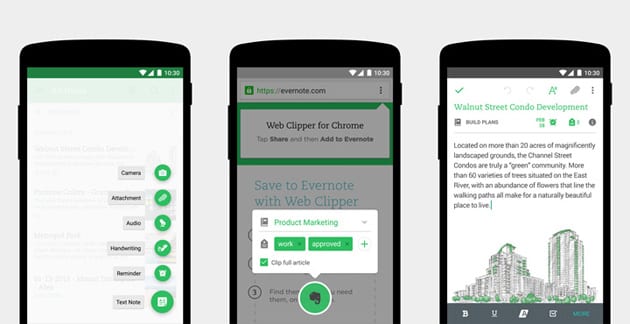 Evernote gives you the tools you need to keep your work effortlessly organized. One of them is to convert your spoken words to text. You can record college voice lectures using Ethe vernote app. This app also has a wide variety of features.
Lyra is your personal artificial intelligent assistant. Just talk to Lyra as if you're talking to a human, Lyra will understand. You can ask Lyra to save notes and reminders.
Voice Notes will allow you to translate the speech into text online / offline. The convenient and beautiful interface allows you to use the application without any problems.
This is an online note creation app that allows you to create notes anywhere. This app lets users translate the speech into text online/offline. This app also have a powerful speech-enabled (voice-typing) notepad, designed to empower your ideas and creativity.
This is basically a messenger app that let you activate your voice input. TakeBox makes asynchronous voice chats possible. Your voice inputs are carefully curated and converted by TalkBox voice bubbles in less than a minute.
This app is very similar to Google Assistant. This is basically a personal assistant to which you can ask anything. The app is very easy to use and you just need to tap on the microphone icon and dictate everything you want to record. The best thing is you can ask this personal assistant to convert text to speech, speech to text.
Also Read: Top 15 Best Dating Apps For Android 2017
Well, Google Docs is another interesting app in the list which can be taken as the best speech to text app. Google Docs is essentially made for writers to make the writing process much easier. Not just that, but Google Docs also got the ability to convert speech into the text. The app can effectively recognize the spoken words and can dictate it in 43 different languages.
Voice Writer is another best Android app which you can use to transform your voice into the text. The great thing about Voice Writer is its ability to convert one language to another. The app listens to the voice and converts into a different language in real time. However, Voice Writer is not much popular compared to all other listed above.
Well, TalkType Voice Keyboard is another best app which you can use on your Android today. The tool relies on Baidu's Deep Speed 2 which is much better compared to Google's recognition system. It's basically a keyboard app which offers voice input feature. The voice input feature can hear your voice and transforms it into the text format.
Well, if you are looking for an all-in-one app that could offer high-quality dictation and voice recorder, then you need to stick with Dictadroid. The great thing about Dictadroid is that it allows users to record voice, notes, arrange meetings, etc. In the latest version, Dictadroid got the ability to transcribe recordings into the text format.
Voice Notes is one of the best and most powerful apps which you can use to transcribe voice recordings into the text. Voice Notes is a note taking app which comes with speech recognition feature. With Voice Notes, you can also edit the transcribed text by using the virtual keyboard or auxiliary actions.
So, these are the 20 of the best Speech to text apps for Android. If you feel that we have missed any important app in the list, then make sure to comment down the name below. So, what's your opinion on this? Share your views in the comment box below.