Voice to text apps are underrated, but they are quite useful, especially for college students and busy professionals. Voice to text apps can be handy if you are always on the go or attend lectures every day.
You will never know when you will need a voice to text apps. With a voice to text apps, you can convert voice to notes while you are on the go, share text notes, record a message and send the text version to family members, etc.
10 Best Speech To Text Apps For Android
Whatever might be the reason, Google Play Store is filled up with the best speed to text apps to meet your needs. In this article, we are going to share some of the best speed to text apps that you can use on your Android device.
Well, Google Keyboard or Gboard is one of the best keyboard app available for Android smartphones. Once enabled, it provides users with lots of options to customize the keyboard interface. The keyboard app for Android also has a speech to text feature which is enabled by default.
This is one of the best note-taking app available on the Google Play Store. The app is known for its real-time speech to text conversion feature. The good thing about the app is that it supports hands-free speech recognition at the press of a single button. Some other features of listnote include password-protected notes, notes sharing options, etc.
This is particularly a text notepad but the users here write the content using the speech only. This app recognizes speech and several related commands and utilizes that to encode all that data to text. So, this is a simple but efficient app for accurate text writing without touching the Android device!
As the name of the app says, Speech To Text is an advanced Android app on the list that uses your phone's built-in speech recognizer to turn speech into text. What's more interesting is that the app is also capable of speaking text out using the built-in TTS engine.
This is an excellent app that supports up to 30 languages and lets the users write in all those languages through the speech. The accuracy of this app also tops the competition. The only flaw of this app is that it is limited to emails and messages only. So, Voice to text is another best speech to text app for Android in 2020.
Are you searching for an easy way to write down a message without typing anything? You need to give Voice Typing App a try. It's one of the best voice typing and text transcriber app available on the Google Play Store. It had lots of language support and the converted text can be copied to send as an SMS.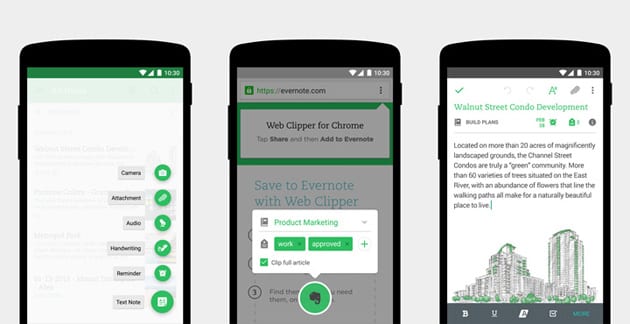 This app gives you the tools you need to keep your work effortlessly organized. One of them is to convert your spoken words to text. You can record college voice lectures using the Evernote app. This app also has a wide variety of features like to-do lists, note-taking, reminders, event alerts, etc.
Well, it's a virtual assistant app where you can command anything to get things done. You just need to talk to Lyra as if you are talking to a human, Lyra will understand and will complete the action. The virtual assistant can do lots of things like playing YouTube video, telling you jokes, translate words, convert speech into text, etc.
The app allows you to translate the speech into text online / offline. The convenient and beautiful interface allows you to use the application without any problems. It also has a built-in voice recorder which can be used to record college lectures.
This is an online note creation app that allows you to create notes anywhere. This app lets users translate the speech into text online/offline. This app also has a powerful speech-enabled (voice-typing) notepad, designed to empower your ideas and creativity.
Well, Google Docs is another interesting app in the list which can be taken as the best speech to text app. Google Docs is essentially made for writers to make the writing process much easier. Not just that, but Google Docs also got the ability to convert speech into the text. The app can effectively recognize spoken words and can dictate it in 43 different languages.
It is another best Android app that you can use to transform your voice into the text. The great thing about Voice Writer is its ability to convert one language to another. The app listens to the voice and converts into a different language in real-time. However, Voice Writer is not much popular compared to all the others listed above.
Well, TalkType Voice Keyboard is another best app that you can use on your Android today. The tool relies on Baidu's Deep Speed 2 which is much better compared to Google's recognition system. It's basically a keyboard app which offers voice input feature. The voice input feature can hear your voice and transforms it into the text format.
Well, if you are looking for an all-in-one app that could offer high-quality dictation and voice recorder, then you need to stick with Dictadroid. The great thing about Dictadroid is that it allows users to record voice, notes, arrange meetings, etc. In the latest version, Dictadroid got the ability to transcribe recordings into the text format.
So, these are the 10 best Speech to text apps for Android. If you feel that we have missed any important app in the list, then make sure to comment down the name below. So, what's your opinion on this? Share your views in the comment box below.