There is nothing great than having a conversation with someone over WhatsApp. There are tons of emojis to express feelings, and the text options are also stunning. Moreover, anyone can use the chat features to send media and file attachment stickers on the chats.
In this article, we are going to discuss WhatsApp Stickers. Stickers on WhatsApp are a great way to spice up your chats, and the app already has an incredible selection of stickers by default.
5 Best Sticker Packs for WhatsApp (2023)
You can use those stickers on your chats for free; if you are not satisfied with the default stickers, you can add your own. Plenty of sticker packs are available for WhatsApp on the Google Play Store, and you can download & install them for free.
More Stickers For WhatsApp is an app that brings a large collection of emoji HD stickers to your WhatsApp application. Installing stickers on WhatsApp with this app is pretty easy – install the app, find the sticker pack you want to add, and tap on the Add button.
The selected sticker will be automatically added to your WhatsApp app for Android. The app brings a wide range of sticker packs; you will find stickers for popular games like Fortnite, PUBG, etc.
If you are searching for an Android app that allows you to create your own sticker for WhatsApp, look no other than Wemoji.
On this app, you need to add your photos and use the sticker editor to create your sticker. Once created, you need to save the edited sticker to your sticker pack and publish it on the WhatsApp app.
Once published, you can use the stickers on your chats. So, Wemoji is one of the best sticker maker apps for Android that you can use to create your sticker for WhatsApp.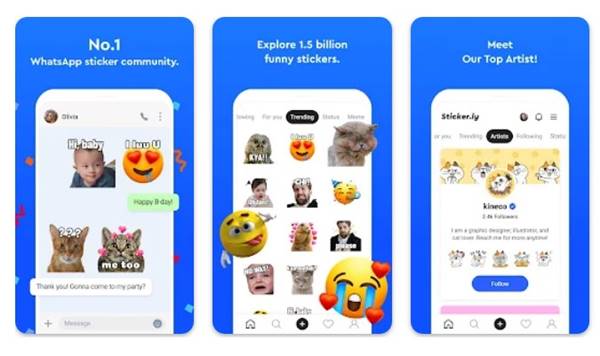 Sticker.ly is a sticker maker app for Android, but you can use it to discover the huge catalog of WhatsApp stickers created by thousands of other users.
If unsatisfied with the WhatsApp stickers uploaded by other users, you can create your own in this app. It's pretty easy to make and upload your sticker pack with Sticker.ly, as you get an Auto Cut feature that automatically detects the outlines in your photos and crops them.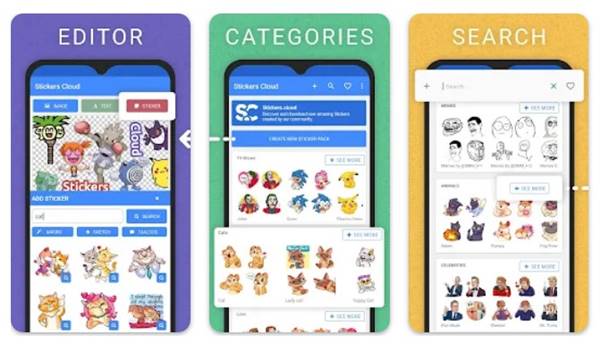 Stickers Cloud & Sticker Maker is an all-in-one sticker and sticker maker app for WhatsApp. With Stickers Cloud & Sticker Maker, you can add popular sticker packs to your WhatsApp account or create your own.
The app offers you a wide range of sticker packs to choose from. You have stickers for TV Shows, Memes, Video Games, Celebrities, Phrases, and more. If unsatisfied with the sticker packs, you can create a new one with your photo and text.
The app is very popular on the Google Play Store, and millions of users now use it. Overall, Stickers Cloud & Sticker Maker is a great sticker pack app for Android that you shouldn't miss.
This is not a sticker pack for WhatsApp, but users can create their custom stickers using this free editor or application. Users just need to install this app and use the various elements inside the app to create their stickers.
Also Read: How to Use ChatGPT on WhatsApp
Once created, users can publish it and add it to the WhatsApp application for Android.
So, these are the best free sticker packs of WhatsApp that you can use today. If you want to suggest any other sticker packs for WhatsApp, let us know in the comments below.