Well, lots of people compared stock trading with gambling. However, it's not at all true. Gambling is entirely based on luck, whereas you need to be extremely sharp to trade in stocks. Few research shows that only 5 out of 100 users win the stock trade at the end of the day.
Have you ever wondered what could be the possible reason behind those facts? Well, that all because of experience. Stock trading needs a great amount of upfront investment, which again turns down lots of users. Let's say you are a beginner and want to invest a small amount like $50 – $100. With this investment, you will be buying stocks that are safe to trade.
However, they won't give satisfactory returns. The key thing here is to experiment with riskier stocks. However, on high volatile stocks, you need to invest a huge amount. This is where stock market simulator apps come in, they let you invest pretend money in the stock market.
10 Best Stock Market Simulator Apps
With the stock market simulator app, you can trade stocks using virtual money. So, in this article, we are going to share a list of best Android stock simulator apps to trade stocks using virtual money.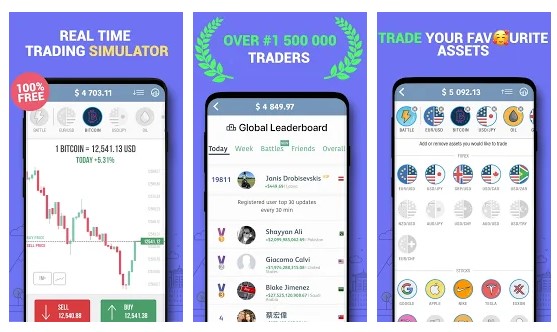 This well-known and popular stock market simulator, of course, I am talking about none other than the "Trading Game – Forex & Stock Market Investing" is one the best platforms to learn everything in a funniest and easiest way about trading, stocks, and forex fundamentals.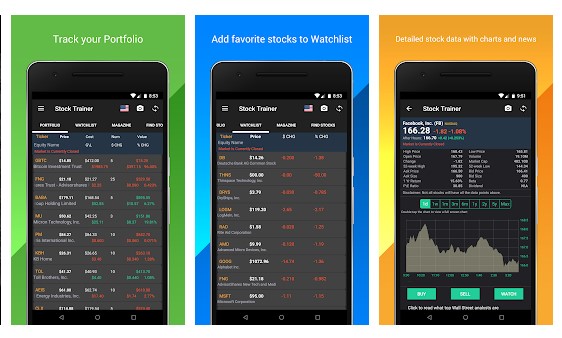 This application, as its developer highlights, is totally available for free. Hence, this awesome application doesn't have any hidden subscription fees or integrated purchases, only some ads and nothing else, and that is to be welcomed, especially in a sector where practically everyone tries to attract you to invest through third-party companies.
Moreover, this app gets constant updates with real data from the stock market and makes them is available on Android. So, you can practice what it would be like to invest in the stock market from the mobile as if it were a game, hence, it simply helps you to put your fictitious money in shares of companies or investing it in raw materials.
This is a well-known stock simulator application and the all-new TradeHero – CFD Social Trading simply helps you to discover how the financial market works. As with this awesome stock market simulator app, you can simply start with a virtual profile and currency simply to trade with quotes across 38 currency pairs and 35 exchanges.
It is one of the leading information providing apps on financial and stock markets. As it offers you all the information about raw materials, forex (currencies), stocks, binary options, bonds, rates of volatility, etc.
As in this awesome app, you can simply customize your own profile simply to know all your investments. And not only that even it also has more extensive analyzes with graphics and breaking news. The difference marks the information in real-time of all these financial means that can make your investments better.
The well-known BUX is a well-known application to discover the financial markets in a very easy way so that anyone can understand and analyze the market easily. However, the most interesting thing about this awesome application is that in this app you can simply do practice investments in real-time with virtual money and then later when you will get enough experience you can then easily switch to real money anytime.
So, what are you waiting for, go and create your own portfolio and connect other traders simply to expand your knowledge base.
The well-known Forex Trading for Beginners is a very simple application that simply provides interesting and significant illustrations, quiz games and the most important thing is the trading strategy examples simply to help the beginners to know the financial market in a fun, easy, and quick way.
Just like the Stock Trainer, Wall Street Magnate is also an awesome app for this purpose. As its advantage is that it is available in both Android and iOS, so you can easily practice your skills as a broker from the iPhone without having to pay absolutely anything, as it is available for free.
But, one thing keeps in mind that this app only contains information from the US stock market, as almost maximum numbers of apps do so. Hence, it is much more complicated to create an app of this type with IBEX 35 data.
The well-known Bitcoin Flip – Bitcoin Trading Simulator is a realistic simulation game that is only available for mobile devices only simply to learn about the cryptocurrency market in an easy and funny way.
Hence, there is no doubt that this awesome application is one of the best apps for beginners, as it simply allows you to buy and sell currencies without investing real money. And not only that even in this app you can also learn and develop trading strategies simply to compete with other traders around the world.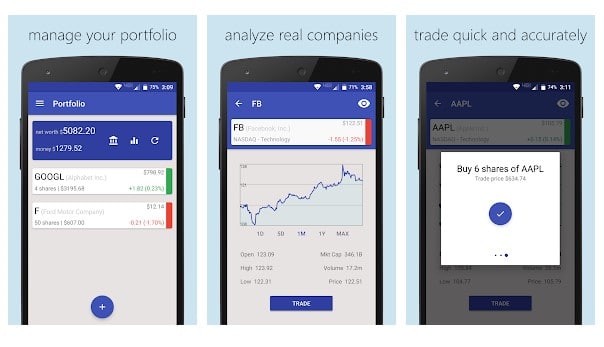 This well-known application, of course, I am talking about none other than the Stock Market Simulator simply provides all the information about the financial market that can be used by the beginners to simply build their knowledge and new strategies about it.
The well-known and popular stock market simulator app, of course, The Game of Stocks is one of the best applications to learn and multiply your wealth and know the key points of stock trading as well. As with this awesome stock market simulator app, of course, The Game of Stocks you can simply improve and enhance your marketing and investment strategy, so, that you can find out when to buy stocks and sell them simply to get a hefty amount of profit.
So, these are some of the best stock market simulator app that you can use on your Android smartphone. If you know any other such apps, let us know in the comment box below.