If you are a true movie buff like me, you might know the importance of subtitles. With subtitles turned on, we enjoy the video content more. Many people choose to turn on the subtitles while watching TV Shows or movies, even if they are native speakers of the original language.
There are plenty of sites out there offering movie subtitles for free. One such site is known as Subscene. Subscene is one of the best and most reliable websites for finding and downloading movies or TV Show subtitles. However, the site often goes offline, and it doesn't offer subtitles of the latest movies & TV Shows.
Also Read: 10 Best Android Apps To Download Subtitles
List of 10 Best Subscene Alternatives To Download Movie & TV Show Subtitles
Therefore, in this article, we have decided to share a list of the best Subscene alternatives to download subtitles for movies and TV shows. You will find subtitles of many different languages like English, French, Italian, Danish, etc.
1. Opensubtitles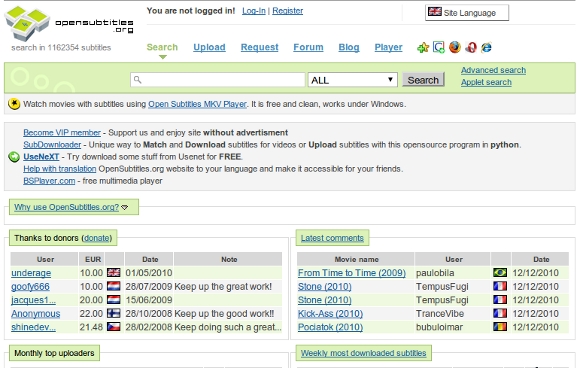 Well, Opensubtitles is for those searching for a free website to download movie subtitles. As the site's name says, the site's nature is 'Open', which means one can download all subtitles for free. Guess what? Opensubtitles offers subtitles of over 60+ languages. You will find subtitles for movies, Web Series, TV Shows, and more on the site.
2. DIVX Subtitles
If you are searching for a site to download subtitles for older releases, then DIVX Subtitles might be the best pick for you. The site's user interface might look outdated, but it was fast and easy to use. The site also has an advanced search option that can be used to browser subtitles based on ratings, formats, language, keywords, etc.
3. YIFY Subtitles
Well, YIFY Subtitles is another great subtitle download website that you can visit right now. Unlike every other website on the list, YIFY Subtitles only focuses on movie subtitles. The site has a reasonably clean user-interface, and it lists different versions of movie subtitles along with the uploader name, full subtitle name, and language. The only downside of the site is that it doesn't offer any filter to browse subtitles.
4. Podnapisi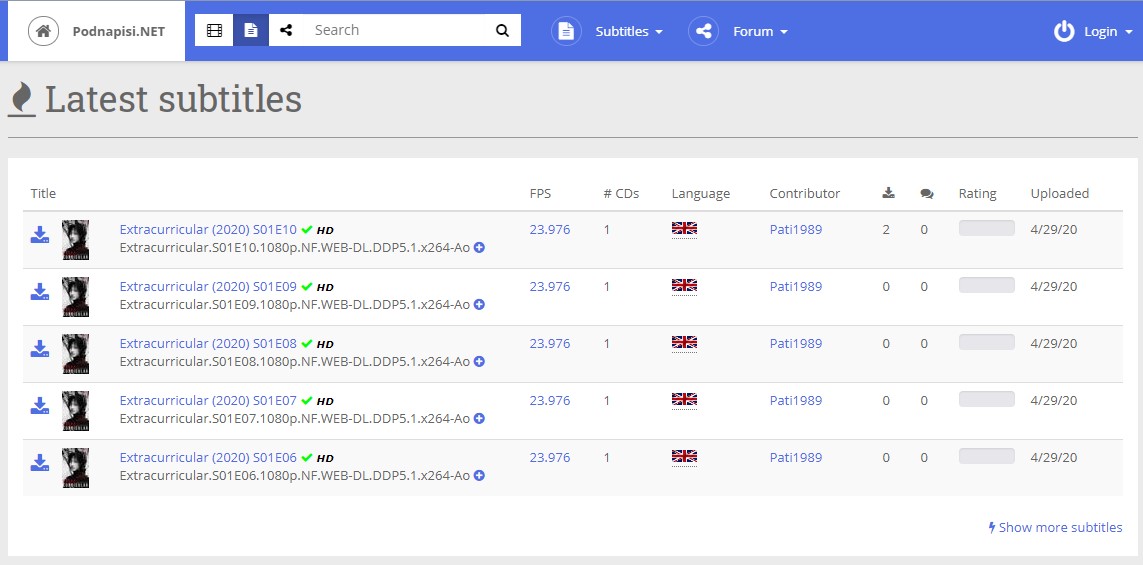 Well, Podnapisi is one of those sites where you can download quality movie subtitles. Unlike all other subtitle sites which list subtitles listed by random users, Podnapisi validates the quality before publication. It's a community-driven platform where you either create or download movie subtitles.
5. TVsubs
Well, TVsubs is probably the best Subscene Alternative on the list. The site is known for its massive collection of subtitles. You will find subtitles of uncommon languages like Hebrew, Polish, Hungarian, Arabic, and more. TVsubs hosts subtitles for every type of video content, including Movies, TV Shows, Series, documentaries, and more. As of now, the site has over 3.5 million subtitles on its database.
6. English Subtitles
If you search for a perfect Subscene alternative to download English subtitles, you need to visit this site. As the site's name says, English subtitle is a site that hosts only English subtitles. You will find subtitles for movies, TV Shows, Web Series, etc., on the site, but only in the English language.
7. Anysubs
Anysubs is yet another simple-to-use site to download subtitles. Although not as popular as Subscene, it still has a decent amount of subtitles. It does cover subtitles for every popular movie & TV Show title. The registration on the site is free but not mandatory. However, the site encourages users to register and provides advanced subtitle filtering options. Overall, Anysubs is one of the great Subscene alternatives you can consider.
8. VLSub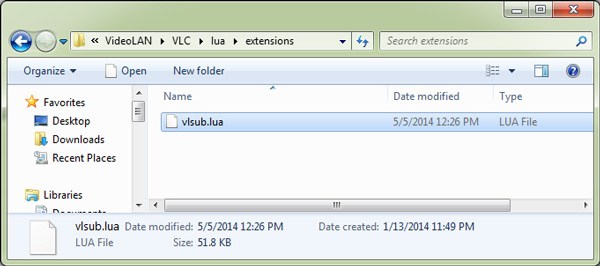 It's not a site, but it's an add-on for a popular media player app – VLC. It's a VLC media player addon that lets you search and find subtitles. It automatically scans for the available subtitles on the opensubtitles website listed above. So, it's another best Subscene alternatives that you can consider.
9. Addic7ed
Well, Addic7ed is another best subtitle download site on the list that you can visit instead of Subscene. On this site, you will find both Movies and TV Shows subtitles. The site covers subtitles in over 18 different languages. The great thing about the site is its UI which has a dark mode option.
10. Megasubtitles
Are you looking for a simple site to download movie subtitles? You need to visit Megasubtitles right now. It's one of the best Subscene alternatives that you can visit right now. The site's user interface is clean, and it organized every subtitle as per its genre. It also has a live search option that lists the search results you type in the movie name.
So, these are the ten best Subscene alternatives that you can visit right now. I hope this article helped you! Please share it with your friends also. If you know of any other such sites, let us know in the comment box below.