[dropcap]L[/dropcap]et's have a look at Best Survey Bypasser Tools and Extensions 2019 that you can use right away to skip the surveys that you find on the internet while browsing lots of websites as these tools will help to modify the skip and get you to the next URL. So have a look at complete guide discussed below to proceed.
There was a time when you wished to download something over the internet and you got it all quickly by clicking on a single button. Nowadays the internet sites have made it really tricky by adding up the surveys before the downloads, you click on the button and the survey launches and if you complete the survey then only you get to download the thing. This is really hectic to go through all the process for making even the small downloads. It is better to remove the download surveys or just skip those in some way. For normal users, there are no direct ways available that can make the surveys shut down yet this is not impossible to get rid of those.
To remove those surveys there is the survey bypass tools and extensions available on the internet. Here in this article, we are going to describe the best survey bypasser tools and extensions that all can be used to remove the surveys before the downloads or even the web pages. If you are interested to know about those best tools then please keep on reading this article till the end of the page. So we believe this is enough about the introduction part of the article, let's get started with the main section of the post!
I'm writing the guide because one of our visitors personally message me and said that he is facing so many issues while watching some videos on one of its favorite websites as they always ask to complete that survey before watching any video so he always go through one survey for watching every single video, so I was thinking there must be lots of visitors that must be facing the same issues as there are lots of sites that have implemented this survey system to earn money and users have to go through the tough situation to complete that. So have a look at the complete tutorial below to proceed.
Also Read: Best Android Hacking Apps & Tools Of 2019
Top 10 Best Survey Bypass Tools/Extensions 2019
Below are the 10 best tools that we had selected on the basis of the user ratings, reviews and download rates along with the testing of our team. So have a look at these tools and download them to get rid of the surveys.
Also Read: How to Bypass Phone SMS Verification on any Website/Service
It is a standout amongst other apparatuses sidesteps reviews on the web. It is anything but difficult to utilize. You can piece studies by simply entering URL of the site there. There is additionally a considerable measure of different alternatives like URL encryption, cancellation of contents, permitting treats, and so on.
Sharecash review sidestep is a wonderful device to sidestep ShareCash studies. Utilizing it, you can without much of a stretch expel and square ShareCash surveys. You can download it for nothing. To utilize it just Enter the URL of the Sharecash document which you need to download specifically. Essentially tap on the Download catch. That is it. The review will be blocked, and you can have the capacity to download the document straightforwardly.
It is additionally an online review bypasser device that evacuates surveys. With the assistance of Survey Remover apparatus, you can download any record from any website without filling studies, effortlessly. It hinders the sites containing surveys and sidetracks to unique URL of the record without study. I personally tried this tool and I'm sure that you will surely love this tool as it gonna remove the survey codes.
The working Add-on for Chrome Extension.  XJZ Survey Remover – Chrome Extension is another program expansion that detours online surveys effortlessly. It is accessible for Google Chrome program. Along these lines, on the off chance that you are utilizing Chrome program, you can introduce this augmentation. With the XJZ Survey Remover expansion, you can obstruct any site having studied. The best part is it likewise pieces studies regardless of whether you visit the site through Facebook.
#5 Redirect Bypasser– The great addon For Firefox Browser
Divert bypasser is one of a best study bypasser addon or instruments. At whatever point we visit an survey site, it pieces them and sidetracks to the focused on the page without study. You can introduce it in the event that you have Firefox program and can utilize it to square survey containing locales. So must download and try this tool and you will get rid of these surveys.
This is one of the best tools that you need to use and without any registration, you can directly go through the survey and can bypass it easily. So must try this tool and you will surely love this.
This is one of the best tools that you can use to download the locked files that get unlocked when you complete surveys. So try this tool and unlock and files.
Also Read: Best Duplicate Photo Finder & Fixer Tools for Android
ScriptSafe is one of the best bypass survey extension that you can have on your Chrome browser. The extension works by blocking different scripts present on any web page. Online Surveys are usually a running script, and ScriptSafe blocks them. So, by blocking the survey scripts, you can easily bypass Survey Bypass Tools or Popups. So, its one of the best survey bypass chrome extension that you can use today.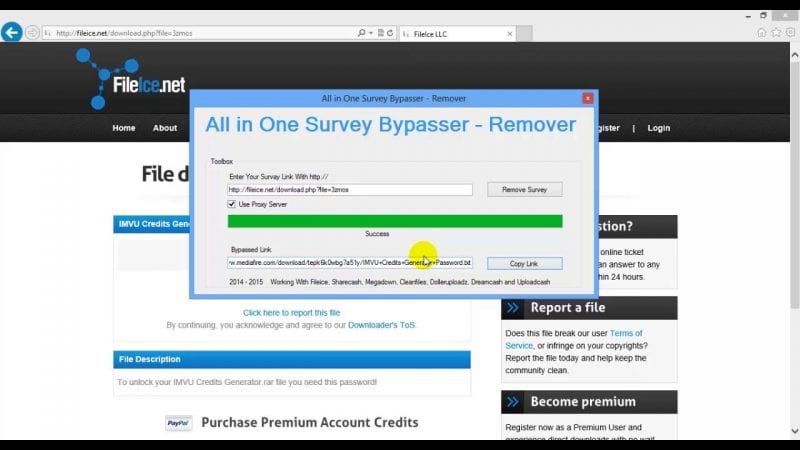 All In One Survey Bypass Tool is one of the best and easy tools which you can use today. Guess what? The Survey Bypass tool can bypass any surveys in just 4 easy steps. You just need to enter the URL containing the Survey and then click on 'Bypass and Download' button to download the locked file. So, it's another powerful tool which you can use to bypass online surveys.
Well, Do Not Survey is another great Firefox add-on on the list which bypasses almost all online survey. However, the addon is for Firefox, so you need to use Firefox Browser to use the add-on. The addon normally blocks all scripts running on the survey page, so, it could affect the user experience as well. So, Do Not Survey is another great Survey Bypass Firefox add-ons that you can use today.
Finally, after reading this article you have got to know about the best survey bypasser tools or the extensions. You can easily use these tools for getting rid of all those annoying surveys appearing before your downloads. This is the list of the best tools out of all those available on the internet. Hope that you will like this information in this article if it is so then please go and share it with others too. Do share your valuable comments and the suggestions with us through using the comments section below. At last nevertheless thanks for reading this article!