InShortViral: Today we are going to show up 10 best weather app for your Android Smartphone, The Apps are listed based on their Reviews and popularity. Go through the post to discover the best weather app's  out there.
Many of us possesses a routine to monitor the weather daily. As weather channels anticipate the weather of current and forthcoming days. And numerous of us commenced our day schedules after watching the weather of that day. There are various weather forecast channels which had made their app for android and their weather refresh are directly modernized on their apps and by this we can easily judge the weather of a next day.
Also Read: Top 10 Best Android Car Racing Games That You Must Play In 2016
Despite sometimes this data is not accurately correct but it give us an approximate idea. So in this post, i will assure you the Best Weather App For Android by which can effortlessly stay updated with latest weather updates on your android device.
10 Best Weather Apps For Your Android Smartphone
I have selected the below apps on the basis of their channels ratings, user reviews, ratings and personally using some of them.
---
Accuweather is the very popular website for weather updates all over the world. The site developers have originated its official app for android. This app gives the notifications about every update on the weather of our local area, by tracking our location using Gps. Also, the weather widget looks very excellent on android.
Also Read: Top 10 Best Tips To Protect Your Gmail Account From Hackers
Key Features:
Push notifications for severe weather alert in the United States.
Radar for all of North America and Europe, and worldwide satellite overlaying interactive
Google Maps™ with a snapshot view of the maps for your saved locations.
Current news and weather videos, with many available in both English and Spanish.
---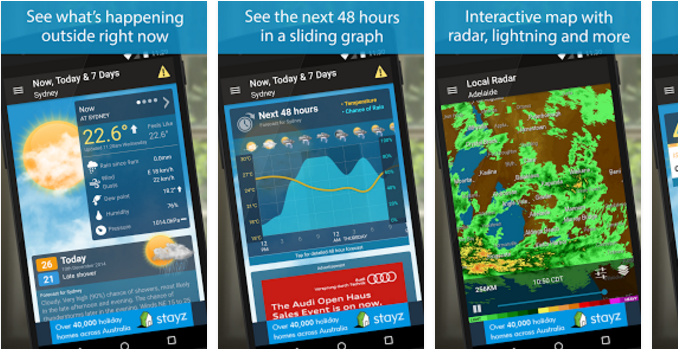 This is Best Weather App For Android. This app has customizable widgets, weekly forecasts, real-time severe storm warnings, radar and many much more in it. Also, this app gives very cool widget to our android.
Also Read: Top 10 Best Antivirus For Your PC
Key Features: 
Exclusive 3 hourly temperature, icon, wind and rain probability forecasts for the next 48 hours for all major Australian locations from Opticast®
7-day forecasts for 2000+ Australian locations for minimum, maximum temperature, icon, rain probability/likely amount and 9am/3pm wind.
National Radar and Lightning Tracker
Weather news stories from their meteorologist's
National Video forecast
1000+ international location forecasts and observations
---
As all android user are familiar with Go launcher. The same is Go weather designed By Go organization. This app provides very frequent weather update as compared to all different app. Both paid and free version of this app is available in Google Play Store. This app also comes with the live wallpaper and many more innovations in it.
Also Read: Top 8 Best Antivirus For Your Android Smartphone In 2016
Key Features:
Hourly/Daily Forecast: Detailed weather forecast, including weather status prediction, highest/lowest temperature, precipitation, the wind, etc. You can check all these data detailed in every single day or even every single hour.
Weather Alerts: Inform you the real-time weather alerts and warnings.
Precipitation Forecast: Help you decide whether to bring an umbrella with you.
Wind Forecast: Current & future wind force and wind direction information.
Map & Radar: Show you the interactive dynamic maps, radar and satellite images.
Health & Sport: Tell you the local health information for your area, and the suitability for different kinds of outdoor activities.
Sharing: Share your current weather status with beautiful images
---
This is an another Best Weather App For Android. This app provides the floating widget on the android screen. Additionally, this app has very popular user ratings. This app further provides a weather live videos in it. We can easily judge the future time weather by this app.
Key Features:
Detailed weather forecasts including current, short term, long term, hourly forecasts and 14-day trends
Severe weather and storm alert to notify you when a storm is heading your way. Users will see a red banner on the affected cities and regions and can click-thru for more info
Multiple map layers including radar, satellite, lightning and traffic flow provided by Beat the Traffic in North America, and satellite and radar maps for the UK
Follow-me functionality, automatically detecting the forecast within 1km of your location
Available in English and French, based on your device settings
---
This is an awesome weather app which comes with five beautiful widgets which you can easily customize according to the information to be displayed on them. We can also plan events with this app by sharing the weather reports with our friends and family members.
Also Read: Top 10 Best Operating Systems For Hackers 2016
Key Features:
Share weather and location information with friends.
Home screen widgets, 5×3, 5×2, 5×1 for large screen only and 4×3, 4×2, 4×1 and 2×1 for all screens.
Searches for all cities in the world by country and city or zip code.
Ability to set your internet source to Wi-Fi only.
Ability to disable internet access from operators while you are in roaming.
---
This is another Best Weather App For Android. This app is designed and published by yahoo. And it has the floating widgets feature in it. We can easily set our default locations (even more than one).We can easily stay updated with this cool weather app.
Key Features:
Get all the details: wind, pressure, and a chance of precipitation.
See animated sunrise, sunset, wind, and pressure modules.
Browse interactive maps: radar, satellite, heat, and snow.
Track all your favorite cities and destinations!
---
This app is the self-proclaimed "world's most accurate hyper-local weather forecasts" and provides frequent weather update in it.In this app users can even give updates on how the weather is in their area, rather relying on what other sources are reporting the weather on it.
Also Read: Top 6 Password Cracking Techniques Used By Hackers
Key Features:
Status notification: instantly view current temperature and conditions
Current conditions from your local weather station include temperature, feels like, wind speed & direction, humidity, dew point, visibility
10-day Forecasts (Daily, Hourly) + text summary
Interactive Map showing all the personal weather stations in your neighborhood with animated radar, satellite, and much more data
---
This is also a best weather app for android. This app has very positive user ratings. In Arcus Weather app weather's descriptions are nice and detailed, with statements like "light rain through the week, with temperatures falling to 50-degree Fahrenheit on Friday," making it very useful for providing a quick overview over the weather.
Also Read: How to Take Lens Blur Photo With Your Android Camera
Key Features: 
Material Design
Homescreen widget with customizable data points
Fully usable without location services
Notification Bar Weather
Severe weather alerts
Vibrate for precipitation
Radar Map (The US Only)
Works great with Android Wear!
---
This is a good weather app with cool floating widget on the android screen.This app has real-time and regularly updated weather forecasts for not only your home base but also anywhere in the world.
Also Read: 12 Best Photo Editing Apps For Your Android Smartphone
Key Features: 
7 hours of temperature highs and percent chance of precipitation
Fullscreen mode with Zoom Terrain, and Satellite map views
Weather Layers: Radar, Clouds, Surface Temperature, Dew Point, Relative Humidity, Wind Speed, UV Index
Sun & MoonTrack Sunrise and Sunset Time.
---
This is best Android Weather app. This app has transcended in the design and user interface department, plus it is able to pinpoint the weather forecast not only to your city but to your actual neighborhood cities too.
Also Read: 5 Safety Apps You Must Have On Your Android Smartphone
Key Features: 
Account Management – Sign in using your Facebook or WeatherBug account to access exclusive features! Plus, we'll remember all your saved locations and settings across multiple devices!
Storm Track Map Layer – Monitor current storms to track their direction, intensity and any occurrences of life-threatening lightning.
Real-Time Pinpoint Forecasts – Get the most accurate current, hourly and 10-day weather forecasts for 2.6 million locations worldwide.
WeatherBug Home – WeatherBug Home makes it easy to save money on your heating and cooling costs.
Also Read: 12 Best Graphics HD Game For Android That You Must Play Once
---
So above are the Best Weather App For Android. These apps are very convenient for an android user to have a look at next day's weather to plan our events or picnic. Also, these apps contribute a wonderful floating widgets to our android and makes our android screen look fashionable. Don't forget to share this post. Also, tell us your favorite weather app in a comment box below.
COMMENTS
AUTHOR