If you have a hobby to check weather daily, then this post will help you out because we are going to share some best weather apps for iPhone that will help you stay updated with latest weather updates.
Many of us hold the hobby to check the weather daily, as weather channels forecast the weather of current and future days. And many of us set our day schedules after observing the weather of that day. Nowadays there are numerous weather forecast channels which have made their app for iPhone and their weather updates are directly updated on their apps and by this, we can efficiently estimate the weather of a coming day. Although sometimes this data is not accurately correct, but it gives us a rough idea. So in this post, we will tell you the Best Weather App For iPhone  by which you can easily stay updated with latest weather updates on your iPhone.
Also Read: How to Make Your iPhone Safe for Kids
10+ Best Weather Apps For iPhone You Need To Try Today
We have selected the below apps on the basis of their channels ratings, user reviews, and personally using some of them.
AccuWeather's weather application provides users many forecast options including hourly, daily, and weekly information of weather. Here, you will have the option to upload any of weather into your phone's calendar and you will get alerted for incoming snow or thunderstorms in your set location.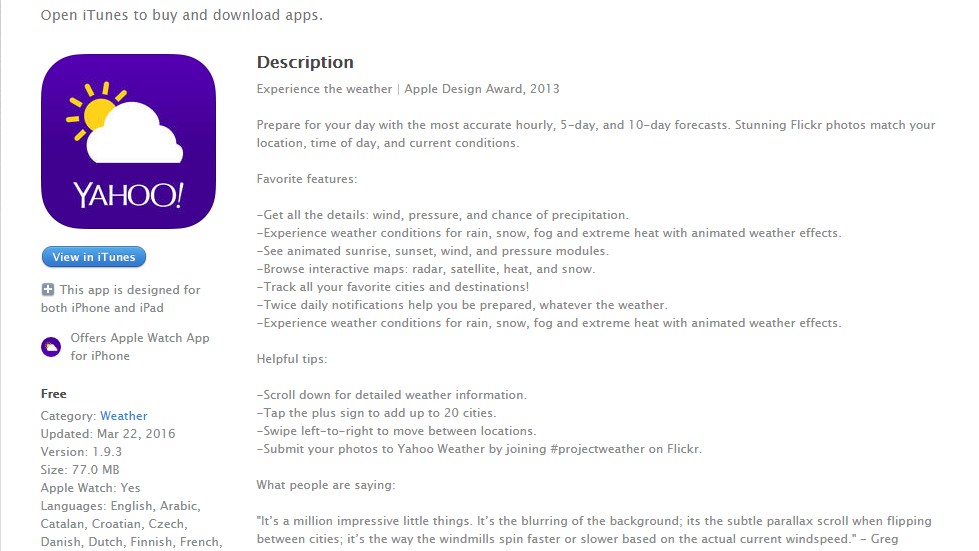 As the name indicates ,it is the one of the best weather apps by Yahoo. On this app, you can get all the latest update of weather on your iPhone and there will be a floating notification of each weather update in your phone. This app provides 10-day forecasts analyzing temperature, wind speed, humidity, and much more.
This is one of the best weather apps, this app separates your different regions by color and with its cool interface. Each location is daily forecasted, precipitated. That's why we consider this app as the best weather app for iPhone.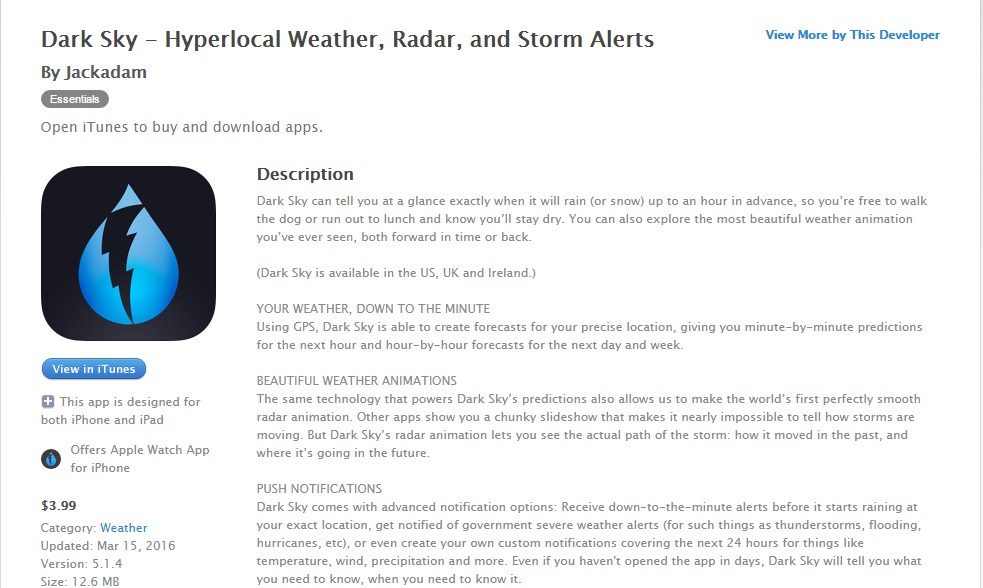 Dark Sky offers an entirely different kind of experience for iPhone. Instead of worrying about forecasting everything, it concentrates on hyperlocal, small time additions. Also, the accuracy of this app is also very high.
This weather app is arguably one of the most accurate sources of weather information and also includes many of interactive radar, satellite maps, severe weather alerts and notifications from the direct server of the app.
Also Read: How to Use Multiple Instagram Accounts On Android or iPhone
This is a minimalistic weather app that supports many locations and shows graphical information on precipitation and temperature. Also, the interface is very interactive and due to this it is considered as one of the best weather app for iPhone.
This is also one of the best weather app for iPhone and is a weather app for graph junkies. Bold colors quickly show temperature, condition, and precipitation. Built for quick glances. Visual graph forecast by 48 hours, 8 days, or 12 months. Available Worldwide.
Also Read: Here is How To Reduce The Data Usage in Android and iPhon
This is the very interactive app that gives the weather updates in the cartoon form. There is an avatar in this app called as peeps which have outfit always similar to the weather reports of the app.
Check the Weather is designed from the ground up to provide fast, clear and beautiful weather data rather than squashing features into a crowded interface. Check the Weather provides a streamlined dashboard with easy access to advanced forecast details.
Also Read: Top 10 Best iPhone Apps for Beginners
This app provides a unique weather experience utilizing several swipe gestures in it and you can get daily astronomy and almanac statistics in this app. Also, this app gives the 7-day weather forecast. Weather Pod recognizes your live weather conditions, if it's raining or snowing in your location, it will reflect this in the app with stunning background rain or snow effects.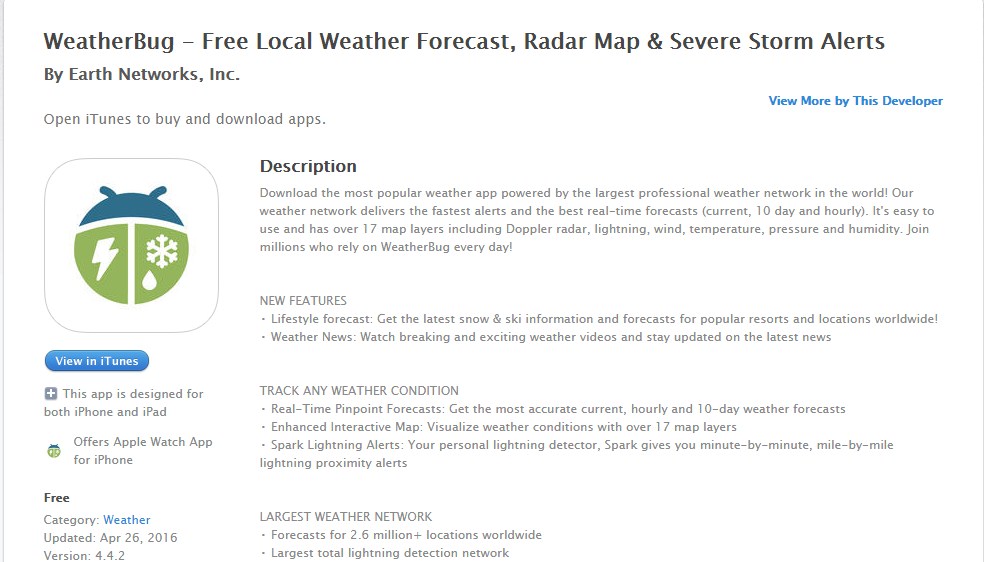 You can download the most popular weather app powered by the largest professional weather network in the world! It's easy to use and has over 17 map layers including Doppler radar, lightning, the wind, temperature, pressure, and humidity. Get real-time weather forecasts with pinpoint accuracy, beautiful and animated weather maps, and the fastest alerts to severe weather, like rain, high winds, lightning strikes, hail, and tornadoes, plus all NWS and NOAA watches and warnings.
Also Read: How To Hide Photos And Videos On iPhone
CARROT Weather is an eerily accurate weather app that delivers hilariously twisted forecasts. From spooky fog to torrential downpours, CARROT's dialogue, characters, and scenery change in… "unexpected" ways. You'll actually be looking forward to a blizzard just to see what CARROT has in store for you. Simply it shows twisted forecasts which are very addictive.
Also Read: How To Customize Screen Resolution In iPhone
So above are the Best Weather App For iPhone. You can try all the app on your iPhone and get all the latest updates of weather in your pocket by these cool weather apps. Moreover, this app will also customize your iPhone's look by providing some cool weather widgets. Don't forget to share this and leave a comment by telling about the app you liked the most.
COMMENTS
AUTHOR