If you are a creative or professional writer, you may want tools to write and edit documents comfortably. Even if you don't deal with documents like PDF, Word, etc., it's best to have a better writing app for Android.
Hundreds of writing apps are available for Android smartphones on the Google Play Store. However, not all of them were useful and worth installation.
13 Best Writing Apps for Android
So, if you are a writer looking for apps to improve your writing skills, you are reading the right article. This article will list some of the best writing apps for Android.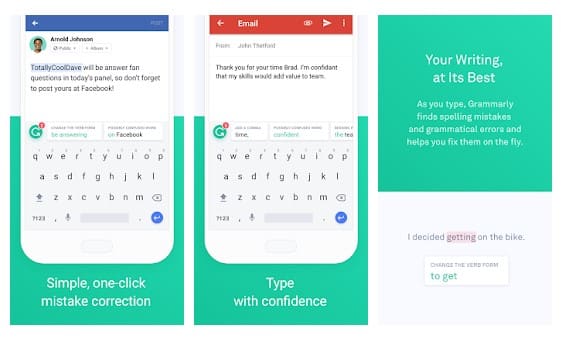 Grammarly is a keyboard app for Android that can help you write regardless of what kind of writer you are. This is a beneficial writing app for Android that every writer should use.
With its personal writing assistant, the keyboard app lets you edit and correct your grammar, spelling, punctuation, and more. However, to explore all its features, you must purchase the premium version of Grammarly.
Novelist is an Android app that's designed for those who write novels. The app is entirely free, with no ads or in-app purchases. It offers many exciting & useful features for writing, plotting, preparing, and exporting novels.
Novelist's advanced features include backup & restore with Google Drive, Book compilation in EPUB, ODT, HTML, rich text editor with format, insert & review comments in texts, night mode, and more.
The JotterPad is one of the most creative writing apps for Android. This app provides various features to make your task easier and more efficient. This plain text editor helps you write, draft, revise, and edit your creative work.
Jotterpad has a user-friendly interface that helps in writing for a long time easily and quickly and has a clean typing interface. The built-in dictionary is the main focus point that increases productivity.
DropBox is one of the most important Android apps for writers, which helps to synchronize their data, including many files, documents, notes, images, audio, and videos across devices.
You need to create an account in DropBox and install the app on your Android phone, or you can install the software on your PC and upload your files, notes, and documents from anywhere.
The ColorNote Notepad Notes is a writing app for creative writers designed to help writers. So, if you are a writer, you can quickly write your notes with this application.
You can even organize your notes in color, add file attachments to them, set up a to-do list, and more.
Evernote is one of the best note taking applications available in the Play Store. The app is perfect for students, businesses, and corporate persons, especially creative writers.
This app can help save data like notes, files, texts, images, audio, videos, etc. You can even write your notes and edit further on.
You can also create and save a to-do list of your writing tasks, which can set voice reminders so you can't miss anything.
If you are looking for an Android app that can provide a clean, simple, and distraction-free writing experience, look no other than iA Writer.
It's basically a plain text editor that lets you edit the text files. The app offers multi-markdown to edit and also offers typographic preview templates.
INKredible will make writing on a tablet feel as good as, or even greater, pen on paper. INKredible has only one mission: creating an outstanding writing experience on a tablet.
It is meant to be distraction-free. In fact, most of the time, you will not see any UI controls or buttons, just a blank sheet of paper to write on.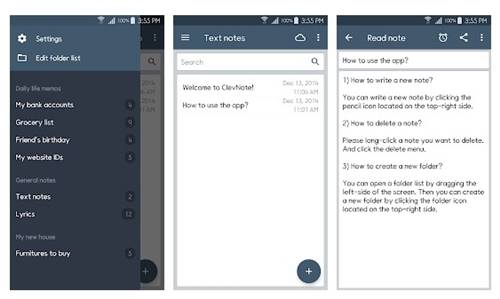 Well, this is a memo app that helps users to write necessary memos daily. This is one of those awesome Android apps where you can write down necessary items and use them for a shopping list or to-do list.
You can freely modify the to-do list, work list, or other written things. This is one of the best applications for Android, which helps to write notes.
Well, if you are looking for a simple yet effective tool for note-taking, then the Write Android app is meant just for you. You can also use this app to create vector drawings.
You will find almost every feature related to editing or writing in the Write app. So, it's one of the best writing apps that you can have on your Android smartphone.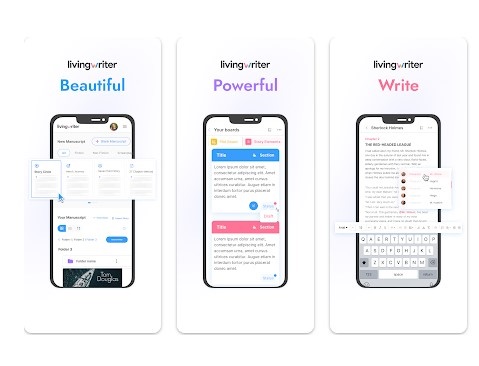 LivingWriter is a top-rated app, especially if you love to create stories and poems. The app stands out due to offering you an environment for distraction-free writing.
If you are into creative writing, LivingWriter might be a perfect pick for you, as there are various templates to make your creative writing easy and distraction-free.
What we like the most about the app is its user interface and the drag-and-drop chapter option for easy editing on mobile.
Writecream is basically a creative writing app for Android that AI powers. The app is designed to eliminate writer blocks with the help of AI.
The AI tools of Writecream can brainstorm ideas on where and how to start your writing. Apart from these things, you also get 30+ other tools to generate social media content, emails, and ad copies.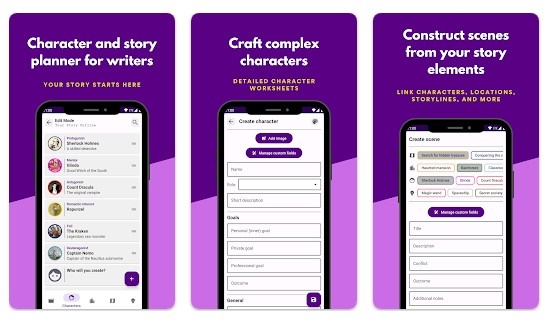 Pluot is a great writing app for Android with a drag-and-drop interface. This app can create stories, scenes, and characters in one place.
While the app can be used for writing blog outlines and other texts, certain features are only meant for story writing. So, if you are looking for a story writer app for Android, Pluot is the one to go for.
These are the best apps designed to enhance your writing experience on Android. I hope this article helped you! Please share it with your friends also. Also, if you know of other such apps, let us know in the comment box below.