There's no shortage of security devices today; popular brands like Mi, Realme, Blink, and others already have their security devices available at affordable pricing in the market. Today, we will discuss the smart security devices made by Blink.
Blink is a company that offers smart home security devices to bring peace of mind to you and your loved ones. The devices manufactured by Blink are affordable, innovative, and easy to use.
With its home security devices, you can protect what matters most to you, regardless of where you are. In addition, if you already have a Blink device, you can use it for free without purchasing any plan.
However, there's an option to subscribe to a premium plan to unlock extra features and benefits for Blink devices. This article will discuss Blink Subscription Plans and how to purchase them. Let's get started.
Blink Subscription Plans: How to Purchase & Activate
As we know, Blink has premium plans that provide extra features and benefits for Blink devices. For example, with Blink Subscription Plan, you will get features like Extended Live View, Unlimited video recordings, Auto local storage backup, Rapid video access, Photo capture, Person detection, and more.
Also, if you have already subscribed to Blink Plus Plan, you will get 10% off on Amazon's Blink devices and extended warranty coverage.
Which Blink Subscription Plans are Available?
Two premium subscription plans are available – Blink Basic Plan and Blink Plus. Both plans start at different prices and offer different sets of features.
Blink Basic Plan: Blink Basic Plan starts at $3/month per device or save and subscribe for $30/year. The number of devices supported is set to 1 only. The plan also provides 90 minutes of continuous live-view streaming.
Blink Plus Plan: The Blink Plus Plan starts at $10/month for unlimited devices, or save and subscribe for $100/year. It supports unlimited devices per account and provides 90 minutes of continuous live-view streaming.
Where Can I Purchase a Blink Subscription Plan?
You can't purchase Blink Subscription Plan from the official website. Instead, you must purchase it from Amazon.com and link your Amazon and Blink accounts together.
You can check out this Amazon webpage to compare Blink Subscription plans. The page lists the pricing of each plan along with the features & benefits you will get.
How to Link Blink and Amazon Account?
Before purchasing a Blink Subscription plan, you must first link Blink account to Amazon account. Once linked, you can purchase a subscription plan. Here's how to link your Blink account to your Amazon account.
Open the Blink Home Monitor App on your smartphone.
Next, head to the Account & Privacy Settings.
On the Account & Privacy settings, tap the Link to Amazon account.
On the next screen, tap on the Link Accounts button.
Now sign in with your Amazon credentials.
Once linked, tap on the Done button to complete the linking process.
That's it! The above step will link your Blink and Amazon accounts. It's important to link both accounts before purchasing a subscription plan.
Once your accounts are linked, you must attach Basic Plans to your Blink devices to make them active. The Plus Plan requires no manual activation, as it automatically activates all Blink devices.
How to Purchase Blink Subscription Plan?
You must follow these steps to attach your cameras or video doorbells and purchase a Blink subscription plan.
1. Visit this Blink Subscription plan page on Amazon.com and pick a plan.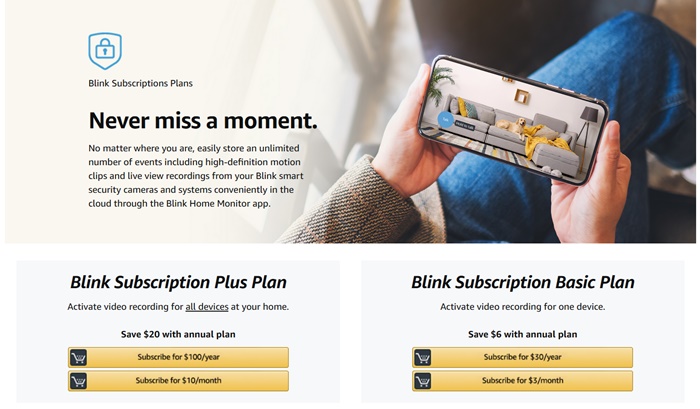 2. Select the Device you want to attach to your subscription (Basic Plan) and click the 'Continue Checkout' button.
3. Now place an order for the subscription and click 'Place your order'
4. Your Blink devices will be covered with the Blink Subscription plan. If you have purchased Blink Basic Plan, click on Attach device and then add your device.

That's it! That's how easy it is to purchase a Blink Subscription plan.
How to Get Blink Subscription Plan Free Trial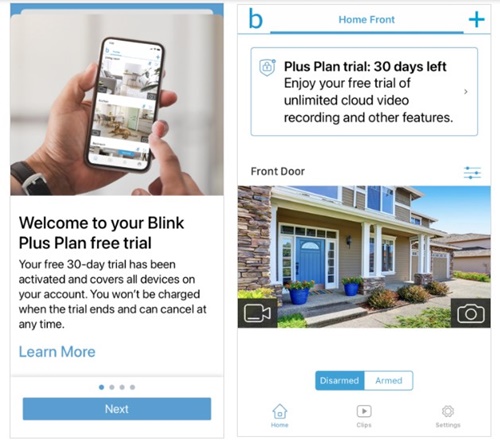 If your account was created after April 15th, 2020, you will get a 30-day free Blink Subscription Plus Plan trial.
The free 30-day trial will begin when you set up your new Blink wired floodlight, video doorbell, Blink Mini, or Indoor and Outdoor Camera.
You will see a banner on the app's home screen when the free trial is activated. The banner will show how many days are remaining on the free trial.
Blink Subscription Plan Not Working
If you've subscribed to Blink Subscription plan, but the plans are not showing up, you need to check a few things we have shared below.
Make sure that Blink Free Trial pack is active.
Check whether you have an active Blink Subscription Plan.
Make sure you've linked the correct Amazon account with Blink.
Attach your devices to the Plan.
If nothing helps, you can get in touch with the Customer support team of Blink and ask them to resolve the issue. Here are the Blink Customer Support Numbers:
US/Canada: 781-332-5465* or toll free at 1 833-392-5465
European countries and UK: +44 1158 384189*
So, this guide is all about Blink Subscription Plans and how you can get it. We have tried to answer all your questions about Blink home security devices and how to link with the Amazon account. Let us know if you need more help on this topic in the comments.