[dropcap]H[/dropcap]ere we will tell you the method by which you can click some cool pictures in 3-dimensional views that will enhance your picture realistic nature. Go through the post to know about it.
If you want to capture some special moments in some cool way then 3D capturing is one of the best ways of capturing that gives the realistic effect to the pictures. But 3D capturing features is not available by default on almost all Android devices. And if you are missing this cool way of capturing then don't worry as we are here to tell you the method by which you can actually click some cool pictures in 3-dimensional views that will enhance your picture realistic nature. And this will be possible with one cool Android app that we are going to discuss right here. So have a look at complete guide discussed below to proceed.
Also Read: How to Hack WiFi Password On Android (Without Root)
How to Capture 3D Pictures In Android
The app that we are gonna discuss right here will allow you to take 3D pictures and even cool pictures of moving objects and this is done by its frame division technique by which it can join multiple pictures frames into one to give the realistic 3D effect. So follow the steps below to proceed.
Also Read: How to Install Linux On Android Phone Without Rooting
Features Of Phogy 3D Camera App
• No special hardware required.
• Create Unique selfies with 3D shots.
• Easy Picture Share to emails and social networking sites.
• High-Quality Mp4 sharing option.
• Also, creates GIF format images to share.
• Set Phogy as 3D effect live wallpapers.
Also Read: 6 Best Free Recharge Android Apps To Earn Talktime
How to Capture 3D Pictures In Android Using Phogy 3D Camera App
Step 1. First of all download and install this cool app Phogy, 3D Camera in your Android in which you want to take some amazing images in 3D views.
Step 2. Now launch the app after installing it on your device.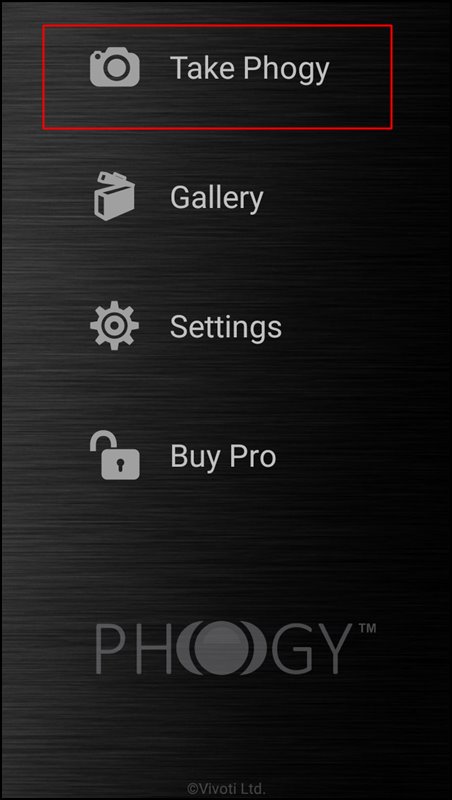 Step 3. Now it will display some of the initial guides for taking 3D images and you just have to keep them in your mind for better photography using this app.
Step 4. Now time to capture some amazing 3D shots using the app and that can be done by clicking on camera button and then focus on the target. And now move devices to the right side with the again focus on a target.
That's it now the image frames at different views will get merge up and you will have your 3D image with you that you can share on social media networks and even make it as your wallpaper.
Other Apps Like Phogy
Fyuse is a spatial photography app that allows anyone with a smartphone to capture 3D images. These images, or "fyuses", are engaged by tilting your phone or by swiping your screen. Fyuse captures space, not time, and allows you to view moments from different angles, at your own pace.
With this app, you can take up to 99 photos for one "3D" image set, the maximum number of pictures will largely depend on the memory available on your device. It helps to create GIF images on your device and lets you easily create 360-degree photos.
Make It 3D is a "3D" app that makes normal image to 3D image. It generates anaglyph 3D photo from phone's camera or gallery. You can make can make anaglyph stereo pictures with only one camera. You don't need "3D" smartphone which has "3D camera" to generate stereo photographs.
Well, Selfie Camera is another best 3D camera app on the list which offers users tons of features. Guess what? Selfie Camera offers users 3D graphics and more than 70 filters. What's makes the app more interesting is its ability to apply 3D effects on live camera. With Selfie Camera, you can give the best filter effect to your selfie. So, if you are looking for an Android 3D camera app that also offers users plenty of filters, then Selfie Camera might be the best pick for you.
As the name of the app suggests, 3D Camera is another great Camera app on the list which allows users to capture or create 3D images by using the default device camera. The best thing about 3D Camera is that it allows users to create awesome 3D stereo photos. Although the developers don't recommend the 3D glasses, for the best experience, we recommend you to use 3D glasses. Other features of 3D Camera includes creating cross-eyed stereograms, color anaglyph creation, automatic cropping, etc.
Also Read: 3 Apps That Will Transform Your Android Into A Professional Camera
So above is all about Capture 3D Pictures In Android Using 3D Camera Apps, With this app, you can easily take some cool amazing pictures in 3D views that will look awesome and will be great for sharing with friends or setting up for live wallpapers. Hope you like this cool guide, do share with others too. Leave a comment below if you have any related queries with this.