Almost all major web browsers for Android provide us multiple modes for browsing – Regular and Incognito Mode. Incognito Mode or Private browsing mode is the one that doesn't save your browsing history, cookies. The incognito mode in Google Chrome web browser also prevents sites from accessing local cookies, and it automatically removes all temporary data once you close the app.
Since the incognito mode is meant to be private, Google removed the ability to take screenshots starting with Chrome v65 on Android. If you try to take a screenshot of a webpage opened in an Incognito tab, you would see a message saying, "Screenshots are not permitted on this screen."
The idea behind restricting users from taking a screenshot is the fact that Private browsing is usually opted for when users don't want to leave any trace, and screenshots serve as proof of the very same.
However, it looks like Chrome is about to regain its ability to take screenshots in the Incognito mode. Google has already enabled the ability to capture screenshots on Incognito mode in the latest Chrome canary browser for Android.
Also Read: How To Create Your Own Lock Screen On Android
Steps to Capture Screenshots in Chrome Incognito Mode On Android
However, the feature is not enabled by default. Users need to enable the feature from the Experiments page manually. So, if you want to test out the new incognito screenshot feature of the Chrome browser, then follow the steps given below.
Step 1. First of all, head to the Play Store and update the Chrome canary web browser.
Step 2. Now open the Chrome canary browser on your Android device.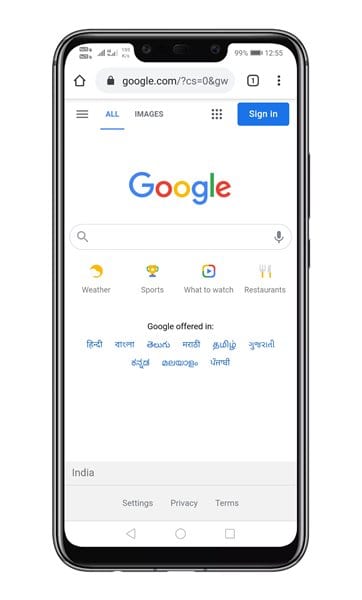 Step 3. On the address bar, enter 'Chrome://flags'.
Step 4. Use the search box to search for 'Incognito Screenshot'
Step 5. Enable the 'Incognito Screenshot' flag.
Step 6. Once done, tap on the relaunch button to restart the web browser.
Step 7. Now open an incognito tab and capture a screenshot. You will be able to capture screenshots in incognito mode.
Note: The captured screenshots will have the incognito mode's symbol. As of now, there's no way to hide the incognito symbol.
So, this article is all about capturing screenshots in Incognito mode in the Google Chrome web browser. I hope this article helped you! Please share it with your friends also.