The shutter speed on your phone's camera plays a vital role in capturing better pictures. You can allow your phone's camera to gather better lights by adjusting the shutter speed.
Most modern smartphones now provide a shutter speed control feature, but an older Android device doesn't have this feature.
Since there are plenty of third-party camera apps available for Android, some of them let users control the shutter speed. So, in this article, we will share an easy tutorial on how to change the camera shutter speed on Android.
Steps to Change Camera Shutter Speed in Android
To change the camera shutter speed, we are going to use an app known as Camera FV-5. It's an Android camera app that has lots of exciting features. So, let's check out.
Step 1. First, download and install the App Camera FV-5 Lite from the Google Play store.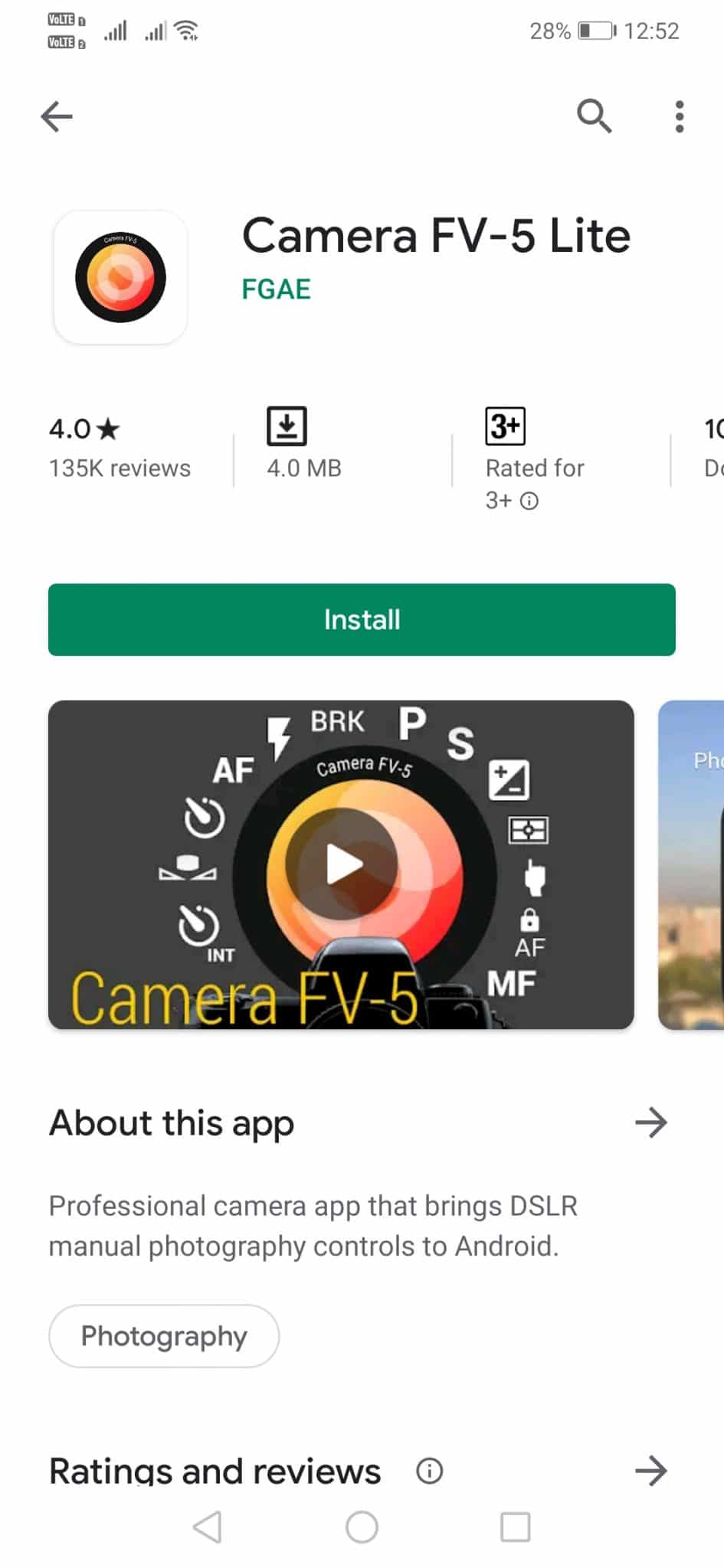 Step 2. Now, after you have installed the app on your device, launch it on your device.
Step 3. Now you will see a "P" icon on the left hand of the screen. Press that icon to open the Pro mode.
Step 4. There will be two different alphabet icons naming "P" and "S" and you will have to tap on the "S" icon from there.
Step 4. Now you will be provided with the preset values. You can select the shutter speed between 1 second, 2 seconds, 5 seconds, etc.
That's it! You are done. This is how you can change the camera shutter speed on Android.
Few More Apps to Change the Shutter Speed
Like the above camera app, there are plenty of other manual camera apps available on the Google Play Store that allow users to control the shutter speed, provided if the phone has the hardware capabilities. Below, we have listed the best Android apps that allow users to control the shutter speed.
ProShot is a premium app, and it has lots of unique features. It's a full-fledged Android camera app that provides users full manual mode to control the camera. What's interesting is that it got the ability to shoot in JPEG, RAW, DNG file.
The app provides users manual, semi-manual or automatic control over the exposure, flash, focus, ISO, Shutter speed, etc. Apart from that, ProShot also got plenty of scene modes like HDR, Night, Action, etc.
If you are searching for a full-fledged camera app for your Android device, you need to give Manual Camera Lite a try.
Guess what? Manual Camera Lite brings in a wide range of camera features like exposure control, white balance control, color correcter, shutter speed control, etc. If your phone is capable, then Manual Camera Lite can also record 4K videos too.
Footej Camera is probably the most popular Android manual camera app available on the Google Play Store. The manual camera app for Android is usually known for its simple user interface.
It nicely organizes all its features in a straightforward way. The user interface of the app might look simple, but it packs lots of powers. With Footej Camera, you can avail of features like Manual ISO, Focus, Shutter speed control, etc.
Well, Open Camera is a full-fledged manual camera app for Android smartphones. Despite being a pro camera app, Open Camera is free to download and use.
From shutter speed to ISO levels, you can control every aspect of your Android camera with the Open Camera. It also has a Noise Reduction feature that reduces the noise in low-light shots.
The Google Play Store listing for ProCam X claims that the app turns your phone into a professional camera. With ProCam X, you can easily control exposure, focus, white balance, shutter speed, ISO levels, and other things.
Some of the key features of ProCam X include manual ISO adjustment, manual focus, shutter speed control, Intervalometer, and more.
So, this article is all about how to change the Camera shutter speed on Android. I hope this article helped you! Please share it with your friends also. Also, if you know of any other such apps, let us know in the comment box below.