Android is definitely one of the best mobile operating system ever made. Compared to every other mobile OS, Android offers more features and options. Along with all its unique features, Android is specifically known for its endless customization options.
For customization, you can use launcher apps, icon packs, live wallpapers, etc. Also, there are apps available to replace the lock screen, add widgets, etc. Not many would know, but Android also allows users to change the default caller screen.
Recently, we came across an Android app that changes your caller screen while using the default Phone app. That simply means that you no longer need to replace the dialer app to change the caller screen.
[alert-announce]Also Read: Best Android Tricks & Android Hacks[/alert-announce]
Steps to Change the Call Screen On Android Device
So, in this article, we are going to share a detailed guide on how to change the caller screen on Android. Let's check out.
Step 1. First of all, download & install the Vani Caller theme on your Android device.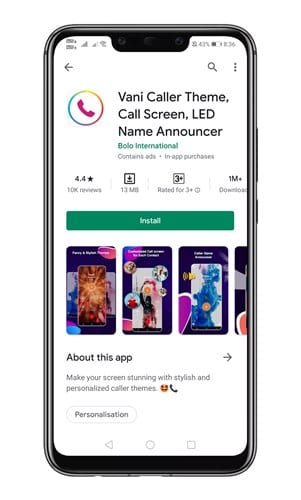 Step 2. Once installed, open the app on your Android device.
Step 3. Now you will be asked to grant three permissions. Make sure to grant every permission.
Step 4. Once done, you will be able to see all call screen themes. All of the themes were arranged in categories like abstract, themes, Live Wallpapers, etc.
Step 5. Just select the theme of your choice and tap on the (+) button.
Step 6. Now the app will show you a preview of the caller screen.
Step 7. You will find two options there – 'Set for all' and a '(+)' option. Tap on the set for all options to make it the universal caller screen for every incoming call. If you want to set up a custom call screen for a particular contact, tap on the (+) option and select the contact.
That's it! You are done. Now you will see the new caller screen whenever you will receive an incoming call.
So, this was the best method to change your caller screen on Android. I hope this article helped you! Please share it with your friends also. If you have any doubts related to this, let us know in the comment box below.