Discord is definitely the best game chat service available for desktop & mobile. Gamers widely use the app as it offers many fun and exciting features. For example, you can join communities for different things like games, football, movies, and more.
Discord is indeed a great platform to chat and hang out with your friends online, but wouldn't it be even better if you were able to stream music with your friends via Spotify as well?
Not many would know, but Discord also has a feature that integrates with Spotify. Not just Spotify, Discord allows seamless integration with other services such as YouTube and Reddit. In this article, we will discuss how to play Spotify on Discord.
So, if you are interested in playing Spotify on Discord, you are reading the right guide. In this article, we will share a step-by-step guide on how to link Spotify to Discord and play songs. Let's check out.
Steps to Connect Your Spotify Account to Discord
Please note that you need to have a Spotify Premium account to enjoy full benefits. Free accounts will work, but they will have limitations and show you many ads in between songs.
1. First of all, launch the Discord app or the web version on your desktop and click on the Settings button as shown below.
2. On the Settings page, click on the Connections tabs.
3. On the right, click on the Spotify icon on the Connect your Accounts section.
4. Now, you will see the end-user license agreement page of Spotify. You need to click on the Agree button to continue.
5. Once done, you will see a success message.
6. Now, open the Discord app and open the Connection section. You will find your connected Spotify account on the right. Next, turn on the toggle for Display on Profile.
How to Invite friends to listen to Spotify
After linking your Spotify account to Discord, you may want to invite your Discord friends to listen to Spotify. In that case, you need to implement these steps.
1. First of all, start playing a song on Spotify. Now open the chat of a person who you want to invite to listen to Spotify.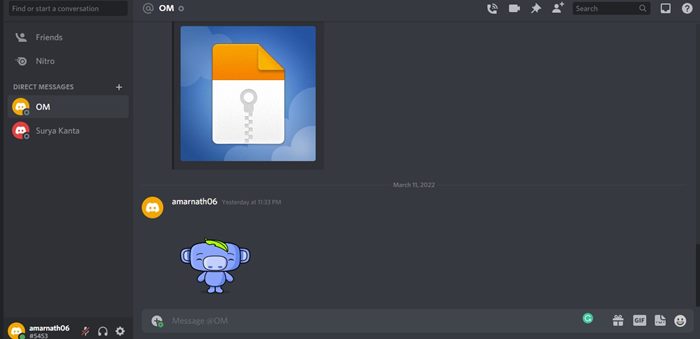 2. Next, click on the (+) button on the Discord and choose the person you want to invite.
3. Now, you will see the invite screen, listing the song you are listening to. Simply click on the Send Invite button to send the invite link to your friend.
That's it! You are done. This is how you can invite friends to listen to Spotify on Discord.
It's pretty easy to connect your Spotify account to Discord. I hope this article helped you! Please share it with your friends also. If you have any doubts related to this, let us know in the comment box below.