Using the remote to control any electronics is a familiar feature of the modern world; you might also be using your smartphone to control some of your appliances as that could be done.
Have you ever thought that you can also control the Mac system through your android phone or iPhone by simply giving up the commands by just using the fingertips on your phone.
You can use the Splashtop Streamer app on your smartphone to control the Mac. Below is the method given in steps to use this app to control the Mac.
Steps to Control Anything in your Mac from Android Mobile or iPhone
For doing this on your PC, ensure your PC and Mobile are in the same wifi network and have a working internet connection. Download Splashtop Streamer for your Mac
1. Install the Splashtop Streamer app on Mac and open this app on your Mac and then create your account on Splashtop with your Email.
2. After that, you should log in with your id in Splashtop App on your Mac.
Setting up Splashtop App on your Android or iPhone
1. First of all, Download the Splashtop app for your iPhone or your Android and then open it up on your device. After opening the app on your device, log in with the account credentials you have created.
2. You can now see your Mac Desktop icon on your Phone. Just tap on it and then choose Remote Desktop.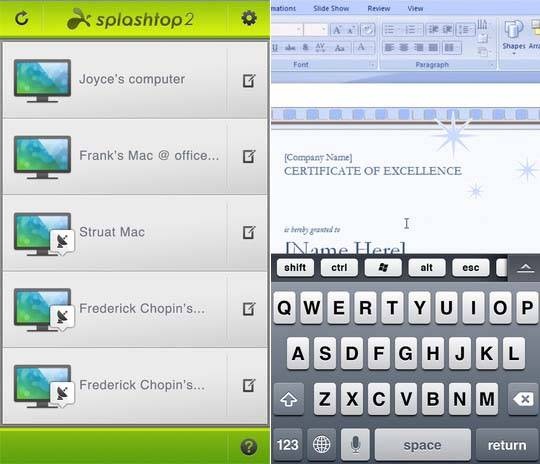 3. Now, you can control many aspects of your Mac from your phone through various options available on this app on your phone. Just choose the Trackpad mode in this app for better control.
In this article, you have learned about some of the best apps to control your Mac through Android or iPhone. These apps provide an exceptional balance between control and connection features that you can use. Just go and try any of these apps so that you can also control the Mac.