Android is right now the most popular mobile operating system. It's a mobile operating system that is entirely based on Linux. Due to its nature, you can customize Android the way you want. Not only that, but the app availability is also quite high on Android compared to any other mobile OS.
Just take a brief look at the Google Play Store, you will find apps for every different purpose over there. Until now, we have shared lots of tricks and tips on Android. Today, we will be sharing another best trick that would help you to convert the entire webpage into an audio file.
Yes, you read that right! You can now convert site content into audio files. The trick would help everyone who doesn't want to read a long post or article. So, let's check out how to quickly convert site content into an audio file on Android smartphones.
How To Convert an Article into Audio File On Android
To convert an article into audio content, we need to use the Epic Privacy Web browser. It's the first-ever Android browser that can read a queue of webpages to you.
Step 1. First of all, download & install the Epic Privacy browser on your Android device.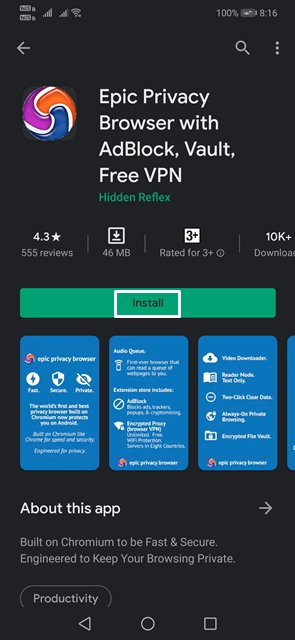 Step 2. Once installed, open the app and tap on the 'Accept & Continue'
Step 3. Now you will see the main interface of the Epic Privacy Browser.
Step 4. Now open the webpage that you want to convert to the Audio.
Step 5. Tap on the three dots menu and select 'Add to Audio Queue'
Step 6. Again, tap on the three dots menu and select the 'Audio Queue' option.
Step 7. There you will find the webpage ready to be played. Tap on the 'Play' button to listen to the audio version of the webpage.
Can I convert any webpage into audio?
Yes, the method shared above can be used to convert any webpage into an audio file.
How can I play the audio file?
Upon hitting the play button, the built-in audio player of the Epic Privacy browser will automatically play the audio.
So, this article is all about how to convert site content into an audio file quickly. I hope this article helped you! Share it with your friends also.