You could hence use that piece of great small hardware that can easily transform any single sim smartphone into a multiple SIM smartphone. And for that you need to follow our article to implement this for your device.
It could be a great hassle for those people who are having a smartphone that only accepts the single SIM card hence making it difficult to manage different SIM cards easily within a single device that could prove to be non-worthy for business people etc. So for those people who are using up the single SIM smartphone but are working with multiple SIM cards through different devices, there is a method by which they can easily transform their smartphone device into multiple SIM supporting device. Here in this article that is given below we have discussed that method by which anyone can convert it's Single SIM smartphone into Multiple Sim smartphone.
Also Read: Turn your Android Phone into the Ultimate Fitness Tracker
How to Convert your Single-SIM Smartphone into Multi-SIM Smartphone
The method requires the use of Simore Multi-Sim holder and you will also have to do some tweaks with your device hardware which will not be very much difficult or advanced. So follow the below step by step guide to do that.
Also Read: Turn your Favorite Website into Ad-Free Android App in Seconds
Steps To Convert your Single-Sim Smartphone into Multi-Sim Phone:
1.First of all, you will have to buy up the "Simore (SIM + More)" for your device. You can get it on the online product selling websites and you can also find it on Amazon too. This could be really a very cheap alternative to changing the device so as to get the multiple SIM functionality on the smartphone device.
2. After you have your Simore Multi-sim holder, you will now have to connect it to your smartphone. To connect it to your smartphone you won't need any external connector etc. Just directly connect it to the smartphone either through the default sim holder of your device or through the Bluetooth (depending on the type of sim holder). The one with Bluetooth can be a great option as you won't need to modify your device. Just depending on your needs you can get that type of SIM holder for your device and all shall work very well.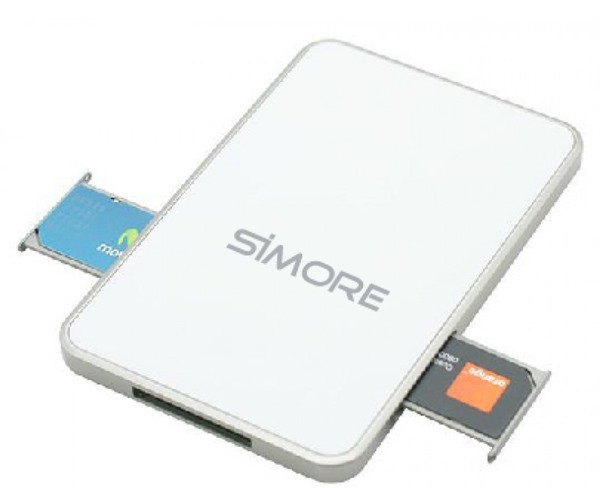 3. After connecting the sim holder to your device, you can now insert the multiple sim cards in the Sim card holder. This will automatically read your Sim cards and you will be able to work with them on your device. Your smartphone will also automatically show up the connected Sim cards and let you use them easily.(For Bluetooth holders it requires to install up the mobile app on your smartphone).
4. That's it, and you are done, now you have the device that supports multi sim access in it.
Also Read: How to Hide Calls and SMS Logs of Specific People in Android
So above discussion was all about Convert Single-Sim Smartphone into Multi-Sim Phone. You should note that there will be no need to either switch off your device every time you want to change up the currently active SIM, just select up the SIM through the options that will be placed in the options of the device settings. So, go and use up this method and hence make your device a multiple SIM supporters for up to 5 SIM cards. And Hope you like my article, keep on sharing with others too. Leave a comment below if you have any related queries with this.