Taking care of your own body also maintains a healthier mind and increases your quality of life. If you do not enjoy going to the gym, what to do? Since Android is the first thing we see after getting up from our bed, and we carry it wherever we go, why not convert it into a fitness tracker?
There are quite a few Android apps available on the Google Play Store that can turn your Android smartphone into an ultimate fitness tracker. Most of the fitness apps for Android were available for free, but they have optional in-app purchases.
Best Apps to Turn Your Android into an Ultimate Fitness Tracker
Hence, if you are interested in turning your Android into a fitness tracker, you may find this guide helpful. Here are the best apps to turn your Android device into a fitness tracker. Let's get started.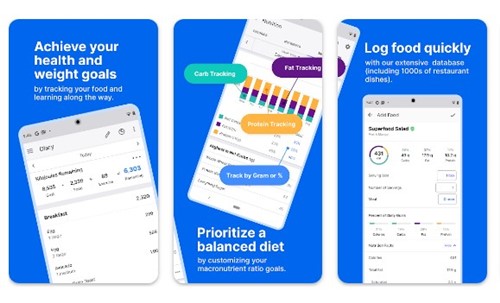 With the largest food database (over 6,000,000 foods), it is an amazingly fast and easy-to-use calorie counter which helps you take those extra pounds off.
This is one of the best and most well-known apps that counts up the calories you have taken. Millions of users and gym trainers are now using this app.
The app is from Google Inc. The benefit of this app is that it can track any activity you perform while holding the phone. For example, it keeps records as you walk, run, and do anything throughout the day.
It also gives real-time status for runs, walks, and rides, which helps to stay motivated on the field. This is the must-have app if you are looking for a fitness-tracking app.
This app provides us the exercises based on the study of McMaster University, Hamilton, Ontario, and it comes up with a virtual trainer that motivates you. This is the perfect app for those looking to lose weight as soon as possible.
This provides the 7-minute training per day, allowing you to train your Abs, chest, thighs, and legs. It has a complete set of exercises that are very popular for losing weight fast.
The RunKeeper is the perfect app for those who like to run, one of the most popular categories. You can easily make pre-planned exercises and fitness training to follow regularly.
It records information about your activities and shows detailed statistics, distance traveled, time taken to complete the run, and even your heart rate during exercise.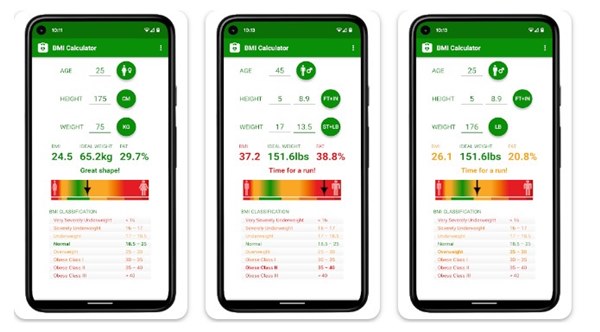 Many of you might be calculating your BMI, and this app is for you as it can count your BMI easily and give accurate results. Body fat percentage is estimated from BMI by a formula derived by Deurenberg and co-workers.
Want more yoga training? This one is for you. This is simply a yoga instructor as it gives you positions, sequences, and exercises for each body part. It divides each yoga into levels, and every level has an alternate duration to follow.
The app contains over 200 illustrated posed images that will guide you throughout each session. It also tracks your progress report.
The proven C25K (Couch to 5K) program was designed for inexperienced runners just beginning an exercise routine. The plan's structure prevents new runners from giving up and, at the same time, challenges them to continue moving forward.
C25K works because it starts with a mix of running and walking, gradually building up strength and stamina to fully running 5K.
Do you drink enough water throughout the day? I guess you will say no. This is the best app you can ever have on your phone because this app reminds you to drink water at the time and tracks your water-drinking habits.
This app contains customized cups that help you to stay motivated towards drinking water; it also sets the start and end times to drink water throughout the day. Drinking enough water is best to stay in shape and fit, so having this app on your phone will be a good choice.
"Pedometer" records the number of steps you have walked and displays them again, along with the number of calories you have burned, distance, walking time, and speed per hour.
It is easy to use. Once you push the Start button, you must hold your smartphone as you always do and walk.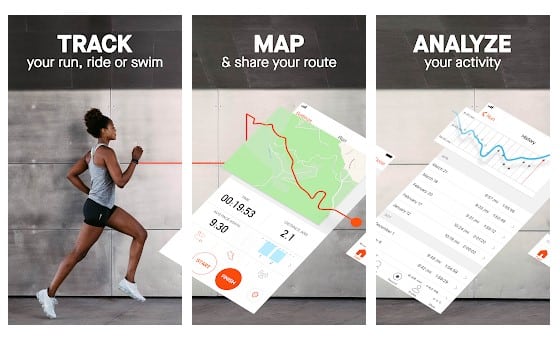 This is another best fitness apps that Android users heavily love. You can use this app to track your fitness routines. Apart from these, it also helps users to track distance, speed and calories burned.
Not only these, but you can also even share your progress reports with your friends and can motivate them to retain a healthy routine.
So, these are the best Android apps that can turn your phone into an ultimate fitness tracker. If you want to suggest us any other fitness tracker apps for Android, drop the app name in the comments below.