Well, if we take a brief look at the Google Play Store, we will find a wide range of apps and games over there. Compared to every other mobile operating system, the app available on Android is quite high. Google Play Store covers apps of different sections like utility apps, productivity apps, free apps, multimedia apps, etc.
You won't believe it, but the truth is that there are more than 2.3 million apps available on the Google Play Store. Every other day, new apps arrive on the Google Play Store that is capable but goes unnoticed. So, in this article, we are going to share a list of best cool Android apps that you don't know about.
10 Cool Android Apps in 2020 That You Don't Know About
It's worth noting that there are plenty of apps from a similar category available on the Google Play Store, but the apps which had been listed below are unique in a different way. So, let's explore the list of cool Android apps that you don't know about.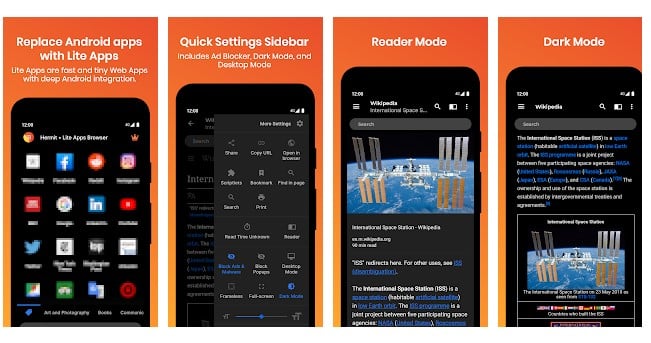 We are pretty sure that not everyone out there reading this article have a high-end smartphone. So, the Hermit Android app is for those users. It's basically an app that creates the lighter version of apps. What's interesting is that it can create a lighter version of your favorite apps and services. For example, if you open Techviral.net on Hermit, it will block all animations, lazy load the images, etc.
Radon is basically a file-sharing app that can be used to share links or smaller data. The app is much similar to Xender or ShareIt, but it's much faster than those two apps. To send links, apps, or smaller files, users need to tap the share button anywhere on Android and from the sharing menu, select the option 'Radon'. Once done, the app will start sharing the links to other devices with Radon installed.
Well, if you have ever used iMessage on iPhone, then you might be well aware of the capabilities of the messaging app. The messaging app got support for AI-based replies for the messages. You can enjoy the same features of Android with the Fluenty app. It automatically recognizes the text message that you received from SMS, instant messaging apps and shows reply suggestions. The app is compatible with most of the instant messaging apps like Messenger, WhatsApp, etc.
Well, if you want to have a distraction-free movie watching experience, then you need to give Run Pee a try. This is one of the unique apps for moviegoers as it tells them the best time to run and pee in between the movie. The app ensures that the user doesn't miss out on any important scene in the movie.
If you have been searching for ways to get rid of smartphone addiction, then Forest might be the best app for you. It's a productivity app that lets you plant a seed that grows into a tree within 30 minutes. The ultimate goal of the app is to encourage users not to leave the app. If you choose to leave the app, then it will kill your growing tree. So, Forest is indeed a creative way to beat smartphone addiction.
KinScreen is for those who have been searching for ways to have more control over their smartphone's screen. It just allows users to decide when they want their device's screen to be turned on or off. For instance, you can enable the screen on time when motion, tilt, waving is detected. Similarly, the app can be used to turn off the screen by simply covering the proximity sensor.
Navbar Apps is one of the best customization app available on the Google Play Store. The great thing about Navbar Apps is that it can add widget, custom background, colors, etc on your navigation bar without having the root access. Navbar Apps offers users plenty of themes to customize the navigation bar of the Android smartphone.
Torchie is a torch app which allows users to activate the flashlight by pressing the volume button. It's not one of the cool apps, but it's a useful one for sure. During the power cut, instead of stretching your fingers to the notification bar, you can simply press the volume button to activate the camera flashlight.
Waking up in the morning is not an easy task for many. So, if you are just like me who struggles to wake up in the morning, then Walkie is the app for you. Instead of setting the alarm, Wakie lets you set the alarm, and it connects you with a random stranger across the world. At the set time, you will get a call from a random person asking you to wake up. The call is connected for one minute, and full anonymity is maintained.
WiFi Map is one of the best WiFi hotspot app on the list which has more than 100 million WiFi available worldwide. It just displays the available WiFi connection on the map with the password. So, with WiFi Map, you can easily access the internet for free. It's indeed a great Android app that every internet user should know about.
Sentio Desktop is one of the most unique apps that you can use on your Android smartphone. It adds a whole new layer of beautiful desktop UI/UX along the way on your Android. The app brings lots of desktop type features on Android like multi-window, resizable apps, change resolution, full keyboard, and mouse support, etc.
12. VMOS Lite
Well, if you are willing to run root apps without risking your phone, then you need to give VMOS Lite a try. It's basically an app that lets you run root apps without actually rooting your device. It's based on a virtual machine and can activate root in just one-tap. So, VMOS Lite is another cool app that you can use today.
So, these are the 10 cool Android apps that you should know about. If you know any other such cool apps, let us know in the comment box below. I hope this article helped you! Share it with your friends also.